Interview - Simone Clark - Butterbings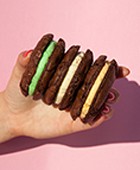 What's better than a cookie? A cookie sandwich! When Simone Clark developed the Butterbing, her neighbours were her biggest fans. Now, the Butterbing is attracting attention all across the country for its sublime flavour range and its perfect marriage of dark chocolate brownie cookies joined with buttercream.
FFW: What are Butterbings?
BUTTERBING: Butterbings are two dark chocolate brownie cookies joined with a centre of delicious buttercream. They come in many different flavours and have been called Melbourne's favourite cookie by many.
FFW: And what's the story behind the brand?
BUTTERBING: I'm proud to say that Butterbings are the original brownie cookie sandwich! I started Butterbing in my home kitchen in 2014, where I baked sweet treats for nearby cafes and neighbours would shop the honesty box on my front porch.
I've always been passionate about small business and baking and I'm driven to create something unique. Bit by bit, Butterbing continues to grow. Each year we upgrade equipment, expand our team and keen refining. We're now a team of over 15 and are delivering to cafes nationwide - it's an awesome journey!
FFW: Are all Butterbings made with the dark chocolate brownie cookie?
BUTTERBING: They sure are.
FFW: Do you have staple flavours that are always available?
BUTTERBING: Our four best sellers are known as our Hero Range; Salted Caramel, Vanilla Bean, Peanut Butter and Nutella. We make them daily and they fly out the door. Yum.
FFW: What other flavours do you offer?
BUTTERBING: We offer a huuuuge range of other flavours which are available to view on our website. There are flavours such as Espresso, Hazelnut Mocha, Almond Crunch, Buttered Popcorn, Snickers, Honeycomb, Mex Chilli Choc just to name a few…
FFW: How do you define the quality of your cookies?
BUTTERBING: Our humble brownie cookie sandwiches are packed full of real ingredients – real dark chocolate, real butter, 'Burd Eggs' free-range eggs, house-made buttercreams, ganaches and we even make our honeycomb from scratch. We lovingly create each cookie ourselves; there's not a premade mix in sight! We really care about the quality of our cookie sandwiches and are always working to make them the best they possibly can be.
FFW: Are Butterbings gluten free?
BUTTERBING: Yes, however, our kitchen is not certified gluten-free. We carefully source gluten-free ingredients and wash equipment thoroughly but out of respect for those with coeliac disease, we choose not to offer a 100% gluten-free guarantee.
FFW: What are Butterbooms?
BUTTERBING: Butterbooms are our GIANT Butterbings. They're 25cm wide and weigh 1.5kg; they can be made in Peanut Butter, Salted Caramel, Vanilla Bean, Nutella or our special Gender Reveal Butterboom with a centre of pastel pink or blue vanilla bean buttercream. Also, we create Boom Stacks, a stack of four giant cookie sandwiches weighing in at 2.5kg. They look like a layered cake, but Butterbing style.
Butterbooms and Boom Stacks are awesome stand-ins for cakes at parties or events, because as Julia Childs says, "a party without a cake is just a meeting!"
FFW: What kinds of retailers stock Butterbings?
BUTTERBING: We stock our cookie sandwiches all around the country! We work mainly with amazing specialty coffee shops, but also stock in great places such as painting studios, florists, gourmet grocers, event spaces and more! Our retailers care about delicious food and believe in the deliciousness of handcrafted products with high-quality ingredients.
FFW: How do you make it easy for clients to do business with you?
BUTTERBING: We're a very customer-focused company. You'll always be dealing directly with someone from the Butterbing family, not a distributor. We have a straightforward ordering process and if you have any queries at all, our super friendly admin team is always up for a chat.
FFW: What is the shelf life?
BUTTERBING: Butterbings can last up for 5 days in the fridge; being conscious of food waste we have made all of our products freezer-safe for up to 2 months. We know that they last about 15 seconds on a plate before being gobbled up.
FFW: Do you offer custom Butterbings as well?
BUTTERBING: Not right now. You can call our customer care line (1300 796 652) as we love helping you achieve the dessert of your dreams.
FFW: Who comes up with the ideas for the incredible flavours?
BUTTERBING: It's a group effort between myself and my team of incredible bakers. We bounce ideas off each other and are always coming up with new wild and wacky ideas. We recently perfected a one-off Rainbow Paddle Pop Butterbing for a pop-up event.
FFW: What's the minimum order size for cafes to order Butterbings?
BUTTERBING: It depends on where the cafe is. We'd love to chat to you!
FFW: How wide is your delivery area?
BUTTERBING: Australia wide! We have perfected our packaging; we can now send our cookies in the mail!
FFW: What would be your dream goal for Butterbings?
BUTTERBING: We'd love to continue growing our special place in the heart of foodies all around Australia. Our goal is to be established as a classic brand that stands the test of time, not a 'trend' or fad food. We're hoping to be one day as well-loved as the Tim Tam!
FFW: As a growing brand, do you happen to admire any other small food brands for their products, their innovation or their brand personality?
BUTTERBING: We honestly think Melbourne is one of the best places in the world to start a food business. We're constantly inspired by the Melbourne foodie scene and think the innovation, quality and creativity we've seen in the whole foodie community is unparalleled.
FFW: What else would you like the world to know about Butterbings?
BUTTERBING: We're a small team of cookie lovers, but with a big mindset! We really care about our product and we really care about our customers. We're a small, professional tight-knit family who treat all our customers like one of us.
If you're yet to try a Butterbing, then you really should get onto it. The flavours are outstanding and your customers will adore the novelty factor. To find out more or to place your first order, contact Butterbing today.
---
Contact details for Butterbing Cookie Sandwiches
Phone 1300 796 652
Service Area Australia Wide
---