Chocolate Mud Cake from Well and Good.
Well and good, produces exceptional Allergy free Cake and Bread mixes.

Exceptional, because our products delicious, reliable and simple to use, whilst being Gluten free, Wheat free, Dairy free, Soya free, 100% Nut free and Free of Egg powders and Artificial Colours. 

We have a large range of versatile mixes available in 15kg foodservice and retail packs for home baking, along with our quality products we have available a collection of great recipes and offer technical advice and assistance.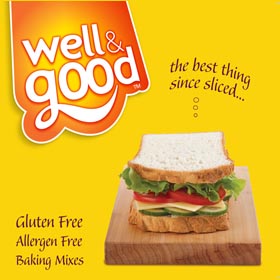 Our retail range includes -
•Gluten Free Chocolate Mud Cake Mix
•Gluten Free Muffin Mix
•Gluten Free All Purpose Cake Mix
•Gluten Free Sponge/ Pound Cake Mix
•Gluten Free Self Raising Flour
•Gluten Free Choc Orange Cookie Mix
•Gluten Free Cup Cake Mix
•Gluten Free Crusty Bread Mix
•Gluten Free Marble Cake Mix
•Gluten Free Chia, Linseed and Sunflower Bread Mix
•Gluten Free Classic Bread Mix.
In just a few simple steps you can produce gluten free products.

Small bakeries will not need a dedicated mixer as only a bowl and wooden spoon is required.

A dedicated set of tins may be used; alternatively; bake in fancy baking paper or a foil to avoid cross contamination.

Oven usage is not a problem as gluten contamination is not an issue.
---
Contact details for Well & Good Gluten Free Bakery
---