Recipe - Perky Pumpkin & Chilli Ravioli - The Spice Trading Company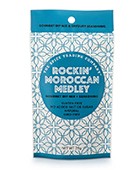 The Spice Trading Company's Gourmet Spice Blends are so versatile that you can whip up an easy dip in moments, or transform a recipe from ordinary to extraordinary with minimal effort. Read on for one of the scrumptious recipes from the company's website.
The six blends
Dreamy Carrot & Nutmeg
Holy Chilli Guacamole
Magical Mint & Coriander
Perky Pumpkin & Chilli (see recipe idea below)
Rockin' Moroccan Medley
Wild Beetroot & Onion
Flavour means more than just good taste
In the world of nutrition, recommendations are to include as many different herbs and spices as possible because each delivers its own benefits. Some may stimulate the digestive process or increase metabolism while others have anti-inflammatory properties or suppress sugar cravings. The Spice Trading Company's Gourmet Blends make it easier than ever to boost flavour and add more healthful herbs and spices to your cooking. With six blends to choose from, there's something for everyone. The company's website has lots of recipes to inspire new dishes, or you can get creative in the kitchen and add the blends to dips, sauces, salads, baking, marinades, rubs and so much more!
Perky Pumpkin & Chilli Ravioli
Ingredients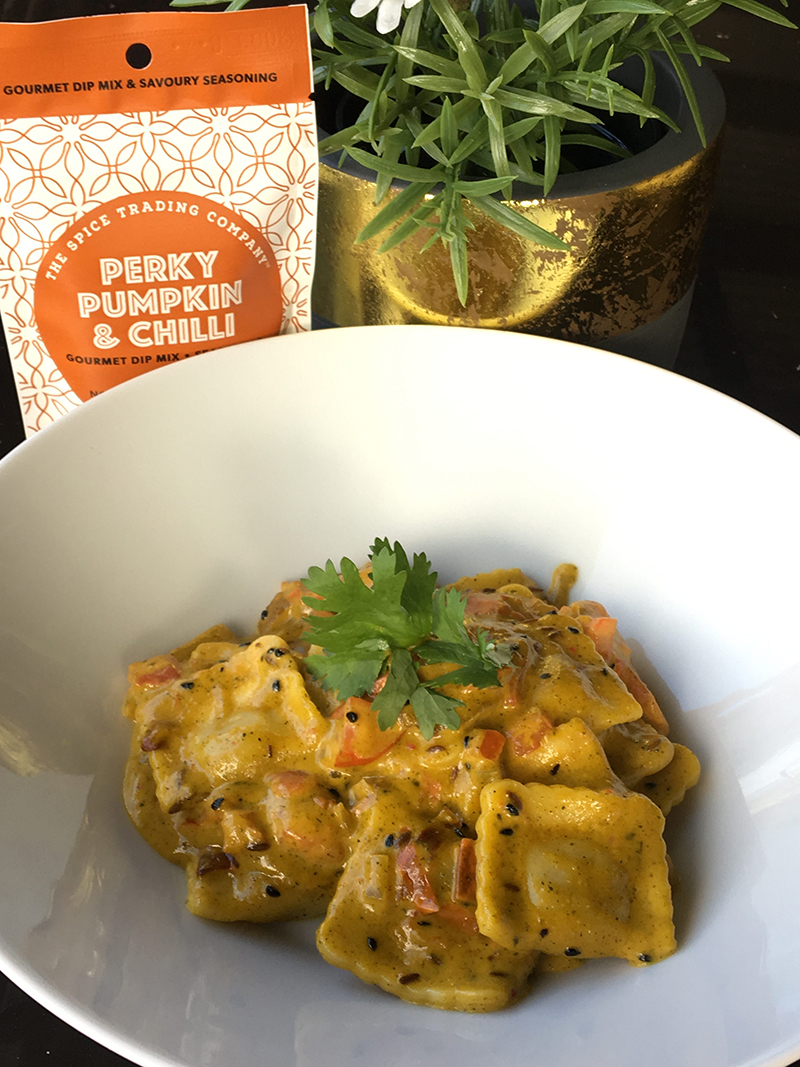 1-2 tbs ghee
½ tsp black mustard seeds
½ tsp cumin seeds (optional)
1 onion, diced
2-3 tomatoes, diced
Pinch salt (optional)
2 tbs Perky Pumpkin Chilli Spice Blend
½ cup of pure cream
Gluten free spinach & ricotta ravioli
Fresh coriander to taste
Instructions
Add the fresh ravioli to boiling salted water and cook over medium heat until the ravioli is cooked.
In a separate pan, heat ghee until hot. Then add mustard seeds, cumin seeds and diced onion. Cook until brown. Add the diced tomatoes and cook until softened. Add Perky Pumpkin Spice Blend, a pinch of salt and stir. Add 1/2 cup (or to taste) of the cream and simmer for a few minutes.
Add the sauce to the pasta and heat for 1-2 more minutes.
Garnish with coriander or stir it through the pasta just before serving.
More recipe and serving suggestion ideas
Dips – Use cream cheese, ricotta, cottage cheese, yoghurt or sour cream as a base and stir through your preferred Gourmet Blend. For vegan options, substitute base with cashew cream or coconut yoghurt. Of course, with Holy Chilli Guacamole, you would use lovely fresh avocados instead of one of the above bases.
Marinades – The sky is the limit! Any of the Gourmet Blends can be used as a marinade. Simply blend with olive oil or other quality oil.
Spice rubs – Use The Spice Trading Company's Gourmet Blends as spice rubs for a beef roast, a barbecued leg of lamb or a whole roasted fish. They can also be used to coat vegetables before barbecuing. Try jacket potatoes, whole cobs of corn or stuffed mushrooms.
Salad dressings – Simply whisk through a base of oil and apple cider vinegar.
Casseroles, curries, tagines and stews – Heat through the Gourmet Blend to release the aromas before adding other ingredients. Or, add Gourmet Blend to a snap lock bag with a little flour and add diced meat. Shake to coat before frying off the meat in the pan.
For more recipe ideas, visit The Spice Trading Company website.
---
Contact details for The Spice Trading Company
---