Interview - Anita Brodian - Dark City Foundry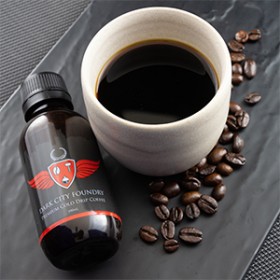 Cold brew was the latest, greatest thing in coffee and now, cold drip coffee has earned its stripes. We spoke with Anita Brodian, Owner and Chief Caffeine Officer at Dark City Foundry and discussed what makes it so special.
FFW: Who is behind Dark City Foundry?
DARK CITY FOUNDRY: Myself, Anita and my partner Gavin. We're based in Melbourne.
FFW: How did you come up with the name?
DARK CITY FOUNDRY: We brew our cold drip coffee overnight while the city is dark and sleeping, which is where Dark City came from.
A foundry was historically a place where metal was forged to create metal products, but these days the word is applied to many places that create things. We thought that the word foundry embodied the idea of the physical labour that's involved in all the steps from growing the coffee plant through to finally creating our finished product.
So Dark City Foundry is about a place where our products are formed while it's dark outside and the city sleeps.
FFW: What is cold drip coffee?
DARK CITY FOUNDRY: Cold drip coffee is a method of brewing coffee using chilled water that is slowly percolated through the coffee grounds over many hours. We brew our coffee at 7 degrees Celsius over 10 hours, making it a truly cold process.
With the cold drip method, the coffee grounds are never soaking in their own infusion, unlike cold brew. Instead fresh cold water flows slowly but continuously through.
This process draws out fewer bitter and acidic compounds from the coffee which gives cold drip coffee a lighter, more floral flavour and minimises bitterness.
Our coffee is triple filtered and bottled fresh, ready for you to drink.
We think cold drip is a wonderful way to experience coffee. We're sure you'll love it too!
FFW: Does yours have any sugar or other ingredients in it?
DARK CITY FOUNDRY: No, we don't add sugar, preservatives or anything else to our coffee. It has such a great smooth taste, just as it is. That doesn't mean you still can't experiment, though; it goes wonderfully in an iced coffee and we are partial to a cold drip martini on a Friday night.
FFW: What is your product's flavour profile?
DARK CITY FOUNDRY: I'd describe it as caramel, chocolate and almond. We specifically aim for rich flavours with well controlled fruitiness.
FFW: Why cold coffee over hot coffee?
DARK CITY FOUNDRY: By brewing the coffee with cold water, the compounds that can make hot brews taste bitter and acidic are not extracted, resulting in a smooth and clean coffee. Because the water is cold, the brewing process takes a lot longer, which is why we found that 10 hours was ideal in our case.
Without the bitterness, cold drip coffee can also be better for you. You'll find that you don't need to add milk or sugar to mask the bitterness, and the lower acidity is gentler on your stomach.
You can keep our coffee in the fridge and it's ready to drink straight up, cold and black, where you can really taste the flavours of the coffee bean. That doesn't mean you can't heat it up! It still retains the same flavour profile, and you can use it just like a shot of espresso. It's excellent in a bulletproof coffee, for instance.
FFW: What are your company's values in terms of the coffee beans you purchase?
DARK CITY FOUNDRY: Before we started the business, we tried a lot of coffee beans before settling on the ones we use currently. We work closely with a small coffee roaster here in Melbourne to get the right blend for our process.
FFW: Where does your coffee come from?
DARK CITY FOUNDRY: The coffee beans we use are a blend from Brazil and Columbia and are 100% Arabica.
FFW: What are the benefits of purchasing Dark City Foundry cold drip coffee for home use?
DARK CITY FOUNDRY: Our coffee is not only delicious, it's also very convenient. It keeps for up to 8 weeks in the fridge. Once opened we recommend using a bottle within 2 weeks.
We don't add any sugar, preservatives or other additives. We triple filter our coffee which ensures that it's crystal clear and never has any settling or sediment.
Our coffee is always ready to go, especially on those mornings when all you want to do is sneak out of the house for a run without waking everyone up using the noisy coffee machine. And it's perfect mixed with smoothies in the morning and for cold drip martinis in the evening!
FFW: Can your cold drip coffee be used in recipes?
DARK CITY FOUNDRY: Absolutely! It's very versatile. Some of the drinks we make with it include bulletproof coffees, cold drip martinis, or even a coffee, lime and soda.
It also makes a great iced coffee, and I've even frozen it into ice cubes to add to other drinks.
You can also heat it up and add some hot water to make a long black or add your preferred milk too.
We've also used it in cooking and make a dangerously tasty coffee and coconut milk ice cream.
FFW: Does your product provide the same caffeine boost consumers want from their regular café coffee?
DARK CITY FOUNDRY: The caffeine content of our cold drip coffee is 150mg per 100ml and the caffeine content in a single 50ml serve (75mg) is about the equivalent caffeine as you would find in a shot of espresso, so you don't need a lot to get a great, clean caffeine boost.
FFW: How are foodservice businesses using Dark City Foundry in their outlets?
DARK CITY FOUNDRY: It's a great coffee to offer as both something a little different, and also as a great option for people wanting to avoid sugar and/or milk. Served with some ice cubes on the side, it presents very well too.
It'll make a great iced coffee, and without the espresso bitterness, it's wonderful as a mixer in cocktails and mocktails since you end up with a very clean flavour. It'll definitely go well in milkshakes and smoothies; I add it to my smoothies after training.
We've also used it in cooking and made some very tasty coffee ice cream.
There's also an opportunity to create a bit of theatre. When we're at farmers' markets we offer our coffee served as a nitro cold drip, where we dispense it through stout beer taps just like Guinness. The nitrogen microbubbles created give the coffee a very smooth, almost creamy texture, and it settles out just like a Guinness does. We can provide our coffee in standard 10L Cornelius kegs for this purpose.
Because it's already brewed and has a good shelf life, it's always ready to go, and doesn't require any special equipment.
Being ready-to-go in lightweight bottles, it's a great option for people who're travelling, camping or even playing golf. It's a very versatile product.
FFW: Do consumers enjoy their cold drip coffee throughout the year or is it more a summer product?
DARK CITY FOUNDRY: We definitely see more interest when the weather is warmer, but we find that many of our customers drink our coffee all year round. They are very loyal and especially during Covid-19, have appreciated having a decent coffee in the fridge, ready to go.
FFW: Apart from restaurants and cafes, where would you like to see Dark City Foundry served?
DARK CITY FOUNDRY: We'd definitely love to see our products being ranged in health food and specialty food stores.
Being lovely without sugar or milk, it's certainly Keto- and Paleo-friendly. It's also excellent for anywhere that would like to offer a different coffee option. Being a very clean alternative to traditional energy drinks, it'd be ideal for university students.
We've had good feedback from people who've taken it camping or who carry it when playing golf.
FFW: How about hotel mini bars and vending machines?
DARK CITY FOUNDRY: Absolutely, so long as the vending machines are chilled.
FFW: What trends have you noticed in recent times about coffee?
DARK CITY FOUNDRY: We're finding more knowledge about speciality coffee. For many years Melbourne has been a latte drinking culture but with more people avoiding dairy and sugar we're seeing options such as cold drip, cold brew, batch brew and V60s and so on have been popping up on menus. Gone are the days when a consumer would settle for an 'okay' coffee.
FFW: Can you tell us a little about your customer service?
DARK CITY FOUNDRY: We're big believers in the importance of supporting our products. We're more than happy to discuss any aspects of our products and provide assistance with marketing, collateral, point-of-sale and so on. We have a free recipe book available for download and we can provide recipe cards, for instance.
We're also available to offer free tastings subject to travel (Melbourne only at this time, sorry).
FFW: How do you feel about decaf?
DARK CITY FOUNDRY: We will occasionally make and drink cold drip decaf – everything in moderation, right? However, we have some exciting product announcements in this area later in the year so can't say too much right now!
FFW: How do you enjoy your cold drip coffee?
DARK CITY FOUNDRY: We both have a bulletproof in the morning; it's a nice way to slowly start the day. During the day we prefer it straight up or also combined with soda and lime. A favourite in summer is to freeze it as ice cubes to add to post-training smoothies.
FFW: What would you say is Dark City Foundry's brand personality?
DARK CITY FOUNDRY: I'd say that we're friendly and approachable, knowledgeable about our products, progressive in our thinking and versatile – we do almost everything ourselves, including building our commercial brewing system.
FFW: With that kind of passion and ingenuity, you know there has to be a great product here for you to discover. Get in touch with Dark City Foundry today.
---
Contact details for Dark City Foundry
Service Area Australia Wide
---