Interview - Anna - Mixed Bag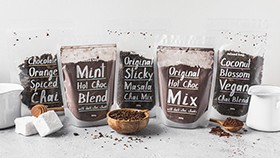 Pregnancy cravings were a big reason behind the establishment of the Mixed Bag business which produces handmade sticky chai and hot chocolate blends. We spoke with creator, Anna about what makes these products so irresistible!
FFW: Who is behind the Mixed Bag business?
MIXED BAG: Mixed Bag was founded by me, Anna, a Mum, creative and self-confessed foodie. With a background in branding, graphic and web design, I know the importance of branding and retail placement. When I'm not toddler wrangling, I'm taste testing, planning, packing orders and serving my amazing Mixed Bag customers.
FFW: What can you tell us about the Mixed Bag company itself?
MIXED BAG: Mixed Bag is an Aussie-owned and Melbourne-based company launched in 2019. We are crafters of sticky chai, hot chocolate and gourmet marshmallows, small batch blends, lovingly handmade using real ingredients that you can see. Our signature products were born out of my pregnancy cravings and the search for a strong, punchy chai that was utterly tasty, and a hot chocolate blend that was premium, health centered and not overly sweet. The range has been blended and perfected by chai and hot chocolate lovers, for lovers of the same.
FFW: Would you classify Mixed Bag as an artisanal brand?
MIXED BAG: We are a small boutique company that lovingly produces each of our handcrafted batches with care and passion for the product we sell. Our products are as real, natural and fresh as it gets.
FFW: What are the products you offer?
MIXED BAG: We have a range of three sticky chai blends — our signature (and most popular) Original Sticky Masala Chai blend accompanied by our Vegan Coconut Nectar Sticky Chai and Chocolate Orange Spiced Chai. Our hot chocolate range features our Original Hot Chocolate Blend and Mint Hot Chocolate blend. In addition, we produce gourmet marshmallows in Vanilla Bean and Raspberry.
FFW: What are the most important features or values of the blends?
MIXED BAG: We are big believers in being able to see the products we buy, hence our clear packaging and real ingredients. You can see chunks of pure Belgian chocolate in our hot chocolate blends and you can see each and every whole spice and tea leaf in our chai blends.
Our chai blends feature over 50% whole spices and are not bulked out with tea and other fillers.
Our hot chocolate blends are sweetened with organic coconut and panela sugar which is then blended with organic cacao rather than highly refined cocoa.
FFW: From where is your tea sourced?
MIXED BAG: We source our tea from selected plantations from the Assam region of India, ensuring the best quality and freshest ingredients.
FFW: Do you use local ingredients in your products?
MIXED BAG: We use as many Australian products as we can, including local Aussie ginger, Australian orange peel and Victorian honey.
FFW: What makes your blends different from other hot chocolate and chai products?
MIXED BAG: They are produced weekly in small, hand blended batches, ensuring their freshness and quality. Our chai has a higher spice content compared to other chai blends, ensuring a punchy yet balanced flavour that every chai lover looks for.
Our hot chocolate blends contain no refined sugar; instead we use organic coconut and panela sugar. It is also made with organic cacao rather than highly refined cocoa. Our hot chocolate blends are dairy free and vegan friendly.
FFW: Do you supply in bulk quantities for foodservice clients?
MIXED BAG: Yes, we can supply our products in an array of sizes, from very small sample sized bags for gifting and subscription boxes to very big bulk quantities for foodservice.
FFW: Do you ship Australia-wide?
MIXED BAG: Yes, we sure do.
FFW: Do you provide any brewing tips, ingredients lists, recipes or other information about your blends?
MIXED BAG: We have instructions on our bags, with further brewing instructions on our website and social media. We also include methods, tips and tricks leaflets with every order.
FFW: How does your company help clients to promote your products in store?
MIXED BAG: We supply a range of strainers and brewing pots which help create a unique experience for the customer when serving our products in their cafe or restaurant.
We have an in-house designer that can aid with any POS or promotion material needed.
FFW: How would you suggest retailers promote Mixed Bag?
MIXED BAG: Ensuring that they are aware of the many health benefits that chai and its ingredients provide. We offer a healthier, better tasting and more authentic alternative to the syrups and powders that are on the market. Once you have tasted it, you would never go back.
There is an increasing number of people looking for a quality alternative to coffee and it is therefore essential to stock a good quality chai. Mixed Bag is created by chai and hot chocolate, for lovers of the same.
We value health and our products offer a healthy alternative to many others in the market.
FFW: What kinds of tea wares do you also sell?
MIXED BAG: We stock an array of tea ware to aid in the presentation and also the ease of preparation. Strainers and chai brewing pots are available.
FFW: What are your goals and dreams for the Mixed Bag brand?
MIXED BAG: We want to retain our roots of Aussie-owned, family-run business but want to expand our reach in Australia across retail, wholesale and foodservice. We want to become a household name when people think of Sticky Chai or Hot Chocolate.
FFW: Discover this exciting brand of wholesale chai and hot chocolate and you will be eager to show it off to your customers. Get in touch with Mixed Bag today.
---
Contact details for Mixed Bag
---