Interview - Aurelien - Byron Bay Bliss Balls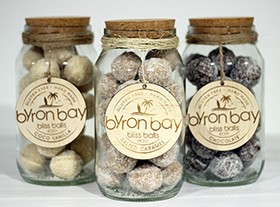 Getting an energy boost in the form of a tasty little ball is a simple and irresistible way to do it. Byron Bay Bliss Balls offer a range of protein balls that are packed with good, honest ingredients and tons of flavour. We spoke with the company's owner, Aurelien (Leo), and found out what makes his products so popular.
FFW: Who is behind the Byron Bay Bliss Balls business?
BYRON BAY BLISS BALLS: We are a small Australian team, passionate about good and healthy food, with a little bit of a sweet tooth! We are willing to make a difference by using local and healthy products and to get rid of plastics in all our packaging.
FFW: How did you come up with the idea for these more-ish morsels?
BYRON BAY BLISS BALLS: The idea came 10 years ago in Byron Bay. We wanted to provide a healthy and gluten free option for snacks and we started to sell two bliss balls there: vanilla and chocolate.
FFW: What flavours are there?
BYRON BAY BLISS BALLS: We have vanilla and chocolate flavours, and in 2019 we launched a new flavour, Salted Caramel, which is already very popular.
FFW: Can you tell us what makes Byron Bay Bliss Balls so healthy and so delicious?
BYRON BAY BLISS BALLS: There is absolutely nothing nasty in our products; no additives, no preservatives etc. We only use natural or organic ingredients. The coconut, cacao and vanilla are organic and our honey is from a local apiary in the Northern Rivers region of NSW.
FFW: Are they gluten free?
BYRON BAY BLISS BALLS: Yes, our products are all gluten free and nut free (despite its name, coconut is not actually a nut, but a fruit).
FFW: How do you feel your products reflect the personality and atmosphere of Byron Bay?
BYRON BAY BLISS BALLS: Byron Bay is known to provide high quality and often healthy products and it is the case with Byron Bay Bliss Balls. You can have bliss balls with your coffee in a local cafe there or have one between two surf sessions to get a boost of energy!
FFW: What kinds of retailers sell Byron Bay Bliss Balls?
BYRON BAY BLISS BALLS: Our bliss balls are sold in many cafes in Australia and are also offered by Airbnb owners to welcome their customers. They are a perfect match with a coffee, for example. They are also very popular in health shops with our jars and wooden display stand. Our twin packs are often offered in small supermarkets or fine convenience stores.
Our bliss balls in a jar are also in many breakout rooms of businesses to provide a healthy option for staff or to get an extra energy boost after a long meeting! They can also be used for fundraising, positioned next to an honesty box.
FFW: And are cafes and other hospitality businesses offering them to their customers?
BYRON BAY BLISS BALLS: Yes, our bliss balls in a jar are very popular in cafes for morning or afternoon tea with a coffee or tea, or just as a dessert. If you want to impress your friends/family at home, a good tip is to crumble your bliss ball in a yoghurt or fruit salad. Everyone will ask you for your secret to make it so yummy!
FFW: If you had your ultimate wish, where would you love to see Byron Bay Bliss Balls being enjoyed?
BYRON BAY BLISS BALLS: I am quite happy, having already received good feedback from everyday customers who have been enjoying our bliss balls for more than ten years. My only wish is to keep feeding Australians with healthy snacks for the next ten years!
FFW: Who would be a dream brand ambassador for Byron Bay Bliss Balls?
BYRON BAY BLISS BALLS: Our best ambassador is the person who tells his/her friend: "Mate, you should try these Byron Bay Bliss Balls! They're so good!"
FFW: How do you help retailers promote your products to customers?
BYRON BAY BLISS BALLS: We are now present on the internet and social media and we are also building a store locator on the website because we receive many requests from customers to find our products in their local area. We are also going to do more advertising from 2019 onwards.
FFW: Do you have any clever new recipes on the drawing board?
BYRON BAY BLISS BALLS: Yes, we have plenty of ideas coming soon!
FFW: In your very own bliss moment, how do you enjoy Byron Bay Bliss Balls?
BYRON BAY BLISS BALLS: I have a kind of a ritual for afternoon tea: I have a local yoghurt with a bit of seasonal fruit and one Salted Caramel Bliss Balls 'sprinkled' in it. It's just delicious and gives me back a lot of energy to work after it.
FFW: With a name like 'bliss balls', how can you resist these little morsels of goodness? To find out more about stocking or serving them to your customers, contact Byron Bay Bliss Balls today.
---
Contact details for Byron Bay Bliss Balls
---