Interview Brittany Bertschinger - The Vegan Dairy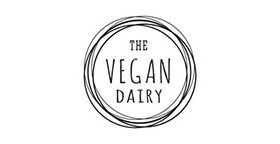 Plant-based dairy alternatives have often been lumped with a stigma around flavour, texture and performance. But Brittany Bertschinger, Founder and Director of The Vegan Dairy brings a wealth of dairy cheese making experience to her enterprise. The result is French-style cheeses and butters that are difficult to discern from 'the real thing'.
FFW: Who are the clever people behind The Vegan Dairy?
THE VEGAN DAIRY: We are a husband wife team with an amazing little team of three staff. I started the business originally wanting to make a vegan feta for my husband Bronson to be able to eat when he gave up dairy, after working as a dairy cheesemaker for my mum for three years. As the business grew it became too much for me on my own and Bronson started working more and more with me. Turns out he has an amazing palate for creating cheeses, and for improving my creations! We now each run different aspects of the business, and both work on product development.
FFW: What's the story behind your family becoming artisan producers of vegan dairy alternatives?
THE VEGAN DAIRY: In 2010 my family lost my youngest brother, Reagan, in a scuba diving accident. To cope with her grief my mum kept herself busy in different 'short courses', one of which was cheesemaking. She is a chef by trade, and Reagan always loved cheese, so this came naturally and sentimentally to her and she started making cheese all the time. Eventually it became a business for her and then, when it became too busy for her on her own, she recruited my help. I worked with her full time for three years (Bronson and I were vegetarian at the time) before Bronson gave up dairy. I went on a mission and used what I had learned to make a plant-based feta for him to enjoy at home. Turns out it was very well received by family, friends, and my mum's lactose intolerant customers and slowly, organically, this turned into a business for me.
FFW: What would you say is your company's positioning?
THE VEGAN DAIRY: Coming from a dairy background means we know what the 'real thing' should taste and feel like. So for us, if something isn't good enough for my mum and her dairy cheesemaking team to eat by choice, then it's not good enough for us and our customers. We really aim to provide products that seamlessly give a plant-based dairy experience, not just an 'ok' alternative.
FFW: What are the products you offer?
THE VEGAN DAIRY: We currently have a range of artisan cheeses, as well as butters, a thick yoghurt/sour cream, and decadent dessert 'Crèmes'.
FFW: What is the best thing about The Vegan Dairy, that stands you apart from other vegan food producers?
THE VEGAN DAIRY: That we don't produce products to just satisfy the plant-based market – we produce products with an aim to satisfy even the dairy and meat eaters. This enables businesses to use our products in place of dairy even for the person who would be ok having dairy in their meal, thus reducing the need to have so many different options available for each product offering. This means that a group of people including vegans and non-vegans can sit down to the same meal or cheese platter and all enjoy it equally without compromise.
FFW: Do you use local ingredients wherever possible?
THE VEGAN DAIRY: We do, yes. Unfortunately, Australia doesn't produce much in the way of cashews and coconut oil, though, which is the main base of most of our range, so we are forced to go overseas for these. We only use organic ingredients though, and source them from other ethically supportive businesses.
FFW: Do omnivores appreciate your products as much as vegans and vegetarians do?
THE VEGAN DAIRY: I think so! We've had a lot of 'haters' show up to our market stalls with their plant-based partners or friends, refusing to try our products because they're 'vegan'. But when we eventually manage to squeeze them into trying it, they are always very pleasantly surprised!
FFW: Would you consider your products healthier alternatives to dairy foods?
THE VEGAN DAIRY: I would, yes. I can only speak from personal experience but aside from the challenged ethics of the dairy industry we have also found it to be quite heavy and impactful on our health in the past. Our products offer a similar eating experience without the health compromise.
FFW: How close to their dairy counterparts are your products in taste, texture and performance?
THE VEGAN DAIRY: We are always working on our products, improving them constantly and finding new and better ways to do things as we grow and learn. But we never release a product to the market if it hasn't satisfied our dairy-eating tasting panel so I would say pretty close.
FFW: Do your cheeses melt the same way as dairy cheeses?
THE VEGAN DAIRY: This is something that is extremely challenging in the vegan world. Dairy proteins naturally magnetise to each other, so when dairy melts, the molecules fight to come back together. This does not happen with plant-based proteins, so you have to use gums, starches, thickeners, etc, to 'mock' this molecular behaviour. We have always had a view in our business that we don't want to use any ingredients that you wouldn't eat as a standalone food, which rules out most of these filler ingredients for us. But we are currently working on Mozzarella and other 'melty' style cheeses within our realm of healthy ingredients so hopefully this is something we can answer YES to very soon! Our cheese range at the moment consists of soft style cheeses, products that are similar to fresh goats' cheese, for example. Dairy cheeses like this are not renowned for their melting properties. Rather, they are used more as fresh products, on cheese boards, in salads, sandwiches, crumbled over pasta, etc.
FFW: What kinds of retailers are perfect to stock your range?
THE VEGAN DAIRY: Most retailers, actually. Because our products are designed to satisfy everyone's palate our retailers range from delis to health food stores, plant-based focused stores to boutique/high end grocery stores, and even to the local corner store. Plant-based eating is becoming very popular and mainstream, very quickly. Every retailer now has the opportunity to stock products like ours and have a local customer base that is likely to want it.
FFW: And how are cafes and other hospitality businesses offering The Vegan Dairy products to their customers?
THE VEGAN DAIRY: We just recently did a range of photoshoots in Melbourne and the Peninsula with our cafes and restaurants and it was so amazing to see the creativity and variety in how our products are being used across different menus. Our cheeses are being used in brunch dishes, pizzas, Mexican inspired meals, salads, varying presentations of Avo Smash, and of course in offering plant-based cheese and charcuterie boards. Our butters are being used in pastries and baking, and in traditionally dairy-only applications like brown butter sauce, hollandaise, finishing off the perfect risotto, sautéing mushrooms with our truffle butter……. And our Dutch Chocolate and Vanilla Bean Crème have been used in some pretty special dessert dishes. One of our favourites was a handmade baked nut and oat crust filled with the Vanilla Bean Crème and topped with marinated cherries.
FFW: Would you recommend that retailers offer taste tests in store?
THE VEGAN DAIRY: Customers always love to 'try before they buy' with new products. I think it gives them the confidence they need before putting their hands in their pockets. This is especially true for products like ours that are a little more expensive than the mass-produced/commercially available options. Offering free tastings gives an opportunity to get it into their mouth and show them what they're missing!
FFW: How do you help retailers promote your products to customers?
THE VEGAN DAIRY: We work with each store to help them in whatever way we can. Aside from wanting to get our products out there more, mostly we want to get healthy plant-based products into more and more mouths for the benefit of everyone! If a store has any special or particular requests with helping to get our products 'out there' we will always to whatever we can to accommodate.
FFW: Do you have any other products or flavours in development?
THE VEGAN DAIRY: Always! Coming from a French style cheese making background my personal love affair with cheese has always been with the moulded ones; blue, brie, camembert, chevre, etc. These are something I have been working on perfecting since day one. I have just got our blue to an exciting point, and the brie is on the way too. We are also currently working on melting cheeses and are continuing to also work on extremely aged style cheeses like Parmesan, Gruyere, etc. We have also been working with other ingredients to make some of these new cheeses 'allergy free'. People who suffer from nut allergies that have not been able to have our products in the past will soon be able to enjoy some of them. Exciting times ahead!
FFW: As a boutique producer of gourmet foods, you must be aware of others. Are there any that you admire that you can tell us about?
THE VEGAN DAIRY: Yes! But it would be so hard to be specific about any few in particular! When The Vegan Dairy was born there were very few other plant-based cheese producers on the market and now there are so many! So many new brands and creations allowing people to eat almost whatever they want without the need for animals anymore. It is so cool to have seen the market grow so incredibly in only three short years! Recently at the Seeds of Change Pitch Event we met Michael Fox from Smith and Co who is making a genuinely healthy plant-based alternative to pulled meats that totally blew us away!! So I suppose you could say we really admire what he is doing! I have personally always admired the work of Blue Heron Cheese, who are based in Canada. Though I have never been there (desperately would love to visit them though!) they appear to me to have a really lovely, authentic, romantic style cheesery going on, using many of the dairy techniques that I learned working with my mum and apply in our own business. But honestly there are so many wonderful producers, and cheesemakers out there these days, even right here local to us in Australia, that they all deserve commending for their hard and innovative work! Blessed are the cheesemakers, hey!
If you're not absolutely sold just by reading what Brittany has said above, then the only thing left to do is make contact and try a small initial order to taste for yourself the outstanding flavours of these non-dairy cheeses, butters, yoghurts and crèmes. Contact The Vegan Dairy today.
---
Contact details for The Vegan Dairy
---