Interview - Cam - Soda Press Co
Soda Press Co Kombucha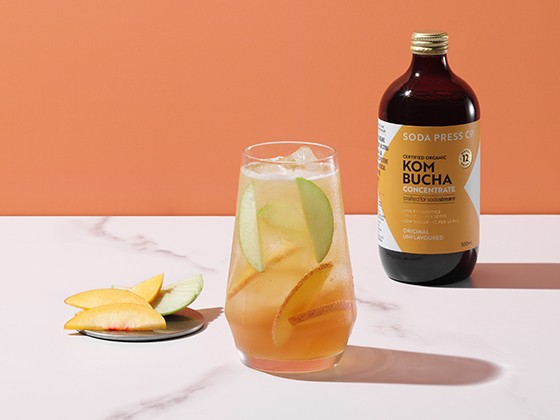 More Images
Soft drinks were never this smart! When we spoke with Cam, Founder of Soda Press Co, we had no idea how much thought, passion and pride had gone into these soda syrups and kombucha concentrates!
FFW: Who are the brains behind Soda Press Co?
SODA PRESS CO: Myself and a cracker team of passionate people who care about making great tasting products which are better for the planet
FFW: What are the products that you produce?
SODA PRESS CO:
Syrups: Pink Grapefruit; Old Fashioned Lemonade; Indian Tonic; Ginger Ale; Raspberry & Mint; Blueberry & Lime; Lemon, Lime & Bitters; Elderflower; Organic Cola.
Kombucha concentrates: Original Kombucha; Passionfruit & Mandarin Kombucha.
All our syrups and concentrates are organic, reduced sugar, vegan and have no artificial flavours.
FFW: What made you decide to craft your own soda syrups and kombucha concentrates?
SODA PRESS CO: Pure frustration with the lack of innovation in soda at the time. The juggernauts of the traditional soda category spinning outdated high sugar soda in single use plastic. There was an opportunity to make a product which tasted like the real ingredients used to make it and respect the planet in the process.
FFW: What are the differences between your sodas and kombuchas compared to competitors?
SODA PRESS CO: The Soda Press Co. is first and foremost about making darn tasty syrups to cater for everyday drinking, through to cocktails and mixers. We use natural and organic, non-processed fruits from the region and combine them with a unique extraction process to make reduced sugar, organic soda syrups.
FFW: How do you get your products to be so low in sugar but still so tasty?
SODA PRESS CO: We don't use nasty artificial sweeteners or stevia. When you use premium organic ingredients, you deliver more honest and bold flavours, thus with less reliance on the need to add sugar or any other nasties. Sugar occurs naturally within the organic juice concentrates we use however we also add some organic sugar, organic brown rice syrup and Monkfruit juice, which has added health benefits. Monkfruit was used by Buddhist monks for thousands of years in their cooking, and to treat illnesses. On average, we have 50% less sugar than regular syrups and soft drinks. The Kombucha live concentrates have almost zero sugar.
FFW: What's the shelf life of your kombucha? Does it have to be refrigerated?
SODA PRESS CO: Around 24 months from bottling. A special cold-fill pasteurisation process, along with the brown bottles and the fact that it's a syrup provide the product with a longer shelf life. Once opened, they will last around three months if you keep them in the fridge.
FFW: Do you use only organic ingredients?
SODA PRESS CO: Yes!
FFW: Do any of your products contain caffeine?
SODA PRESS CO: There are only very small, naturally occurring amounts from the cola nuts in the Cola syrup and the Cola Nut & Kaffir Lime Kombucha Concentrate. Please view the individual ingredients labels which can be located in the product section within our site.
FFW: Are your products gluten free?
SODA PRESS CO: Yes!
FFW: Can your sodas be used in cocktails and other drinks?
SODA PRESS CO: Of course! That's what they are for!
FFW: Do you recommend using Soda Press Co syrups and kombucha concentrates with SodaStream?
SODA PRESS CO: Yes!
FFW: Why do you suggest using SodaStream in particular?
SODA PRESS CO: SodaStream is a natural fit and synergy with Soda Press Co, given their focus on eliminating single use plastic waste.
FFW: How did you come up with the different flavours you offer across your range?
SODA PRESS CO: It's a mix of current trends and pure creativity.
FFW: Can foodservice businesses have Soda Press Co products on tap?
SODA PRESS CO: Unfortunately, we do not offer this service at the moment. Currently all our foodservice customers use our 500ml bottles.
FFW: What sorts of retailers are ideal for Soda Press Co?
SODA PRESS CO: Organic and speciality food stores, independent grocers, liquor, department and homewares; the aesthetics of the brand really lend themselves to boutique retailers too.
FFW: Aside from cafes, bars and restaurants, what other kinds of businesses should stock your products?
SODA PRESS CO: Hotels, gyms, offices, health and beauty businesses; anyone who want to minimise their environmental footprint and have healthy and environmentally conscious patrons or employees.
FFW: Is kombucha a 'living' drink?
SODA PRESS CO: It's true we have on average twice as many probiotics per serve compared to leading Kombucha brands. It also has live consumption-activated cultures in the form a stable Bacillus Coagulans spores. These live spores are activated into live probiotics once they reach the enzymes in your stomach which ensures you get pretty much all of the 1Billion+ probiotics per serve that you paid for, and that you're not consuming a significant percentage of 'dead cultures' that many kombucha drinks contain by the time they reach your stomach.
FFW: Are you able to supply bulk quantities for foodservice businesses?
SODA PRESS CO: Yes.
FFW: Being an artisanal producer, are there any other food or beverage brands that you find yourself crushing on?
SODA PRESS CO: Yes, lots…we look up to other businesses who have sustainability at their core, who actively strive to minimise their impact on the environment.
We also admire brands that have personality, rather than faceless big corporates which spin cliched marketing jargon.
We're also passionate about food, so we look up to other food and drink brands that take pride in how they craft their products.
Why not try Soda Press Co's products in your retail or foodservice business? It's clearly a successful brand that consumers are keen on trying. Get in touch today.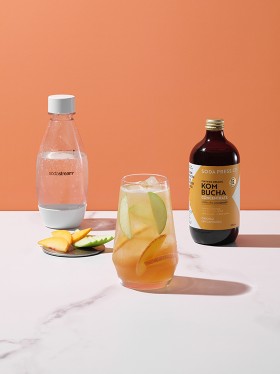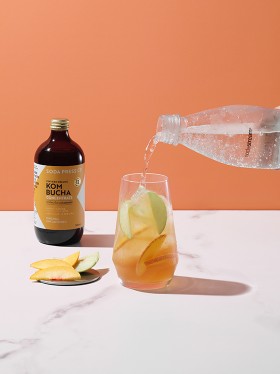 ---
Contact details for Soda Press Co Kombucha
---