Interview - Cate Lilja - Summer Hill Pantry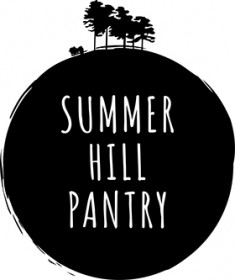 Imagine if you could forgo sugar-laden cake decorations for all-natural, all-fruit ones instead. Just as colourful, just as delicious and definitely kid-approved, Summer Hill Pantry's Fruit Sparkles and Fruit Sprinkles are the bomb. Their Bake Mixes are pretty awesome too. We chatted with Cate Lilja, Founder and Naturopath and discovered the reason this beautiful range exists.
FFW: Who is behind Summer Hill Pantry?
SUMMER HILL PANTRY: Summer Hill Pantry is a small family business. It was inspired by my wonderful sister who was struggling to find good food options for her kids that were healthy and that they loved eating. She is still chief recipe designer, always coming up with new creative, delicious ways to use the products.
FFW: What are the products you offer?
SUMMER HILL PANTRY: We have three core ranges – versatile, allergen-free Bake Mixes, 100% Fruit Sprinkles and our Fruit Sparkles.
All are designed to make food fun, whist still being quick and easy to make, made from wholefoods with no added nasties and most importantly, always delicious.
FFW: Are your foods 100% natural?
SUMMER HILL PANTRY: Yes – 100%. We spent a lot of time refining our Bake Mixes to ensure we could deliver something with no gums, preservatives or highly refines starches.
Our Sprinkles and Sparkles are not only natural but also made from 100% fruit and vegetable-based ingredients. No refined sugars, colours or additives - so you can sprinkle everything, everyday!
FFW: What are your brand's health and quality virtues?
SUMMER HILL PANTRY: Wholefood, minimally processed, nutritionally dense ingredients. We believe that even treats can be healthy, and some of our products are so healthy you can eat them every day!
No nasties – no preservatives, colours, flavours, artificial sweeteners.
Allergen-free formulations – gluten free, no nuts, soy, eggs, dairy.
Vegan and vegetarian friendly.
We use Australian made where possible.
FFW: Do your products have any sugar in them?
SUMMER HILL PANTRY: Yes, we use Certified Low GI sugar from Sunshine Sugar in our Bake Mixes. This sugar has been minimally processed to ensure more polyphenols are left in the sugar during processing from sugar cane juice. The extra polyphenols slow down the absorption of the sugar, ensuring a slow release of energy.
This sugar is also Certified Bonsucro, grown sustainably in farms just five minutes from our production facility.
Our Sprinkles and Sparkles only contain the naturally occurring sugars from the fruit they are made with.
FFW: How are they sweetened?
SUMMER HILL PANTRY: The Bake Mixes are sweetened with Low GI raw sugar. The Sprinkles and Sparkles are sweetened by nature.
FFW: What's the secret behind the sparkle in your Fruit Sparkles?
SUMMER HILL PANTRY: The Sparkles are made by low temperature drying whole fruit purees (this processing keeps all the nutrients intact as well). The naturally occurring sugars in the fruit purees crystallise during the drying process, leaving the beautiful colourful sparkly flakes that are our Fruit Sparkles.
FFW: Can your Fruit Sprinkles and Fruit Sparkles be used in any other ways?
SUMMER HILL PANTRY: On Instagram, we see so many creative ways our customers use these products.
They are both very popular breakfast additions for breakfast bowls, porridge, muesli, you name it.
Adding to salads is another popular way to add crunch and pops of flavour with our Sprinkles – strawberry, rocket and balsamic salad; blood orange, fennel and avo salad – I'm getting hungry just thinking about it!
The Sparkles also look beautiful on home-made chocolate and lattes.
FFW: Do your products suit any particular dietary requirements or allergies?
SUMMER HILL PANTRY: All of our products are gluten free. We have also developed the recipes without any common allergens. We use sunflower meal instead of almond meal and there is no soy, dairy or eggs.
They can be easily adapted to vegan and vegetarian diets too.
FFW: What makes your range 'kid-approved'?
SUMMER HILL PANTRY: We have so many amazing testimonials from our customers. Not only do kids love to eat these but they love to get involved in the baking too. The simple instructions mean kids can get involved in the kitchen and learn as they have fun.
And as for the Sprinkles and Sparkles, how can you go wrong with a sprinkle that the kids will be begging you to put on their breakfast, and you know it's a nutritious start to their day?!
FFW: What's different about your Bake Mixes?
SUMMER HILL PANTRY: We use real wholefood ingredients, so you get a home-made taste every time. We don't replace gluten with gums and highly processed starches; we have sourced Australian grown flours and meals and added some gut-friendly tigernut flour from Spain – it's high in resistant starch and completely delicious.
They are also really versatile; we have developed a range of different applications for each of the mixes from cookies, cakes and muffins to slices and banana bread so if you have a bag in the pantry you have so many options.
FFW: What sorts of retailers are selling your products?
SUMMER HILL PANTRY: We are stocked in health food stores, delis and specialty grocers, independent supermarkets and even a handful of giftshops.
We also have some cafes using our ingredients in the kitchen for special finishing touches on desserts and sweet treats.
I also think they would be a lovely addition to gift hampers. We had great success last Christmas with our jars of cake mix; the perfect gift for any baker.
FFW: And what kinds of foodservice businesses would you like to see offering Summer Hill Pantry to their customers?
SUMMER HILL PANTRY: Given the versatility of our Bake Mixes, they make a great kitchen staple for cafes, restaurants, childcare centres and canteens to whip up a variety of gluten free offerings with quick and easy recipes that we can provide.
The Sprinkles give a special finished touch to any dessert, sweet treat or salad and I think there is just so much potential for all foodservice businesses to wow their customers with these delicious crunchy Sprinkles and Sparkles.
FFW: Would your products be suitable for school tuckshops?
SUMMER HILL PANTRY: Absolutely. They don't contain any allergenic ingredients so are the perfect base for any tuckshops that are baking up cupcakes, muffins, cookies or brownies. They also contain low GI sugar for a slower energy release.
FFW: What is the personality of Summer Hill Pantry?
SUMMER HILL PANTRY: Summer Hill Pantry makes food fun. Kids love to eat it and parents love to make it.
And it really is so helpful. How often have you been caught out trying to bake up a plate at short notice to suit a whole host of dietary requirements? A jar of SHP in the cupboard will have you ready to serve in less than 1 hour.
FFW: What quality and customer service virtues does Summer Hill Pantry promote as part of the company's high standards?
SUMMER HILL PANTRY: We understand all our customers are different. We are small but nimble so aim to support our retailers any way we can to suit their individual needs. We can make large batches to order, turn things around very quickly and be really flexible with orders, everything from single units to an extra-large batch for that bulk catering order.
I have a background in food and complementary medicine production, having worked in large food manufacturing facilities and TGA licenced facilities. I bring that experience and those standards of quality control to my small commercial kitchen and packing facility in Murwillumbah in Northern NSW.
FFW: Do you have any other products or flavours in the works?
SUMMER HILL PANTRY: I sure do! We are looking to expand our Bake Mix range so we offer more pantry staples.
And I am always on the lookout for seasonal produce that would make a great new or special edition Sprinkle so watch this space!
FFW: Do you offer bulk quantities for food manufacturers and foodservice businesses
SUMMER HILL PANTRY: Yes, we offer all of our Bake Mixes in 5kg and 10kg bags. Can also go larger if required.
We offer all of our Sprinkles in 200g and 1kg bags – again, we can go larger for bigger production requirements.
FFW: Do you happen to know of other boutique producers of good foods or beverages that you can tell us about?
SUMMER HILL PANTRY: There are so many fantastic food producers in my area of the NSW Northern Rivers. Tweed Real Foods are doing amazing things, and I can't go past Granny Frankfurter's Wonderkraut.
If you'd like to discover this exciting range of allergen-friendly, all-natural Sparkles and Sprinkles and Bake Mixes, get in touch with Summer Hill Pantry today.
---
Contact details for Summer Hill Pantry
Service Area Australia Wide
---