Interview - Corinne Robart - A Taste of Paris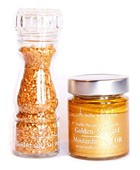 If the sound of gold-flecked mustard or truffle-infused olive oil intrigues you, then you really need to take a look at A Taste of Paris's incredible range of gourmet fine foods. We recently spoke with Corinne Robart, Director of Force 5 Imports, the company that created the collection.
FFW: What is the story behind A Taste of Paris?
A TASTE OF PARIS: "A Taste of Paris" was founded in late 2012 by me and my son Julian. In 2007 I moved to Australia for personal reasons, fell in love with Australia and its people and settled down in Melbourne in 2008.
The food industry is fully a part of my life and a family love affair. Back in France, I was Food Sourcing Specialist for Le Bon Marché de Paris, Store Manager within the Carrefour Group and Managing Director/Buyer for Holding Force 5 (family business).
After finishing his Commerce Studies in Paris, Julian decided to be a part of this amazing journey and perpetuate the 'Family Love Affair' by joining Corinne in Australia.
FFW: From where do you source your products?
A TASTE OF PARIS: It is the easy part for me because of my amazing experience as a Buyer and Food Sourcing for Le Bon Marche (LVMH), one of the most beautiful gourmet stores in the world. I was dedicated to find the unique and the beautiful and to create trends in food. And, I have been working very closely with my suppliers to reach this exceptional quality. And only artisanal producers can offer you this level of products in terms of quality and visual.
FFW: What would you say is the quality benchmark for products sold through A Taste of Paris?
A TASTE OF PARIS: All our artisanal suppliers produce following each order using high quality ingredients. We do carry a selection of organic products and non-organic.
FFW: What are your most unique products?
A TASTE OF PARIS: For this season, the Gold Collection Gold Truffle Mustard and Gold Himalayan Salt.
FFW: What kinds of businesses buy from A Taste of Paris?
A TASTE OF PARIS: Gourmet food stores and gift hamper companies.
FFW: How does the company make it easy for customers to do business with you?
A TASTE OF PARIS: We have no minimum orders and some products can be mixed such as the Patience biscuits.
FFW: What are the most compelling virtues of your brand?
A TASTE OF PARIS: We have a very high focus on customer service values and as we said before our clients' own gourmet food business and we are all speaking the same language; "the love of our products".
As a wholesaler, all my customers are ambassadors of our products.
FFW: What common thread weaves the different types of product together to all be offered by A Taste of Paris?
A TASTE OF PARIS: That the range cannot be missed on the shelves. It is a very attractive collection.
France is the country of fashion and food and our selection branded collection "A Taste of Paris" highlights the visual appeal and elegance of gourmet food.
FFW: Does your Golden Mustard really contain gold?
A TASTE OF PARIS: The gold visual on The Gold Truffle Mustard and the Gold Himalaya Salt is a very fine powder created by a combination of molecules. And as you can imagine we do have the exclusivity of this product.
FFW: Do you provide your customers with advice on how to position your ranges within their businesses?
A TASTE OF PARIS: Our clients are gourmet food lovers which means that they are aware that the visual impact creates attraction (colour, shapes, products…).
FFW: What other lines are you looking at introducing to A Taste of Paris?
A TASTE OF PARIS: In mid-November we will be able to introduce a beautiful and unique new line that we just finalised and more precisely a new food product; a Mustard & Balsamic Cream range.
Mustard & Raspberry Balsamic Cream
Mustard & Curry Balsamic Cream
Mustard & Black Balsamic Cream
The balsamic cream adds some sweetness to the fine French mustard and I am pretty confident that Australian consumers will love them.
FFW: To place your first order or to discuss this exquisite range of products, contact A Taste of Paris today.
---
Contact details for A Taste of Paris
---