Interview - Erika Chan - Golden Pig & Co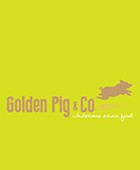 Inspiration and motivation come from the oddest of places. Golden Pig & Co produces incredibly tasty potstickers that are gluten free and contain nothing artificial. As we learned from talking with Owner and Director, Erika Chan, the dietary requirements of their youngest daughter led to a successful food business, and now, raving fans can't get enough of their delicious products!
FFW: Who are the people behind Golden Pig & Co?
GOLDEN PIG & CO:Husband and wife duo Erika Chan and Robert Chan. Golden Pig & Co was inspired by the birth of our youngest daughter, Jordyn. Born with multiple life-threatening allergies, by the time Jordyn was 18months, there was more food she was allergic to than she could eat. We knew for Jordyn's health, for our peace-of-mind and for our sanity, there had to be another way.
FFW: What does your range consist of?
GOLDEN PIG & CO:At the moment our range consists of five different flavours of gluten free potstickers. We also have chilli oil and bone broths available which are all gluten free.
We are developing another range of nutritional frozen and easy-to-prepare dumplings in the next couple of months; this will be our 'Gourmet Range'. Stay tuned!
FFW: Are all your products gluten free?
GOLDEN PIG & CO:Yes, our facility is proud to produce only products that are gluten free.
FFW: Do your products contain MSG?
GOLDEN PIG & CO: No MSG is added into any of our products as we believe in using only quality fresh produce and organic spices. We don't see the need for MSG when there are already so many natural and nutritious products available that can enhance the flavour of food.
FFW: Aside from being gluten free, what are your potstickers' other healthy virtues?
GOLDEN PIG & CO: Our ethos is to create food that is good and wholesome whilst also providing nutritional benefits for the mind and body. For this reason, our range does not have MSG, natural flavour enhancers, sugar or preservatives.
We also do not use any commercial sauces i.e. oyster sauce, soy sauce, etc.but rather we use organic dried spices, filtered water and Celtic Sea salt; it's the beauty of the fresh produce that creates the taste.
FFW: What makes your ingredients so special?
GOLDEN PIG & CO: We ensure that only the freshest and best quality ingredients are used for our potstickers. The vegetables and spices are all locally sourced and organic and we only use fully grass-fed and free-range meats from local Australian farmers.
FFW: You offer a vegetarian dumpling; do non-vegetarians enjoy it too?
GOLDEN PIG & CO: Yes, we have surprisedmany people, vegetarians and non-vegetarians, with our organic tofu and coriander vegan option. We have changed many of our customers' perception of tofu as our vegan option is tasty with the right balance of flavours. We always encourage tofu skeptics to try them as they won't disappoint.
FFW: How would you suggest retailers promote your products in store?
GOLDEN PIG & CO: For our range we encourage our retailers to promote the products with point of sale materials. Also for greater product visibility, we believe that cooking demonstrations are effective as customers can see how easy the potstickers are to prepare and also have a chance to taste them in store. Obviously, we suggest that the dumplings are placed in the gluten free section so that they are easily identifiable and quick to grab.
FFW: Do you see Golden Pig & Co products as freezer staples for coeliacs and others with gluten sensitivity?
GOLDEN PIG & CO: Yes, we see our range of potstickers as being household freezer staples. They are not only delicious to eat but also easy to prepare. Served with some extra vegetables on the side, they can become a meal for both adults and children.
FFW: Are your dumplings positioned more as a convenience food or as a food to use when entertaining?
GOLDEN PIG & CO: Both. Our potstickers are perfect for time-poor peoplewho want to have a tasty and savoury snack. Also, as ourpotstickers are restaurant quality, they are perfect for entertaining at a dinner party, weekend gathering, kids' birthday party or larger scale functions and events.
FFW: What kinds of restaurants or other foodservice businesses are using Golden Pig & Co potstickers?
GOLDEN PIG & CO:The range is extremely diverse; boutique Asian restaurants, caterers who have expanded their gluten free range,restaurants who wish to provide healthy options, and also health and fitness foodservice businesses that organise meals for their clients.
FFW: What are the most compelling virtues of your brand?
GOLDEN PIG & CO: Our business is committed to providing nutrient-rich products to our community. We pride ourselves on using nutrient conscious, sustainable, local and organic ingredients wherever possible, whilst not relying on preservatives, MSG, GMOs or added sugar.
Our customers love that the range is restaurant quality and easy to prepare. The products are also allergy friendly, and therefore they can be eaten by the whole family. Above all, we truly believe that our products taste delicious!
FFW: How does the flavour and texture of your gluten free dumplings compare with those that are not gluten free?
GOLDEN PIG & CO:The flavours of our potstickers are exactly how you would expect regular potstickers to be - there is no compromise on taste. Our customers say they are "soooo delicious!" and have a "fantastic taste". Also the dough texture is very similar to the dough used in potstickers that have gluten.
FFW: Which seems to be the most popular of your flavours?
GOLDEN PIG & CO: Our most popular flavours are Chicken & Lemongrass, Pork & Snow Pea Sprout and Organic Tofu & Coriander.
FFW: Where would you love to see your products on offer?
GOLDEN PIG & CO: At the moment our range is stocked in a number of retail health, organic, and wholefood stores in both New South Wales and Victoria and also online (you can see the stockists on our website). But we would love to make the products more widely available through supermarkets, corporate and event catering, market stalls and school canteens so that they are readily available to children.
FFW: What has been your biggest highlight to date?
GOLDEN PIG & CO:Our biggest highlight along this journey has been being recognised as a double finalist in the Food & Beverage Industry Awards 2017. We were finalists in the categories of 'Health Foods' and 'Ready Meals'. To be named among the calibre of Food & Beverage professionals in our field was not only humbling, but it concreted our desire to produce quality, nutritious food for our community.
FFW: With all that recognition and so much heart and soul, it looks like Golden Pig & Co are onto a winning product and care a great deal about their customers' needs. Why not contact them today for a chat on how their potstickers and other products can work in your business?
---
Contact details for Golden Pig & Co
---