Interview - Gemma - 13 Seeds Hemp Farm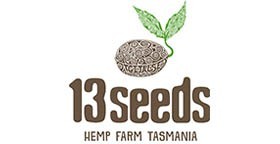 Hemp is the new 'wonder food'. With a spectacular nutrition profile and delicious flavour, hemp seeds can boost your diet right across your day. We spoke with CEO of 13 Seeds Hemp Farm, Gemma Lynch-Memory about how this newly-approved food source is exciting consumers across the country.
FFW: Who is behind 13 Seeds Hemp Farm?
13 SEEDS HEMP FARM: Founders Gemma Lynch-Memory and Terry Memory and their six children. We are a family-based Tasmanian business.
FFW: What actually are hemp seeds?
13 SEEDS HEMP FARM: Hemp seeds are basically the fruit or nut of the hemp plant. We take off the husk in the dehulling process, much like removing the shell of a walnut to reveal the nut inside the shell. The hemp seed, after having its husk removed is a small, white soft seed with a creamy texture and a nutty flavour.
FFW: Where are the hemp seeds grown?
13 SEEDS HEMP FARM: Most of our hemp crops are grown in Tasmania. The clean air, climate and rich soils are the perfect ingredients to produce a premium, healthy and supremely nutritious hemp plant.
FFW: Are they organically-grown?
13 SEEDS HEMP FARM: There is no certified organic hemp currently being produced in Australia. We are all running trials on genuinely certified organic hemp crops and we are certainly putting in the ground work to being able to produce good quality certified organic plants, but in the meantime our crops are the next best thing ... GM free, chemical free using no pesticides or herbicides and grown in rich, healthy, nutritious soil.
FFW: When did you establish your farms?
13 SEEDS HEMP FARM: Hemp was approved as a food source in November 2017. Prior to this date we were running lots of trials including locations of our hemp crops, seed variety types, etc. Therefore, by the time we were able to sell our Hemp food products, we had already done much of the ground work and we were very happy with the quality of hemp that we were producing.
FFW: What are the products that you offer?
13 SEEDS HEMP FARM: We have Australia's largest and most complete range of hemp food products including Hemp Seeds (or Hemp Hearts), Hemp Oil, Hemp Protein Powder, Hemp Supergreens Protein Powder, Hemp Oil Capsules, Hemp Porridge, Hemp Porridge with Fruit, Hemp Muesli, Hemp Muesli with Green Tea, Hemp Chai, Hemp Drinking Chocolate, Hemp Flour, Hemp Falafel Original, Hemp Falafel Spicy and Hemp Falafel Lemon and Cracked Pepper and Hemp Honey. Please see our website for more information.
FFW: Are all your products made in Australia from Australian-grown hemp seeds?
13 SEEDS HEMP FARM: Our Hemp Capsules are made in New Zealand using New Zealand hemp oil. We also have growing partners in New Zealand because they mirror the quality growing conditions that we have available in Tasmania.
FFW: Have your products won any awards?
13 SEEDS HEMP FARM: Not yet! The hemp industry in Australia is still in its infancy so no awards have really come up yet.
FFW: Can you describe the flavour of hemp?
13 SEEDS HEMP FARM: Nutty with a creamy texture.
FFW: Do you supply nationwide?
13 SEEDS HEMP FARM: Yes!
FFW: What are the most compelling virtues of your brand?
13 SEEDS HEMP FARM: Our products are all-natural, all Australian and non-GMO, plus we are a family business and pride ourselves on good old-fashioned quality and service. We operate under strong ethical practices and we are passionate about improving the health and wellbeing of people on this planet with one of nature's most incredible superfoods.
FFW: How does 13 Seeds Hemp Farm look after customers? [e.g. prompt order response; low minimum orders; guaranteed service; express delivery?]
13 SEEDS HEMP FARM: We take the satisfaction of our customers very seriously. We offer prompt order response, low minimum orders, guaranteed service and express delivery for those who need it.
FFW: What kinds of retailers are stocking your products?
13 SEEDS HEMP FARM: Health food shops and chains, supermarkets and pharmacies.
FFW: Are you able to supply bulk quantities to food manufacturers?
13 SEEDS HEMP FARM: Absolutely.
FFW: Do you offer any important tips on how to store, serve or use your products?
13 SEEDS HEMP FARM: Store in a cool dark place. Please see our website for serving suggestions under the individual products.
FFW: What lies ahead for 13 Seeds Hemp Farm; any new developments, awards or exciting new customers?
13 SEEDS HEMP FARM: Yes, we are in the process of having a much larger processing centre built and we have another really exciting range of products coming out. Our customer base is rapidly growing because our customers trust our brand and more and more consumers are moving to our brand because of this.
FFW: What do you think it's important for consumers to know about hemp as a food?
13 SEEDS HEMP FARM: Hemp is a 'superfood' which has science to back up claims and health care benefits. It is high in plant-based protein with the amino acid ratio being closer to complete sources than many other vegetarian proteins. It is low in carbs and rich in Omega 3, 6 and 9 essential fatty acids, in high proportions. Your body cannot produce essential amino acids and so we must obtain them from our diet. It is a great source of both soluble and insoluble fibre. Hemp contains an array of vitamins and minerals and is especially rich in vitamin E, magnesium, phosphorous and potassium. It's also a good source of iron, zinc and B vitamins including niacin, riboflavin, thiamine, vitamin B6 and folate. Best of all, it tastes amazing!!!
FFW: Don't be late to the party! Get on board with hemp food products now because your customers are already looking for them. For more information or to place an order, contact 13 Seeds Hemp Farm today.
---
Contact details for 13 Seeds Hemp Farm
---