Interview - Hament Chavda - Turmeric Latte Mix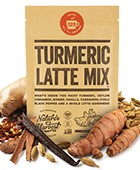 Growing up in India, Hament and Sonal Chavda were given golden milk as a soothing, healing tonic. When someone suggested they create a turmeric latte product, they laughed. Now, they a healing the world via every pack sold.
FFW: What is 'golden milk'?
TURMERIC LATTE MIX: Golden is the colour of turmeric which has been used in India for centuries in Ayurveda. Golden Milk is turmeric and milk.
FFW: How is it used as part of Ayurvedic medicine?
TURMERIC LATTE MIX: Turmeric is earning a reputation as a potent medicinal food, also known as the golden spice or the magic sword against inflammation. It has been used in Ayurveda, the Indian system of holistic medicine for nearly 4,000 years. In Sanskrit, turmeric has at least 53 different names, including Jayanti (one that wins over diseases).
FFW: Was turmeric infused milk a part of your childhood?
TURMERIC LATTE MIX: Like many other Indian children, we were given turmeric and milk growing up, especially when we were sick. It was served hot in a saucer. We would then slurp the hot milk. The slurping would also cool down the turmeric. I remember once falling and having severe bleeding on my head, my mum packed it with turmeric and the doctor, being Indian, acknowledged my mother for doing so.
FFW: What are the ingredients in your Turmeric Latte Mix?
TURMERIC LATTE MIX: Turmeric, cinnamon, ginger, cardamom, chilli, vanilla and black pepper. We are now ordering direct from farmers, paying them a fair price for certified organic ingredients and sustainable farming methods, which means it's good for them and doesn't cost the earth!
FFW: Have you chosen the ingredients for their flavours or for other properties?
TURMERIC LATTE MIX: Both. Sonal and our holistic nutritionist, Taylor Bouknight tweaked the initial recipe for its flavour profile and added black pepper for absorption. All the ingredients have synergistic properties. Traditionally used in Indian sweets, the cinnamon and cardamom together with vanilla and chilli enhance the flavour profile.
FFW: Do consumers tend to purchase Turmeric Latte Mix for the flavour or for the health benefits?
TURMERIC LATTE MIX: We recently served over 8,000 Turmeric Lattes at 3 expos in Perth, Sydney and Melbourne. 70% of people who tried the turmeric latte were skeptical of how good it would taste, either because they hadn't tried a turmeric latte before or they didn't like the taste of turmeric. Around 9 out of 10 people who tried the Nature's Harvest Turmeric Latte Mix purchased the product because of the taste first, then wanted to know even more about the added health benefits.
FFW: Would you say it makes a good alternative to coffee, particularly later in the day?
TURMERIC LATTE MIX: Absolutely; Canadian triathlete, Brendon Brazier describes drinking coffee as 'energy on credit'. Turmeric Latte is a caffeine-free alternative that offers multiple health benefits without the increase in stress hormones and multiple health benefits.
FFW: Can children, pregnant and breastfeeding women enjoy Turmeric Latte Mix?
TURMERIC LATTE MIX: All the spices can be found in many recipes too, especially Indian cooking. Sensitive babies may react negatively to the taste or smell of certain spices in the breast milk. Other babies however may ignore or enjoy the flavours. Consume in moderation (one serving a day) and always consult your health care professional.
FFW: Is it easy to make, at home or in a foodservice environment?
TURMERIC LATTE MIX: Yes, really easy and we have some videos on our website that show just how to do it. Simply add ½ teaspoon of Turmeric Latte Mix to a cup or mug of milk, heat and serve. You can add a spoon of honey for sweetness and serve with a sprinkle of cinnamon on top.
FFW: Would you say turmeric lattes are the new chai lattes?
TURMERIC LATTE MIX: With so many health benefits the Turmeric Latte is the new century's old 'Spice of Life!'
FFW: Can Turmeric Latte Mix be used in other recipes such as ice cream, juices, smoothies and curries?
TURMERIC LATTE MIX: We have had some great recipes shared with us such as Golden Sun Bliss Balls, Turmeric Chia Pudding and Golden Bliss Protein Shake. You can watch videos of these on our Turmeric Latte Mix YouTube channel.
Customers from around the world are sharing pumpkin soup recipes, curries and an even an ice cream recipe which is coming soon on our website.
FFW: Can it be made on nut mylks instead of cow's milk and if so, are the health values different/better?
TURMERIC LATTE MIX: We love serving Turmeric Latte Mix with coconut milk. It really brings out the flavour profile and is much healthier than dairy. Over 45% of the fat in coconut milk is Lauric Acid which is a type of Medium Chain Fatty Acid (MCFA). MCFAs are easily converted to energy by the liver. There are many studies showing that MCFAs promote weight loss.
FFW: Is any special equipment required to make it at home?
TURMERIC LATTE MIX: All you need is a pan and if you're really stretched for time can even have an iced Turmeric Latte. Simple add ½ teaspoon to a small amount of milk, stir, and pour over your cup of milk and ice.
FFW: Would you recommend that retailers offer taste tests? Have you found that people are drawn to – or put off by – the vivid yellow colour?
TURMERIC LATTE MIX: We have found that once people try the latte mix they are usually surprised and love it. The Golden colour is a great distraction for people to ask questions and find out more.
FFW: Your product contains chilli; does that mean it's not suitable for people who can't take hot foods?
TURMERIC LATTE MIX: There is a tiny amount of chilli and even kids love it. Chilli has a range of health benefits including weight loss and improved metabolism and contains up to 7 times the vitamin C of an orange.
FFW: What does Turmeric Latte Mix taste like?
TURMERIC LATTE MIX: We remember one lady took a sip and said, "it's like a hug on the inside!" There is something really soothing and you feel the goodness in every sip.
FFW: Your business, Nature's Harvest offers lots of support to customers in different ways via holistic healing and workshops. How did you come up with your Turmeric Latte Mix over other possible food products you could have created?
TURMERIC LATTE MIX: It was all a fortunate stroke of serendipity. A team member suggested we serve the Turmeric Latte Mix and we laughed at first because we used to drink it as kids. We grew from 40 servings in the first month to over 350 servings in 3 months with numerous customers sharing how they loved the Nature's Harvest Turmeric Lattes and then one customer demanded that we pack the mix so she could make it at home and we did!
We knew it was healthy yet there was no real purpose to distribute the unique mix of seven spices until in May 2016, when a young man shared his story how he was suicidal at the age of 13 and then how a scholarship to a youth leadership program transformed his life from being a 2 out of 10 to constantly smiling after attending the program.
We decided to donate a $1 for every pack to Magic Moments Foundation helping youth in every country we deliver our product to.
I mentioned that we will raise over $1m to a journalist who then added to her article ' in the next 12 months'. I picked up the phone to delete that part but knew in my heart this would be a great calling! so I put the phone down and our journey began.
With a higher purpose we quickly expanded to over 300 outlets in Australia through the power of social media and word of mouth.
We love Wholefoods Market, a US company also based in the UK who, like everyone else we approached in the U.K. was the last to say "NO". I sat there in defeat for 5 minutes with my head down. But then I remembered watching a movie called 'Walt Before Disney' about how Walt failed so many times yet something in his heart ️ignited him to never give up! I asked my mother for a card and wrote a letter from the heart and inserted a sample for them to try. A few weeks later, to my surprise, we received an email from Wholefoods Market UK who then led the way to introduce the Turmeric Latte Mix into the UK and support our greater cause!
Now, even though it still seems like a high mountain to climb, we look up and see our purpose for a healthier generation and look back and realise even more that it tastes good for a reason.
FFW: Where would you really like to see Turmeric Latte Mix served?
TURMERIC LATTE MIX: We once got a call from a chiropractor in Sydney whose wife had purchased 3 packs of the Turmeric Latte Mix at the Mind Body Spirit festival. He was pleasantly surprised how it had helped with his inflammation and requested to stock the Turmeric Latte Mix after he gave away the other packs to his clients at his practice in NSW. We would love to see the product at airports, hospitals, cafes and even schools.
Support a conscientious company that is trying to do so much good in the world. Offer your customers nutritious, tasty turmeric lattes and you'll soon find your afternoon beverage dollars growing.
---
Contact details for Turmeric Latte Mix
---