Interview - Inna Kiner - InnaMuse Muesli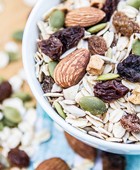 When Inna Kiner began sharing her homemade muesli with others, they insisted it should be on the market. Now, years later, her brand InnaMuse makes mueslis that are made with more than 50% nuts and seeds, are all wheat free, cane sugar free, low GI, high in protein and packed with flavour. We had a chat with Inna and learned what's coming up next too.
FFW: Where did you get the idea to establish InnaMuse?
INNAMUSE MUESLI: I've been making muesli for a number of years, feeding mainly myself and my extended family. One family member in particular became a huge fan and kept telling me it was so good that I could sell it. When a local farmers' market opened up near me, I decided to give it a shot! After initial successes at the markets, InnaMuse was established.
FFW: And what do you offer?
INNAMUSE MUESLI: InnaMuse offers toasted and bircher muesli that is wheat-free, cane sugar-free, and has no added oils or fats. Each of our flavours have at least 50% nut and seed content, meaning all our muesli is low GI and high in protein. And since we're all natural, all of our mueslis are delicious!
FFW: What quality benefits do your products offer?
INNAMUSE MUESLI: We offer wheat-free muesli as well as gluten free, paleo, vegan and fructose free varieties.
FFW: What do you mean by 'handcrafted'?
INNAMUSE MUESLI: Handcrafted means that we make every step by hand, in small batches, so that each bag of muesli has that personalised, artisanal feel to it. We don't mass produce our muesli and that comes through in the taste. We even hand chop all of the nuts ourselves!
FFW: What's the difference between toasted and bircher muesli?
INNAMUSE MUESLI: Toasted muesli is muesli that's been toasted/roasted gently in the oven, so it has a natural crunch to it. Bircher muesli is natural or untoasted muesli that's soaked overnight to help soften it up. The result is creamy muesli that's easier to digest.
FFW: Do children enjoy your products?
INNAMUSE MUESLI: Kids love our products! Although we have kids that enjoy all of our flavours, the favourite has to be the Chocolate Haze, hands down! And little wonder – it tastes like Nutella in a muesli but with a healthy twist.
FFW: What kind of foodservice businesses are serving InnaMuse muesli?
INNAMUSE MUESLI: The main businesses that use or stock InnaMuse so far are: cafes, school canteens and delis/small grocers.
FFW: It seems like your mueslis would be great as a trail mix. Do consumers enjoy it this way too?
INNAMUSE MUESLI: Definitely! Our toasted flavours are great for snacking on during the day, and quite a few people have told me that's how they prefer to eat InnaMuse, including my husband!
FFW: Tell us about what kind of retailers would be perfect to stock your products.
INNAMUSE MUESLI: All of the above! We've had a few gyms approach us in the past as well; the high protein content really appeals to gyms. Health food stores, delis, specialty grocers are a main target as are cafes and coffee shops (stationery and mobile). Catering companies and hotels/B&Bs are also in our targets.
FFW: Do consumers get in touch with you about how they like InnaMuse? What do they say?
INNAMUSE MUESLI: They do. A lot of our feedback occurs at the markets when people try our products and give us feedback on get spot. Really enthusiastic fans become fans on Facebook and post messages.
FFW: How is the profit margin for your retailers and foodservice businesses?
INNAMUSE MUESLI: I think it's about a 40% profit margin for stockists.
FFW: How do you help retailers promote InnaMuse to gain optimal sales?
INNAMUSE MUESLI: For retailers, we offer in store sampling at no cost.
FFW: What would you like people to embrace about your brand?
INNAMUSE MUESLI: Our muesli is Australian owned and made. We have high quality standards and try to ensure that our range has something for everyone. But in essence, we're just a regular husband and wife team that are passionate about good quality ingredients and delicious tasting results.
Interestingly, a lot of people ask if we're organic and I wish we were! But the amount of quality ingredients we use in each flavour would make the price of the muesli completely unattainable. That's why our emphasis is "All natural. All delicious."
FFW: What are you particularly passionate about in regards to your business?
INNAMUSE MUESLI: I think what drives me the most is delivering products that everyone can eat. I love experimenting in the kitchen to bring new and exciting flavours to our customers. And I love seeing people light up when they name an allergy/intolerance to me and I find them a muesli they can still eat!
FFW: Where would you really like to see InnaMuse served?
INNAMUSE MUESLI: InnaMuse is best served in cafes, school canteens and airlines. It is a more expensive product because of the sheer quantity of quality ingredients, so we understand that it's not for everyone.
FFW: What's next for InnaMuse? Do you have any other flavours or products in development?
INNAMUSE MUESLI: We're in the process of launching our Paleo flavour and are working on a nut-free bircher muesli as well. After that, we're turning out attention to muesli bars and bites!
Jump on board with InnaMuse before your competitors start stocking it and drawing your muesli-loving customers in! For more information, to ask questions or to place an order, contact InnaMuse today.
---
Contact details for InnaMuse Muesli
---