Interview - Jalni Shah - SSS Foods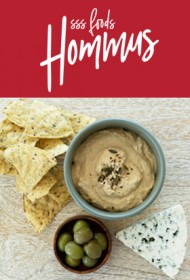 Hommus has been around for centuries and in these modern times, it's appreciated for its nutritional goodness as well as its flavour. But getting the flavour and quality right is important. At SSS Foods, these elements are top priorities. We spoke with the company's General Manager, Jalni Shah and discovered what makes their hommus so good!
FFW: Who are the people behind SSS Foods?
SSS FOODS: The owners are Jalni and Sarju Shah, backed by a highly trained team within the production area who have 5+ years' experience in food production and food safety.
FFW: What are the products you offer?
SSS FOODS: SSS Foods currently offers a natural hommus and a coriander, cumin and chilli hommus.
FFW: How is your hommus different from other hommus products in the market?
SSS FOODS: Our products are all vegan and gluten free and have no artificial colours, flavourings or preservatives. All products are free of canola oil, vinegar and artificial preservatives to ensure a smooth, creamy and healthy hommus product.
FFW: Is it gluten free or dairy free?
SSS FOODS: Yes. All of our products are vegan and gluten free.
FFW: Is hommus a healthy food?
SSS FOODS: Absolutely! Hommus is a low GI food. Our products contain no nasties and are ideal for those looking for vegan, non-vegan or gluten free diets.
FFW: How can consumers use hommus in different ways?
SSS FOODS: Hommus is ideal with rolls, crackers, sandwiches and vegetables. Our family and team use hommus in so many different ways; as a spreadable butter/margarine replacement, on jacket potatoes, as a marinade for kebabs and on salads. To be honest, it's only the imagination which prevents its wide usage.
FFW: Is hommus suitable only for Middle Eastern cuisines?
SSS FOODS: No way! Anyone can use hommus. It is a versatile spreadable product that can be used as a spread, dip or marinade.
FFW: How are foodservice businesses using your hommus?
SSS FOODS: Foodservice customers can contact us to discuss their requirements but essentially, we can produce 5kg, 10kg and 20kg pails for foodservice.
FFW: What kinds of retailers are ideal for your products?
SSS FOODS: All retailers can contact us to discuss ranging our products. We are also open to creating new brands to support specific requirements for retailers.
FFW: You offer contract manufacturing; what's involved in that?
SSS FOODS: We do offer contract manufacturing at our NSW registered food grade facility. Please contact us to discuss your requirements in confidence.
FFW: Do you have any plans for new flavours for your own range?
SSS FOODS: We plan to introduce a new savoury flavour which will be great as a marinade, along with a sweet hommus for use as a dip or on toast.
FFW: Hommus is incredibly popular and so versatile! What's important is the quality and flavour and thanks to SSS Foods, you can purchase a wonderful, healthy hommus product that your customers will truly enjoy. Contact the company today for more information about how you can stock or serve their hommus to your customers.
---
Contact details for SSS Foods
---