Interview - Jason Stockton - Only Mine Handmade Chocolates Supplier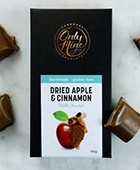 A weekend chocolate spree turned into a thriving business for Jason Stockton and his partner Anya. Today, Only Mine churns out some incredibly unique flavours, all beautifully packaged for gifting. Their latest creation, a range of exquisite chocolate bars is set to be the darling of hotel mini bars, gift hampers and personal treat stashes around Australia. We spoke with Jason to learn more.
FFW: Who are the founders of Only Mine?
ONLY MINE: Jason & Anya.
I (Jason) come from 12 years of work in website development and ecommerce. Having founded many small businesses that never really eventuated into much, I decided to take all the knowledge I had in making other people's online businesses successful and start Only Mine with my partner Anya.
Anya is a Vietnamese-born Russian who just completed her Masters in Accounting in Australia. Through her Asian heritage she has always had a great knowledge about ingredients, and cooking has always been a passion of hers. This sense of balance in food shows through the flavours that Anya creates for Only Mine.
FFW: What inspired you to start an artisanal chocolate business?
ONLY MINE: I was baking in our home kitchen one day (which was something I enjoyed doing from time to time) and in passing mentioned how much I enjoyed working with chocolate. Anya then said she always wanted to open a dessert store. The lightning bolt struck and we ditched all our plans for the weekend, bought our first bag of couverture chocolate and began crafting the flavours. Three months later we had our first chocolates out the door.
FFW: What makes you the perfect people to do what you do?
ONLY MINE: We both have very different upbringings and heritages. This means that when we work together to craft the chocolates we're combining very different methods and ideas to come up with something really unique.
FFW: Are all your chocolates really handmade?
ONLY MINE: Yes, handmade, hand packed and hand shipped. There is not a single chocolate that leaves Only Mine's doors that haven't had either Anya's or my hands on them. All the chocolates are wrapped individually by us, placed in the box and then we attach every sticker to the boxes ourselves.
FFW: What are Only Mine's quality virtues?
ONLY MINE: We are extremely strict with every part of our process. From the ingredients we choose, to the way we work with the ingredients, the quantity we use and how it is stored.
Every stage of the process is very carefully managed which is why we insist on creating all our chocolate bars by hand. This means that we can ensure every bar we produce meets our extremely high standards of both looks and taste. If it doesn't meet our standard it doesn't hit the shelves.
FFW: How did you arrive at the particular flavour of Only Mine chocolate?
ONLY MINE: We experimented with hundreds of flavour combinations. From the classics, to some really unique out of the box flavours. Through these experiments we came up with a range of chocolate flavours that we believe are really unique and we'll make our customers go "WOW".
FFW: What kind of stores are stocking Only Mine?
ONLY MINE: We've only just produced our chocolate bars so we're just starting to get them into stockists now. We're looking to stock in cafes, delis, specialty chocolate stores, high end supermarkets, florists and gift and hamper businesses.
FFW: Are Only Mine chocolates popular with wedding and corporate event planners?
ONLY MINE: Yes, because of the beautiful packaging as well as the unique, unbelievable flavour of the chocolates, our chocolate bars are a great gift that will leave a lasting memory.
FFW: Are your products being served in restaurants or other hospitality businesses such as bed and breakfasts or hotels?
ONLY MINE: Not at this stage however we're extremely keen to have our chocolate bars stocked in hotel and B&B mini bars. We believe it is the perfect product for these environments.
FFW: What would you say is the most popular flavour among your chocolate bars?
ONLY MINE: Honestly, everyone that has tried the bars has their own favourite which is different to someone else's. Probably the standout at the moment for a slightly larger portion of people is the Honey Roasted Macadamia, dark chocolate bar.
FFW: Are your chocolate bars gluten free?
ONLY MINE: Yes, this was very important to us. We've worked extremely hard to come up with a range of flavours that would be extremely delicious and completely gluten free.
FFW: What would you like people to embrace about your brand?
ONLY MINE: The first thing is flavour. It's difficult to explain in words how amazing these chocolate bars taste. They are unlike anything on the market today. Once you've experienced the flavour then you can appreciate the detail we've put into every part of our product, from the packaging all the way through to everything being handmade here in Australia.
FFW: How did you come up with a Matcha chocolate bar?
ONLY MINE: Well, we like to think we were the first to come up with the matcha + white chocolate combo which is now commonplace. We first came up with it when we created our matcha individual chocolate. We came up with a white chocolate matcha ganache that was wrapped in our delicious white chocolate. Then we adjusted the recipe to make our matcha chocolate bar.
FFW: Do you think there'll be any exciting new flavours coming up in the not-too-distant future? Can you let us in on any secrets?
ONLY MINE: We'll keep this one close to our chests. Time will tell …
Now that you've discovered the brand and know about its personality, it's time to try the chocolates for yourself. To place your first order, or to enquire further, contact Only Mine Handmade Chocolates today by using the form below.
---
Contact details for Only Mine Handmade Chocolates
---