Interview - Joshua Magnus - Petite Waffles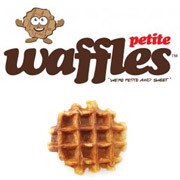 Petite Waffles makes truly authentic Belgian waffles. So authentic that Manager Joshua Magnus actually flew to the tiny European country to learn how to make them properly. Today, Australians enjoy them for breakfast, dessert and at any time in between. For foodservice businesses, the versatility and flavour range of Petite Waffles are winning elements when choosing a sweet snack product that can do wonders for their menu. We spoke with Joshua and learned what makes them so appealing.
FFW: How did you come to own a business that makes and sells delicious Belgian waffles?
PETITE WAFFLES: I smelled this breathtaking aroma coming from an arcade in of all places Japan. The smell led me to a waffle shop making these type of waffles. I knew straight away that this was a very good product for my existing coffee business as a grab and go item able to go up against cookies, donuts, sweets and cakes. After many failed attempts from internet searches I flew to Belgium and learnt to make them from a master baker there.
FFW: What makes them authentic?
PETITE WAFFLES: It's the fact that I still use the recipe taught to me in Belgium and that I never substitute my quality with inferior products and of course I use great local products like our flours and butters. The main ingredient we import to make them truly authentic is the pearl sugar.
FFW: How did you come up with the five flavours?
PETITE WAFFLES: The question should be why only those flavours. We started to get carried away with different flavours and realised that it was easy to lose focus. We have lots of new flavours to introduce. Chocolate Chip is about to join our ranks.
FFW: Tell us about the texture of your waffles.
PETITE WAFFLES: Our waffles are best described at a sweet buttery flavour with melt in your mouth texture with leaves you always wanting more and more.
FFW: What do you think Australians love so much about waffles?
PETITE WAFFLES: The Australian public are the ones increasing our sales. We get most of our business on taste and reputation and a product that many say is better than what is in Belgium. "OMG or Oh My God, they're good" is what we hear people say after eating our waffles.
FFW: And how are restaurants and cafes serving them?
PETITE WAFFLES: They can be sold on their own like a biscuit or donut; they're great with a coffee as a grab and go item. They can be plated up as a dessert or even a savoury snack such as vanilla waffle with melted camembert cheese. They can also be sold as a take home pack for people to reheat at home in their toaster or oven. We have cafes using them for breakfast ideas like maple waffle with bacon and eggs stacked on top. We have a few who use the dough to cook their own and they are creating 20 – 40 different varieties flavours from the waffles. This product just keeps on inventing itself as it appeals to so many different ages and tastes.
FFW: Other than cafes and restaurants, what kinds of businesses do you feel would be ideal to serve your waffles?
PETITE WAFFLES: Our current customers are made up of bed and breakfasts, school tuckshops, mobile food vans, university canteens, cafes, restaurants, fundraising events, amusement parks, weddings, conventions, ice cream and yogurt chains, rock festivals, cultural festivals, caterers, marketeers and national chains. I still think there is a huge market for pizza shops, tea and coffee shops, vending machines and airlines. This is before the obvious retail market.
FFW: Do you have any new flavours in mind?
PETITE WAFFLES: We are finalising a new choc chip waffle as well as a 99% gluten free waffle. We are always open to discuss new flavours as we can make to order batches for customers. There are so many varieties that we had to limit our production or we just would not stop creating more flavours.
FFW: What's your favourite way to enjoy Petite Waffles?
PETITE WAFFLES: Strangely enough I like to eat them straight out of the freezer in summer but I just can't resist a nice warm one as a snack when it's cold. They just make you feel good like you have been hugged by someone you love.
FFW: Do you have any suggestions for how businesses should present, promote or serve your waffles?
PETITE WAFFLES: They can be served so many ways from an individual item eaten on its own to plated up with fruit and cream to a dipper for chocolate fondue. They should be displayed so people can see them. I also recommend they be defrosted so they can be heated faster.
FFW: Do your waffles do well at market stalls? What makes them so suited to markets?
PETITE WAFFLES: They do really great at markets as when they are being cooked people can smell them for hundreds of metres. They just attract a crowd. People love to see them being made in front of them and love that they can eat them straight away.
FFW: Who would be a dream client for Petite Waffles?
PETITE WAFFLES: Our dream client is one who understands a quality product and loves the waffles and what they can do for you as much as we do. We get excited when we hear the success the waffles have brought to our customers. Producing a quality product is what we strive for. There is always a cheaper product but as I HAVE come to understand "Quality is remembered long after the price is forgotten".
Why not give Petite Waffles a try in your business, for all the reasons mentioned above? To discuss how they can boost your business, contact Petite Waffles today.
---
Contact details for Petite Waffles
---