Interview - Julie Martyn - Artisa
Artisa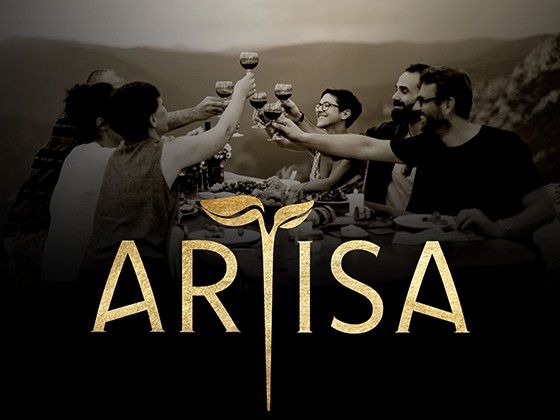 More Images
The words 'vegan' and 'cheese' seem incongruous, unless you've experienced the flavours and textures of those produced by Tasmanian company, Artisa. Founder Julie Martyn introduced us to why the cheeses are so popular.
FFW: Who are the passionate people behind Artisa?
ARTISA: I'm living proof that you can be both a passionate foodie and a vegan. Throw a PhD in molecular biology and a long career in academic research into the mix, and that's my background. My husband Roger has many years' experience running his own small business.
FFW: How did you come to be artisan producers of plant-based cheeses?
ARTISA: When we moved to Tasmania in early 2016, we wanted to create an enterprise where we could combine our skills and showcase examples of the vegan friendly Tasmanian ingredients we had come to love. We saw that there was a definite gap in the market for premium cheeseboard style plant-based cheeses and that's what we set out to make.
FFW: What would you say is your company's positioning?
ARTISA: The three things that describe the positioning of our brand would be premium, natural and uncompromising quality.
FFW: What are the products you offer?
ARTISA: Our range currently consists of three different styles of cashew cheese; fresh, aged and surface-ripened.
For our fresh, chevre style cheeses we have the natural St Clair, Kunanyi with native Tasmanian pepperberry and the Derwent, dusted with foraged fennel pollen.
Our aged range consists of the smoked Gladstone, Tasman Black marbled with black garlic and Freycinet, rolled in native Tasmanian botanicals such as kunzea, pepperberry leaf and saltbush.
Our surface ripened white mould cheese, the Ben Lomond, is a very authentic tasting camembert style cheese that features a layer of our house made Tasmanian vine ash.
FFW: What do you think stands Artisa apart from other vegan food producers?
ARTISA: This is probably easiest to answer by stating what we stand for rather than what stands us apart from other vegan food producers.
The name Artisa is a play on artisan, and the artisan element of what we do is something we stand for. While we're determined to produce the best plant-based cheeses in Australia, we don't plan to produce the most.
We stand for animal welfare and looking after the environment and where possible we attempt to incorporate these ideals into our triple bottom line management strategies (people, planet and profit).
And we stand for Tasmania. We buy local and support our local community wherever possible.
FFW: Do you use local ingredients wherever possible?
ARTISA: We certainly do although we do use imported cashews as these are not grown commercially in Australia in large quantities. For other ingredients, we keep everything as Tasmanian as we can. We use Tasmanian sea salt and all of our hero ingredients are sourced locally, right down to the ash for the camembert style Ben Lomond which we make ourselves from grapevine prunings we collect from a spray free vineyard just north of Hobart.
FFW: Do omnivores appreciate your products as much as vegans and vegetarians?
ARTISA: We always wanted our cheeses to be appreciated by more than vegans. We think this was the right decision as many people come back for our cheeses simply because, having tried them, they find they really enjoy them. We've had hard core dairy farmers come in to our shop to buy plant-based cheese for their vegan family members and we love that! The market for people who are lactose intolerant, or who are reducing their dairy intake to cut down on cholesterol and saturated fats is also much larger than we realised and they really appreciate us a lot.
FFW: Would you consider your products healthier alternatives to dairy foods?
ARTISA: Generally speaking, cheese is pretty high in fat and salt and ours are no different. With cashews being the main ingredient, our cheeses are lower in saturated fat and contain no cholesterol so they are healthier in that regard.
We keep our ingredient list clean; just five or so natural ingredients. No gums, starches, artificial preservatives or flavours. We rely on proven traditional cheese making techniques combined with good science to achieve the desired cheese traits such as taste, mouth feel and quality.
FFW: How close to their dairy counterparts are your products in taste, texture and performance?
ARTISA: Given that we set out to develop a range of cheeses that 'perform' in a cheeseboard setting and gave our customers an authentic cheese eating experience, we think we have nailed it by covering the classic cheeseboard combination of soft cheeses, firm cheeses and surface ripened cheese. Our cheeses are inspired by dairy cheesemaking traditions but we are proudly forging our own path.
FFW: What kinds of retailers are perfect to stock your range?
ARTISA: We find that specialty grocery stores are great retailers for us, as are vegan grocery stores and health food stores. We have supplied a number of speciality cheese stores that recognise that they have customers that want cow's milk cheese or sheep's milk cheese or goats' milk, and some that want cashew cheese. We love that they choose to stock our range. Our price point keeps us out of the more budget conscious chains.
FFW: And how are cafes and other hospitality businesses offering Artisa products to their customers?
ARTISA: We find for the most part, that our cheeses are being used in cheeseboards. We supply a number of companies that do grazing tables or boxes. For businesses that choose to do so, the chevre style fresh cheeses are beautiful to cook with and they can be used anywhere a soft fresh cheese such as chevre, feta or ricotta would be used. Examples include creamy pasta sauces, vegetable tarts, crumbled over salads or cooked pizza, as a filling for ravioli or cannelloni or even in desserts such as cashew crème caramel or for a cream cheese frosting.
We also love nothing more than creating bespoke cheese wheels for events such as weddings.
FFW: Would you recommend that retailers offer taste tests in store?
ARTISA: We haven't had much experience with retailers offering taste tests so it's difficult to say for sure how effective it is.
We are far more likely to offer taste tests to retailers themselves before they commit to stocking our products. We have found it really helps if they get to experience the cheeses themselves.
FFW: How do you help retailers promote your products to customers?
ARTISA: We really value our relationships with our retailers and will support them in any way we can such as through offering free samples for tasting or point of sale materials if requested.
All our retailers are listed on our website and we aim to do a shout out for any new stockists on our social media. We always repost anything that our resellers post in our stories.
FFW: Who would be a dream brand ambassador for Artisa?
ARTISA: I'm honestly not into the celebrity vegan culture too much. If we are dreaming, I'd guess I'd shoot for the top and go for Joaquin Phoenix.
FFW: Do you have any other products or flavours in development?
ARTISA: We find that the uptake of a new cheese can be a bit of a slow burn, and that it takes months for stores to stop ordering products after they have been discontinued! We have only just released our fabulous Freycinet so we won't be offering anything new for a while, but we never stop planning for what will come next.
FFW: As a boutique producer of gourmet foods, you must be aware of others. Are there any that you admire that you can tell us about?
ARTISA: There are fantastic gourmet food producers in Tasmania. They're invariably very supportive of each other including new entrants when it comes to anything Tasmanian made.
I really admire Federation Chocolates in Hobart for their commitment to high ethical standards and sustainability in sourcing their cocoa beans, and also because they are making some amazing dairy free chocolates.
There are some dairy cheesemakers here who have been very generous in sharing their knowledge, most notably Red Cow Organics whom we met through the SeedLab business incubator program.
The vegan cheesemaking community is very active locally and globally and growing so fast. We were lucky enough to visit some of Europe's leading vegan cheesemakers in 2018. New Roots in Switzerland and Happy Cashew in Germany in particular are so impressive in their scale, the quality of their cheese, and again their generosity in sharing knowledge.
Give Artisa a call today to experience their very special brand of wholesale plant-based cheeses.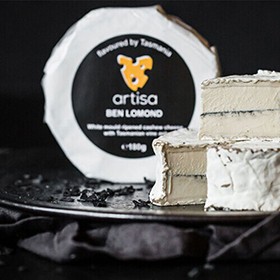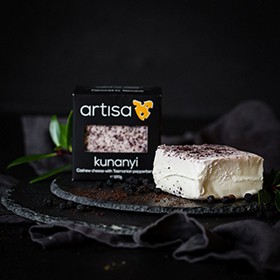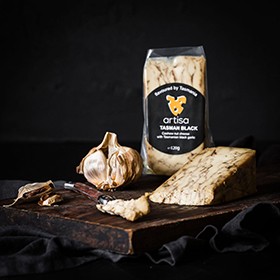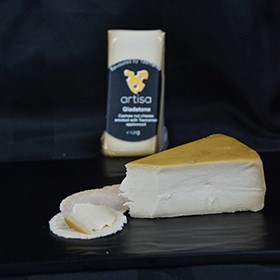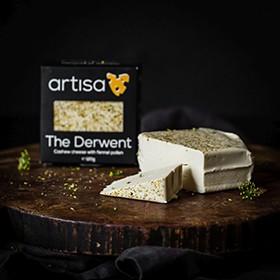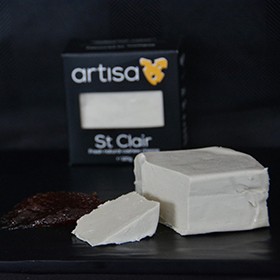 ---
Contact details for Artisa
---