Interview - Julie Pillon - Famous Soda Co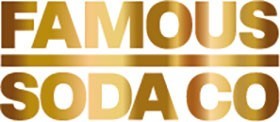 Just because it's sugar-free, doesn't mean it's tasteless and boring. On the contrary! Famous Soda Co delivers on flavour, personality, good looks and fun. We spoke with Julie Pillon about the brand's entry into the soft drinks market and how it's kicking butt in the popularity stakes!
FFW: Who are the great minds behind Famous Soda Co?
FAMOUS SODA CO: Michael Pillon – Robbie Ellis – Lets Think Agency.
FFW: What was the philosophy that went into the range?
FAMOUS SODA CO: Well first up, we love what we do and we do what we love! At Lets Think we look at what's trending globally and what consumers want. Hence we were looking at the negative effects that sugar has had globally on consumers' health, obesity and Diabetes 2 to name a few issues. It seemed to us there was a real lack of responsibility from some of the food and beverage companies, with soda/soft drinks being one of the main offenders.
So we set out to change the world a little bit for the better and make a soda that not only tasted good but was good for you! Our mission is to extend Famous into other product classifications with the same DNA as the sodas i.e. sugar free, preservative free, Australian made and zero to low calories.
FFW: How are your sodas different from others in the market?
FAMOUS SODA CO: Our sodas are pasteurised to ensure a 12-month shelf life.
Sugar-free
Preservative free
Australian made
Only 8 calories to a bottle
But above all, two years in the making, there is no sacrificing on the flavours, they are full bodied, rich and authentic, which we honestly believe has not been accomplished by any other brand.
FFW: What do you use to sweeten your sodas?
FAMOUS SODA CO: We use a sweetening modifier from Switzerland (our secret weapon) mixed with erythritol which gives an authentic taste.
Key properties of erythritol are:
Non-GMO, (non-genetically modified organisms)
Kosher and Halal certification
Low Glycaemic Index
Lower calorific value than sugar (suggested to fight obesity)
As a substitute for sugar (suggested to fight Diabetes 2)
Approximately, 60-70% the sweetness of sugar
FFW: So, would you consider your sodas to be health drinks?
FAMOUS SODA CO: Yes we do, given all our ingredients are natural and we are listed on the Government's Healthy Food Finder website.
FFW: Are your products suitable for children? Do children like them?
FAMOUS SODA CO: Yes, all the kids love them! We are launching our new flavour, Pink Lemonade next week for which we already have pre-orders and that will be a huge seller for kids (as well as kids-at-heart!).
FFW: What would you say is your brand's personality?
FAMOUS SODA CO: Famous is an Artesian Premium Soda that looks great, tastes even better, but doesn't take itself to seriously. Famous is fun, has a great sense of humour, is in the know and more often than not you will find Famous at all the cool events. Most importantly, Famous is about putting something good into the world.
Famous will be starring at the Taylor Swift concert, courtesy of Girlfriend magazine.
We were recently at a launch for Maz Crompton's new book, which Elle Ferguson attended and posted a Famous Ginger Beer quote: "… would have to be the best drink I have ever tasted", all without any incentive from Famous!
FFW: How are foodservice businesses using your products?
FAMOUS SODA CO: We currently sell to cafes, caterers, schools and unis.
FFW: What kinds of retailers are ideal for your products?
FAMOUS SODA CO: They are perfect for gift businesses, convenience stores, bottle shops (as 'the' sugar-free mixer), high end fruitologists, health stores, independent gourmet grocers and caterers and we have just had meetings with Woolworths Metros and David Jones.
FFW: Is there a stand-out favourite of your three flavours?
FAMOUS SODA CO: I have to say the Blood Orange is MAD! But I reckon the Pink Lemonade will give it a run for the money. And then again, I had never been a fan of Ginger Beer but honest ours is fantastic.
FFW: How would you recommend retailers position Famous Soda Co sodas in store?
FAMOUS SODA CO: The four flavours in any fridge line up perfectly. The colours look amazing against each other, Pink Lemonade, Lemon, Blood Orange and Ginger Beer, all in glass 330ml bottles with our great Famous Soda logo in gold; very premium, you kind of hate to throw the bottle away.
Also, we have retailers like Salt Meats Cheese who floor-stack Famous as we have designed the cartons like a poster – each flavour has a USP covering one whole side of the carton, so stacked high you get, for example, a huge Zero Sugar wall.
FFW: Do you have any plans for new flavours?
FAMOUS SODA CO: Yes, as mentioned above we launched our Pink Lemonade on the 1st of November and already have lots of orders for it. Interestingly, weddings and girls' functions have pre-ordered.
FFW: Who do you think would make an amazing brand ambassador for Famous Soda Co and why?
FAMOUS SODA CO: Well, anyone famous, of course, and I think the why goes without saying?? Haha!
FFW: If you could see your sodas on other people's Instagram, where would you love to see them being consumed?
FAMOUS SODA CO: On beaches, on flights, at famous bars and celebrity hangouts, anywhere and everywhere! Famous is incredibly refreshing and because it has zero sugar, it really does quench your thirst.
FFW: As a proud boutique brand, are there any other boutique food and beverage brands you admire?
FAMOUS SODA CO: There are lots, especially the brands that are passionate about caring for our health and not filling their products with chemicals and a whole pile of rubbish.
Have you been searching for a sugar-free beverage alternative? Give your customers what they've been asking for! Get in touch with Famous Soda Co today.
---
Contact details for Famous Soda Co
---