Interview - Julie - RAWBS protein balls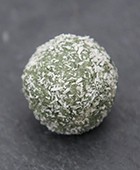 When are proteins ball not "just protein balls"? When they're RAWBS, that's when! Creator Julie says her little beauties are "raw orbs of power" because they are spheres of nutrition-packed goodness that can be consumed on the go, between meals, any time when a boost of energy is needed. Organic, vegan and thoroughly wholesome, RAWBS are the perfect impulse purchase for your health-conscious customers, available in a range of flavours.
FFW: How did the RAWBS business come about?
RAWBS: I actually started smuggling in my own snacks into cafes, because there wasn't anything readily available in the way of a clean eating snack! It's easier now to find more options like this around because they're so popular for people that want a healthy choice.
I was also making them for a friend who didn't have time to do them for herself or her kids. After the first batch disappeared in a few days she said to me "you should make a business out of this!". As soon as she said it, the word RAWBS popped into my head - raw orbs.
FFW: Are RAWBS protein balls?
RAWBS: You can think of them as a protein ball, a lot of people know that term. I call them orbs of power to help you power you up with an energy boost!
FFW: What are the healthy virtues of RAWBS?
RAWBS: All the ingredients are organic, recognisable and real! They are gluten free, refined sugar free, soy free, and dairy free too. Some of the range have superfood powders and essential oils included.
FFW: What role do essential oils play in the products?
RAWBS: They add another layer of flavour from a natural plant source. You can't beat a natural plant 'flavour' over an artificial one!
FFW: Are RAWBS suitable for those who follow the Paleo diet?
RAWBS: Yes, except for the flavours that use rice malt syrup.
FFW: What is your delivery radius?
RAWBS: RAWBS are available throughout South East Queensland.
FFW: What kinds of retailers sell RAWBS?
RAWBS: Cafes, health food stores, organic stores, Pilates studios, wellness centres, there's even a bicycle store that stocks them!
FFW: And are cafes and other hospitality businesses offering them to their customers?
RAWBS: They'd make a perfect addition to movie cinemas, recreation centres, resorts, hotel conference rooms, welcome baskets, mini bars, workshops and expos … the options are endless! They do really well with cafes right next to public transport stops as a takeaway option too.
FFW: Are RAWBS suitable for kids?
RAWBS: Absolutely. Kids love a treat and won't even know they're healthy! The colourful packaging is attractive and it makes a great lunch box addition. Some of the range are nut free and therefore easy to take to school.
FFW: What flavours do you have?
RAWBS: Cashew & Pepita, Chocolate, Coconut Lime Ice, Date & Coconut, Goji & Sunflower, Macadamia Camu, Matcha & Black Sesame, Peppermint Choc Chip, and Tahini Chia.
FFW: How do you help retailers promote your products to customers?
RAWBS: RAWBS come in a box of 12, which can be used as a counter display. Cafes can also order them loose to display as they like. Flavour labels are provided.
FFW: Do you think RAWBS can be consumed as a meal replacement?
RAWBS: There's certainly times when I've eaten a couple as a meal … they're so nutritionally dense it's easy to feel satisfied after them.
FFW: Do you offer any nutritional information for customers?
RAWBS: All the nutritional panels are available on the website.
FFW: Do RAWBS need to be refrigerated?
RAWBS: RAWBS are handmade and I recommend keeping them in the fridge for ultimate freshness, though they can be out on display during the day and stored in the fridge overnight. Most places are air conditioned which will also suit them.
FFW: What size packs do you offer?
RAWBS: RAWBS are packaged in a single serve of 30gm, and come in a boxed dozen.
FFW: What's next for RAWBS?
RAWBS: A protein bar is in the works, perfect for gyms and exercise outlets.
Don't you think your customers would love 'raw power orbs' in their daily life? They deliver fabulous bang for buck and make terrific impulse purchases. Put them on your menu or retail counter today! To discuss your requirements, contact RAWBS for more information or to place your order.
---
Contact details for RAWBS Protein Balls
---