Interview - Kim Ridley - The Spice Trading Co.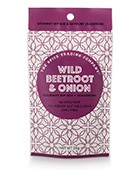 When Mums are inspired by their children to change the world in any way they can, the result is often delicious! We spoke with Kim Ridley, Owner/Director of The Spice Trading Company, whose Gourmet Blends are shaking up the way we add flavour to our snacks and meals.
FFW: Who is behind The Spice Trading Company?
THE SPICE TRADING COMPANY: Kim Ridley.
FFW: What led you to establish your business?
THE SPICE TRADING COMPANY: The Spice Trading Company began in 2009 after my son was born. Blends that were similar already existed around the world but not in Australia. I was inspired to create these blends that were versatile and easy to use. I wanted to incorporate different herbs and spices into a range of blends that would encourage my son to enjoy and open his sense of taste for years to come.
FFW: How would you summarise your range of products?
THE SPICE TRADING COMPANY: The Spice Trading Company range are delicious Gourmet Blends for the everyday busy gourmet looking for healthy convenience and maximum taste. The Gourmet Blends are suitable for dips, spreads, marinades, rubs or as a flavour boost to all your cooking.
FFW: What makes your products different from others in the marketplace?
THE SPICE TRADING COMPANY: The Gourmet Blends are versatile, not an ordinary seasoning mix. They can be made up into a gourmet dip or used in cooking as a seasoning to bring together a whole meal. The dehydrated vegetables rehydrate so making sauces, soups or curries is ideal and a taste sensation.
FFW: Is your range made in Australia?
THE SPICE TRADING COMPANY: Yes, made in Australia.
FFW: From where do you source your ingredients?
THE SPICE TRADING COMPANY: Most products are imported. Some are sourced locally. I think it's important to recognise that some of the world's best quality spices are still grown in their origin countries.
FFW: Do you think most consumers buy your blends for dips or are they being used more in cooking?
THE SPICE TRADING COMPANY: Consumers buy the Gourmet Blends according to their needs at the time. It will also vary with the seasons from summer to winter. In winter they are primarily used as a seasoning to make a tasty Moroccan chickpea soup or, for example, a delicious Indian curry with the Perky Pumpkin. Summer is versatile – they can be used as a seasoning or marinade for the BBQ or as dip mixes that families can whip up for snacks, entertaining or last-minute drop-ins.
FFW: Is there one product that seems to be the biggest seller? Why do you think that is?
THE SPICE TRADING COMPANY: Holy Chilli Guacamole. Everybody loves guacamole and it is a great seasoning. Customers love the name too.
FFW: What are the most compelling virtues of your products?
THE SPICE TRADING COMPANY: Natural products, non-GMO, gluten free and there is no added sugar or salt.
FFW: You recently revitalised your packaging; has that changed your positioning in stores?
THE SPICE TRADING COMPANY: The new packaging has been important in the business and has lifted it to another level. Starting out very small from a home hobby to where we are today, the packaging started as experimental and grew from there just like the blends did.
FFW: How does The Spice Trading Company look after customers?
THE SPICE TRADING COMPANY: Distributors on the website can be contacted where available or if ordering direct, we will provide prompt order response. We provide guaranteed service and express delivery.
FFW: What kinds of retailers are stocking your range?
THE SPICE TRADING COMPANY: A wide range of retailers from gourmet delis, supermarkets and fruit and veg shops to large stalls at markets, hamper businesses and gift stores.
FFW: Do you offer any serving suggestions, recipes or interesting and unique ways to consume them?
THE SPICE TRADING COMPANY: Yes, we have lots of recipes on the website to inspire customers.
FFW: What are some of the more intriguing ways your blends are being used?
THE SPICE TRADING COMPANY: The Gourmet Blends can be used for vegans, vegetarians or meat-eaters so the use of the blends varies according to the customers. Coconut yoghurt or tofu can replace dairy when making a dip. The blends are also ideal with fish, poultry and meat to make any kind of meal.
FFW: What lies ahead for The Spice Trading Company; any new products or flavours coming up?
THE SPICE TRADING COMPANY: We are working on a new cooking range, primarily focusing on the health and wellbeing of our customers. This will hopefully be out by the end of the year.
FFW: What do you most love about your business?
THE SPICE TRADING COMPANY: The most rewarding part of the job is watching your business grow, being open with creativity and watching customers and their enthusiasm and excitement over your product.
Balancing your personal life with your business is one of the most challenging hurdles but having the freedom of running your own business with the flexibility is also one of the most rewarding!
Our philosophy is leading a life that supports what we eat in our diet whilst doing our best to enjoy a healthy lifestyle, one that balances a busy schedule, trying to eliminate or manage the stresses around us more effectively and being kind and gentle with ourselves and others.
We believe food should nourish the mind and body and incorporating the Gourmet Blends with fresh whole food is the key to optimum health. The Gourmet Blends are already blended, offering maximum nutritional benefits of the herbs and spices enclosed in each sachet. Each flavour provides good taste to satisfy the tastebuds. Good taste in cooking is mandatory in our bodies for good digestion. Bland foods, though rich nutritionally, may not be nourishing as they lack taste and do not stimulate the digestive system. Good digestion is the key to good health in our bodies. "Taste brings us joy and satisfaction."
Well we can't argue with that and enhancing flavours with natural herbs and spices is always going to be better for us than using artificial products. Why not give them a try in your business? Contact The Spice Trading Company for more information on their Gourmet Blends today.
---
Contact details for The Spice Trading Company
---