Interview - Mark Lenga - Satisfine Foods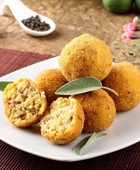 Finger food is notoriously fiddly to make, and when you have large numbers to cater for, it can seem like a burden that's not worth the trouble. Mark Lenga, General Manager or Satisfine Foods has the answer, one which may show you that outsourcing can save you in myriad ways.
FFW: What makes Satisfine Foods the ideal company from which to purchase finger foods?
SATISFINE FOODS: We have a perfect mix of products from the standard right through to the most premium. We also have products that will solve issues related to dietary requirements such as gluten free, dairy free and wheat and nut allergies.
FFW: What would you say is the common thread across the products you offer?
SATISFINE FOODS: They are all frozen meaning you will only need to use what is required and therefore control any wastage.
FFW: Do you manufacture as well or do you only wholesale other companies' products?
SATISFINE FOODS: We specialise in the wholesale of top quality foods for the retail and foodservice sectors.
FFW: When you decide to take on a food brand, what's important about what they offer?
SATISFINE FOODS: Quality is of the utmost importance.
FFW: You have a huge range of wholesale finger foods including sweet and savoury. How are finger foods being used out in the market?
SATISFINE FOODS: Mostly by caterers, 5-star hotels, function centres for canape options, both vegetarian and other. However the range caters to any foodservice outlet looking for a finger food variety.
FFW: Would you say your ranges are suitable only for high end foodservice?
SATISFINE FOODS: Not really; we do have some products that cater to the other spectrum of the market.
FFW: Are there any gluten free foods in your finger foods ranges?
SATISFINE FOODS: The Silly Yaks range is completely gluten free/wheat free/peanut free and the Meatballs from Chef's Edge are also allergy free.
FFW: Are your products delivered fresh or frozen?
SATISFINE FOODS: Everything is delivered frozen for the ultimate in freshness, convenience and minimal wastage.
FFW: Tell us about your company's quality virtues.
SATISFINE FOODS: We are an Australian owned and operated company using only suppliers that are HACCP accredited. This gives our customers the peace of mind they will always receive a quality product.
FFW: Does the range of finger foods on offer change at various times of the year due to seasonal produce?
SATISFINE FOODS: Absolutely; our suppliers are always looking for new ideas so anything that you have in mind, please feed this back to our team.
FFW: Have you noticed any particular trends in finger foods lately?
SATISFINE FOODS: The Silly Yaks food range really has embraced all the trends towards a more nutritionally superior product and a lot of resources have been invested in ensuring the product tastes as good, if not better than standard.
FFW: How do you make it easy for your customers to do business with you?
SATISFINE FOODS: We have low minimum orders, friendly delivery drivers, a great customer service team and happy to make visits to you on a regular basis with new products and promotions.
FFW: What are the economic benefits for foodservice businesses to purchase from Satisfine Foods?
SATISFINE FOODS: The costs of labour in today's market make these items sometimes more economical than in-house production. Leave the manufacturing to the professionals with more scale and your customers will be coming back for more.
FFW: What are the most popular products in your ranges?
SATISFINE FOODS: They are all popular! We only stock items that deliver the wow factor each and every time.
Outsourcing the production of some or all of your finger foods can make perfect economic and practical sense. The best way to discover which lines would suit your business and your customers' tastes is to make enquiries with the company. To discuss your requirements, contact Satisfine Foods today.
---
Contact details for Satisfine Foods now incorporating Marlin Fine Foods
---