Interview - Matthew Hardie - Manuko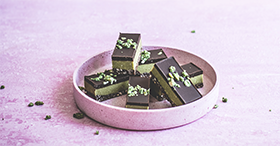 Healthy food that's exciting? That's the promise from Manuko, makers of premium organic raw choc treats. Visually appealing and incredibly delicious, every product is an irresistible taste sensation. We spoke with Founder and Director, Matthew Hardie and discovered the personality behind the brand.
FFW: Who is behind Manuko?
MANUKO: I founded Manuko after studying International Business, travelling the world and for a brief period working in a corporate role where I struggled to find truly healthy, sustainable and delicious organic food readily available and accessible. Having grown up on an organic and biodynamic farm in Victoria's Goulburn Valley, I've been surrounded by healthy, organic wholefood from a young age. With a passion for health, and for supporting farmers and sustainable agriculture, I turned down a lucrative career in the corporate world to found Manuko, with a mission to make genuinely healthy, truly delicious, organic food more available and accessible to everyone. I recently joined forces with my amazing partner Inga Muribo who has very complementary skills, and together we are committed to constantly growing, innovating and serving customers at ever greater levels.
FFW: How did the Manuko business come about?
MANUKO: I worked for a short time for a large corporation in the Melbourne CBD when I was 22, and I struggled to find truly healthy food options. I didn't understand why there were so many food options, yet so little, if any, truly healthy, organic options available. Additionally, there seemed to be this misconception that healthy meant boring, and there was a disconnect with where our food comes from and the impact our choices have on our health and the health of the environment.
I thought that there needed to be options available to people that prove healthy can be delicious, that our choices can be great for our health, great for our taste buds and great for the planet, and that also enable people to connect with the stories of the farmers and growers behind the food we eat.
FFW: What products do you offer?
MANUKO: We currently make premium organic, artisanal raw chocolate treats, handcrafted from raw ingredients in our dedicated organic factory in Thornbury, Melbourne. Our range includes raw choc slices, raw choc cups and raw choc truffles, with more products and new flavours in the pipeline.
FFW: What are the healthy virtues of your products?
MANUKO: All our treats are 100% vegan, dairy free, gluten free and refined sugar free and made with certified organic ingredients.
FFW: What role do essential oils play in the products?
MANUKO: We use certified organic food grade essential oils to flavour a number of our products. We love working with essential oils, because the flavour is unmatched, and it's the purest and most potent representation of the ingredient/plant. For example, in our Turkish Delight slice we use an organic rose essential oil, and there are about three roses worth of oil in each slice!
FFW: Are they suitable for those who follow the Paleo diet?
MANUKO: Yes, in the sense that everything is dairy free and we predominantly use plant based ingredients such as organic nuts and some organic dates, but we do use some rice malt syrup which is made from organic brown rice.
FFW: How should they be stored and what is the shelf life?
MANUKO: Our products are best stored refrigerated in airtight containers and have a two-month shelf life.
FFW: What is your delivery area?
MANUKO: We currently deliver to cafés, health food stores and speciality retail shops across Melbourne and all of Victoria, as well as Sydney and Adelaide. Online orders are currently delivered Victoria wide.
FFW: What kinds of retailers sell Manuko?
MANUKO: It's a wide range of retailers including cafes, speciality retail shops, health food stores, ice creameries, catering companies and wellness centres. We also have a yoga school and dentist clinic ordering our treats for their trainings and retreats.
FFW: And are cafes and other hospitality businesses offering them to their customers?
MANUKO: We have a great café in Melbourne who incorporates our Turkish Delight slice in an açai bowl. Normally cafes and catering companies serve the products on their own, or with a delicious coffee or hot drink!
FFW: Are your raw choc slices and truffles suitable for children?
MANUKO: Yes, some of our most raving fans are children. Parents choose our treats because their children love the colourful slices and because they are not too sweet (they don't contain any refined sugar). Some parents confess that they hide Manuko treats behind the vegetables in the fridge so they can have the treats all to themselves!
FFW: What would you say is the most popular variety?
MANUKO: Our Turkish Delight slice and Salted Caramel slice are among our most popular flavours. Turkish Delight is so popular because it's aesthetically beautiful, and the purity of the organic rose essential oil creates a truly exquisite flavour. However, everyone's taste preferences are unique and we do find that everyone has their own favourite flavour, which makes our creative process very exciting!
FFW: How do you help retailers promote your products to customers?
MANUKO: Every variety comes with beautifully designed point of sale display cards with ingredients and allergen information on the back. We regularly provide free samples to our retailers to share with their team and their customers. We also run promotions throughout the year.
FFW: How does Manuko live up to the value of being kind to the planet?
MANUKO: Supporting sustainable agriculture and a thriving future is ingrained in our business strategy and mission. We use certified organic ingredients and sourcing directly from local Australian farmers when possible. We also use biodegradable bubble wrap and air pillows, reusable shipping containers and ice packs. We choose 100% recycled paper and environmentally friendly office supplies. We often ride or walk to work. In the future, we plan to partner with and organisation to plant trees in Australia, and to do more pioneering on the biodegradable packaging front.
FFW: Do Manuko need to be refrigerated? Can they be displayed at ambient temperature?
MANUKO: Our products are best stored refrigerated and can be displayed either refrigerated or at ambient temperature. They are best served below 22 degrees (can start to melt above this temperature). Our customers tell us that our products hold their shape much better than some other raw desserts.
FFW: What kinds of foodservice businesses would you like to get on board?
MANUKO: Our current line of artisanal handcrafted chocolate slices and treats are best suited for cafes, speciality shops and retailers with a display cabinet or counter space. We also welcome event and corporate catering enquiries, anyone who is looking for a genuinely healthy and truly delicious treat option!
FFW: What's next for Manuko?
MANUKO: We are working on some amazing new special edition flavours, and some new product ranges. We love creating, and always staying true to the values of truly healthy, sustainable and delicious organic food.
FFW: What do you absolutely love about your business? What makes a great day at work at Manuko?
MANUKO: We love creating an extraordinary experience for people, and we always seek out the "oh my god" experience with each product we create. Finding the juncture between truly delicious, genuinely healthy food products that also support a more sustainable world is a never-ending, exciting and inspiring thing for us to do. The journey of working towards a more inspiring future makes every task worthwhile and inspires us to keep growing and to keep creating. We are grateful to all our customers for their continued support!
FFW: Why not get in touch with Manuko today and sample their exquisite raw creations? Imagine your customers' delight to see them on offer in your business.
---
Contact details for Manuko
---