Interview - Michelle Farina - Noshing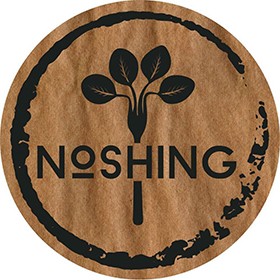 Finding really good dairy-free products can be challenging. Finding a passionate producer of cruelty-free foods that uses local Australian ingredients is even more challenging. We spoke with Michelle Farina, founder and Director of Noshing and discovered why their plant-based cheese range is so popular.
FFW: Who is behind Noshing?
NOSHING: That'd be me, Michelle. I started Noshing around three and a half years ago after going vegan and being unable to find any good tasting, authentic, non-dairy cheeses in supermarkets or speciality stores.
FFW: What are the products you offer?
NOSHING: We offer a wide range of dairy free, vegan friendly cheeses with a flavour for everyone. We have a Havarti with jalapenos and chipotle which has a lovely yet subtle spicy kick, through to a soft, creamy marinated feta which I designed to imitate a premium Persian feta, that is then marinated in olive oil with herbs and spices, and a range of cheddars, a gouda and a brie. So, something for everyone. We also take a lot of care in the presentation and packaging of our products which makes them great for cheese boards, grazing tables or taking on a picnic.
FFW: Are your foods 100% natural?
NOSHING: Absolutely. I personally select all the ingredients for all our products, sourcing from within Australia as much as possible.
FFW: What milk alternative do you use in your cheeses?
NOSHING: We use an almond milk which we make ourselves on site.
FFW: Why have you chosen to use almond milk?
NOSHING: We really wanted our cheeses to taste as similar as possible to the traditional dairy cheeses that they have been designed to imitate. This meant using ingredients that don't overwhelm the finished product with their own flavour. Through our R&D, trialling many different options, we landed on almond milk as the best milk base for our range of cheeses.
FFW: Do you use locally sourced ingredients?
NOSHING: Yes, we do. The majority of raw ingredients that go into our cheeses are sourced from within Australia, including Australian grown almonds.
FFW: What are your brand's health and quality virtues?
NOSHING: I'm glad you asked. This is a topic that we discuss internally at Noshing on a regular basis. The cruelty-free aspect of our business and our products means a lot to the team, but we are always careful in how we go to market. We are never pushy with our beliefs and instead we choose to let our products speak for themselves. We only use all-natural ingredients, no preservatives and it's easy to read all the ingredients on our packaging.
FFW: Aside from dairy, what else are your cheeses 'free from'?
NOSHING: Our cheeses are also free from any animal products, making them vegan friendly. They are gluten free as well as we don't use gluten in any of the products we manufacture at our kitchen. Plus, they are free from soy, making them suitable for people with a soy allergy or who don't consume soy products.
FFW: How do your cheeses perform, compared with dairy cheeses?
NOSHING: Our cheeses will melt beautifully on a pizza or a lasagne, but most of our customers choose to put them on their cheese platters, grazing tables or in their picnic hampers.
FFW: How are foodservice operators using your cheeses?
NOSHING: We have several foodservice operators using our cheeses in, salads, on pizzas and in toasted sandwiches.
FFW: What kinds of retailers should stock Noshing dairy-free cheeses?
NOSHING: End consumers currently buy our products from speciality supermarkets and health food stores, however as more consumer are buying dairy free and vegan friendly products, we are gaining interest from more mainstream supermarkets too.
FFW: Do you recommend that retailers offer taste tests in their stores?
NOSHING: Being a niche product, taste testing can be helpful in creating awareness of the emerging dairy free cheese industry.
FFW: What sorts of retailers are selling your products?
NOSHING: We have many IGA supermarkets selling our cheeses, as well as other speciality supermarkets, several health food stores and vegan delis.
FFW: How do you help retailers promote your products to customers?
NOSHING: Firstly, we have a strong online presence and we promote new stockists and stockists who are holding promotions or sales of our product. We have information sheets that describe our products in detail, and we can arrange for additional complimentary cheeses to be included in an order for use as taste testing samples.
FFW: What's on the horizon for Noshing? Any new products or flavours?
NOSHING: We are continuously prototyping and testing new flavours of cheese and engaging with end consumers to see which flavours will be popular. We are hoping to launch our Roast Garlic and Pepper Crusted Havarti in the next few months and we're also working on a mould ripened camembert.
FFW: What is Noshing's brand personality?
NOSHING: First and foremost, Noshing is an ethical company, which to us means ensuring all our products remain sustainable and cruelty free. Next, we focus on being a gourmet company making high quality, hand crafted products that are appealing to everyone. We are accessible, meaning that we use a mix of traditional and non-traditional, innovative cheese making methods to create beautiful cheeses that are replicas of familiar, dairy and animal based cheeses.
FFW: What quality and customer service virtues does Noshing promote as part of the company's high standards?
NOSHING: Being a small, local team, we are agile and able to work with customers for custom orders or collaborate on bespoke, dairy free cheese products. As all products are manufactured in-house, we are responsive to new and changing requirements.
f your customers are vegan, vegetarian or simply looking to reduce their dairy intake, contact Noshing for more information about their dairy-free cheeses.
---
Contact details for Noshing
Service Area Australia Wide
---