Interview - Mr Lou - MD Honey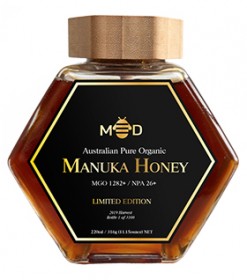 Manuka honey is one of the world's greatest superfoods. MD Honey, a 100% Australian brand produces 100% Australian Manuka honey, known for its medicinal properties and flavour profile. We spoke with owner, Mr Lou and learned what makes this precious liquid so special.
FFW: How did the MD Honey brand come to be?
MD HONEY: MD Honey was established after constant requests for Australian pure organic food from our alliance partners, family and friends from Oceania, Asia and Europe. It was an easy decision to create MD Honey and we worked long and hard to make it happen. Honey was recently found in the Egyptian tombs and it was still edible. Honey has proven to withstand the test of time. It is eaten globally by all ages and races. Its shelf life is amazing too, no need to refrigerate it. We now even use manuka honey for wound care both on humans and animals. This truly is a superfood that is proven over millennia.
FFW: Who is behind the MD Honey brand?
MD HONEY: MD Honey is a group of friends that became business partners with a common goal; to deliver some of Australia's best, purest, organic Australian Manuka honey locally and internationally. We are all Australian and our heritage is linked to Europe and Asia. We have found this to be a perfect fit to understand the cultures of the world and their attitude towards honey and especially our Australian Manuka honey. We can communicate in five languages.
FFW: What kind of expertise is behind the products?
MD HONEY: At MD Honey, we strive for perfection. We want the highest quality honey at the best price. This starts from the beekeepers and beehives to our systems, processes, certifications, accreditations in our packing house and then the final product. Our honey is also independently tested so you can be assured what is on the label is inside the jar.
FFW: From where is your honey sourced?
MD HONEY: Our honey is harvested from North East New South Wales and Southern Queensland regions.
FFW: What is meant by NPA and MGO?
MD HONEY: This is confusing to some, so we provide on our labels both the NPA and MGO rating.
Non-Peroxide Activity (NPA) represents the potency of the enzymes within the Manuka honey and its antibacterial strength. NPA is unique to Manuka honey.
Methylglyoxal (MGO) is the antiseptic compound mostly responsible for NPA. It is the combination of the methylglyoxal and other activities within the honey that creates its antibacterial and anti-inflammatory properties.
Furthermore, another phrase you will see on manuka honey, is the phrase UMF. It was developed by Dr Peter Molan to reveal the NPA (Non-Peroxide Activity) component of Manuka honey. UMF and NPA measure the strength of Manuka honey in the same way, the difference being that UMF is a registered trademark that is unique to New Zealand and only to be used under licence.
The approximate relationship between MGO concentration and the NPA/UMF® of Manuka honey is:
| | | | | | | |
| --- | --- | --- | --- | --- | --- | --- |
| NPA | 5+ | 10+ | 15+ | 20+ | 25+ | 30+ |
| UMF | 5+ | 10+ | 15+ | 20+ | 25+ | 30+ |
| MGO | 83+ | 263+ | 514+ | 829+ | 1197+ | 1620+ |
FFW: Is there much consistency in flavour profiles with Manuka honey over the course of a year with the changing of the seasons?
MD HONEY: The flavour of Manuka is dependent upon the Manuka flowers the bees feast on. As there are 83 varieties of leptospermum in Australia, there may be variations in flavour, remembering that rainfall and exposure to climatic heat may be factors in taste.
FFW: Do you offer products other than honey?
MD HONEY: Our focus was and will always be honey products. Now we simply offer honey. There is growing interest for honey in other formats of delivery i.e. honey straws, honey lollipops, lozenges. We will continue to monitor these other products.
FFW: What makes MD Honey a high end, premium brand?
MD HONEY: Our honey range is from table honey all the way up to rare, limited edition premium honey. We cater for all markets and our standout product is the rare, limited edition, glass jar, gift box honey which is a minimum of NPA 25+. This honey represents 0.1% of the global Manuka honey production.
FFW: Is your honey heat-treated?
MD HONEY: We do not boil our honey. Honey is gently warmed to decrystallise before bottling. Our spec is hive temperature of 42C. We always decrystallise Manuka by first warming and then cool to about 15C, add self-seed of fine crystal honey and allow 24 hours to settle and return to 25C. We call this aerated.
FFW: Is it organic?
MD HONEY: All our honey is organic and only some of our beekeepers/beehives are certified organic. This is a work in progress and our goal is to have them all certified so there is no confusion.
FFW: Have your products won any awards?
MD HONEY: Not yet! Our company and brands are incredibly young; we always say that everything needs to happen in order. We have been working on getting the products right before we start this process. If we get the big things in order, the little things will fall into place.
FFW: What kinds of retailers are stocking your products?
MD HONEY: We have aggressively increased our presence online in multi facets. We are working closely with health food stores, retailers, restaurants and have a lot of interest from overseas in similar distribution channels.
FFW: What do you feel are the most compelling features of your brand?
MD HONEY: The best features about our business is we are:
All natural and organic.
A family owned, Australian business.
We own the process from hive to jar.
100% Australian made.
We independently test our honey so you can be assured what is labelled is what you get.
We have all the certifications to sell our product around the globe.
When you email or call us, you will always be dealing with one of our owners.
FFW: How can you help customers who are looking to have their own brand of honey?
MD HONEY: Once we establish their goals and where they want to go, we will become their partner and be as involved as they want us to be, to make their private label a reality. We can help with compliance, design, marketing, sourcing of bottles, packaging, the whole lot. We will guide them in the right direction.
FFW: What's next for the MD Honey brand?
MD HONEY: MD Honey are working on some exciting and innovative projects. To protect the people involved we cannot disclose what it is we are working on.
FFW: It'll definitely be interesting to see what the future holds! For now, we highly recommend that you give this honey a try. For more information, contact MD Honey today.
---
Contact details for MD Honey
Service Area Australia Wide
---