Interview - Olina Sun - vege2go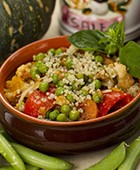 Being vegan can sometimes be challenging in terms of trying to decide what to eat, and often, convenience foods are too 'junky' or not so nutritious. But thanks to Olina of vege2go, her line of plant-based ready meals is on hand for just those occasions. Nutritionally sound and offering plenty of variety, vege2go is becoming somewhat of a hero in metro Melbourne.
FFW: Who is behind the vege2go business?
VEGE2GO: We are a vegan family who aim to offer healthy choice to people and contribute to environmental wellbeing.
FFW: Explain what your business offers.
VEGE2GO: We offer vegetarian/vegan/gluten free ready meals: mains, sides, soups, snacks, bulk packs and meal plans.
FFW: So are all your meals completely plant-based?
VEGE2GO: Yes, 100%.
FFW: Are any of your meals gluten free?
VEGE2GO: Yes, you will find all of our gluten free products indicated on our product pages. We make the gluten free very clear on the food labels.
FFW: What other dietary considerations do the products take into account?
VEGE2GO: We design our gourmet food to incorporate a balance of carbs, protein and fat, keeping in mind the extra dietary needs of vegans and vegetarians. We even offer a selection of gluten free ready meals for Coeliacs and those trying to eat less processed foods, as well as dishes free of other allergens including nuts, dairy, soy, egg and sesame.
FFW: Are they supplied fresh or frozen?
VEGE2GO: They are supplied fresh.
FFW: Can they be frozen so they can be kept for longer?
VEGE2GO: All the products except for leafy salads and some desserts can be frozen. We recommend freezing up to 3 months. Please refer to the product label for storage instructions. You can also refer to the storage instructions for each product on our e-store.
FFW: Are the meals suitable for kids?
VEGE2GO: Yes, our healthy ready meals are bursting with fresh and nutritious ingredients. We use natural ingredients and cook in a very healthy way. We do have customers who purchase our products for their kids.
FFW: Is there an emphasis on low calorie, low carb or any other element or are the foods you make purely focused on being plant-based, convenient and nutritious?
VEGE2GO: Yes, and we have nutritional information listed on the web pages of each of the products. You will also find the ingredients and nutritional information on the food labels.
FFW: Do you use local ingredients?
VEGE2GO: Yes, we use local ingredients. Some of the ingredients are organic, such as quinoa and bolognese.
FFW: What kinds of foodservice businesses would serve vege2go meals and snacks?
VEGE2GO: Supermarkets, fine food stores, schools/universities, hospitals, hotels, backpacker hostels, small tourism operators.
FFW: Can the foods be reheated on the stove or is a microwave necessary?
VEGE2GO: Yes. The food can be reheated on the stove or in the microwave. Each individual meal has a label with heating instructions. Please follow these instructions. You can also refer to the heating instructions for each product on our e-store.
FFW: How do you help retailers promote your products to customers?
VEGE2GO: We will send free samples and we print flyers and offer food tasting.
FFW: Who would be typical vege2go customers?
VEGE2GO: Busy single people, families who want to be healthy, people who eat plant-based but don't have a good repertoire of dishes to cook for themselves.
FFW: How would you categorise the type of cuisine you offer?
VEGE2GO: Mediterranean.
FFW: Do you have any new dishes coming into the range?
VEGE2GO: Yes, we are launching some new gluten free meals and products without garlic and onion.
It's never been easier to help your vegan and vegetarian customers eat well at home (or in your small foodservice business)! You could place a small order to trial the products and see for yourself just how exceptional they are. Simply call vege2go today to get started.
---
Contact details for vege2go
---