Interview - Pip Clark - JEEERKS Beef Jerky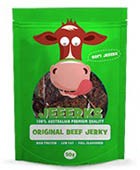 Consumers are always looking for new snack foods to enjoy, so it's an added bonus to find one that is healthy, guilt free and very satisfying. We spoke with Pip Clark, Director of JEEERKS Pty Ltd about her range of 100% Australian beef jerky products that are doing great business at point of sale in a diverse array of retail environments.
FFW: What's the story behind JEEERKS Beef Jerky?
JEEERKS BEEF JERKY: I love jerky…. I simply decided to start a beef jerky company which offered traditional jerky, great value and was a little different to all other jerkys. A lot of other jerkys are leathery in texture which makes it very unpleasant and difficult to chew. And some are highly processed which results in a loss of nutrients, so you end up with something that's got unnecessary additives and preservatives and doesn't even really taste of beef. When you eat JEEERKS, you get the fresh, clean taste of the beef along with the carefully selected blend of spices. It's a classic beef jerky taste with a bit of added pizzazz.
FFW: What about your background made you want to create a product such as beef jerky?
JEEERKS BEEF JERKY: I'm an ex-personal trainer and I was born and bred in the country. My two passions are protein and beef. I decided to put two and two together and start my own beef jerky company. Promoting my product is a joy, not a chore because I love it and I want to educate Australia about not only the tastiest one available but most importantly the goodness of beef jerky itself.
FFW: So, beef jerky is a healthy snack?
JEEERKS BEEF JERKY: Absolutely! JEEERKS is made using quality topside beef which is stripped of all fat, ensuring a low fat product, bursting with nutrition. Combined with its high protein and low carbohydrate nutritional value, and the fact that it's also gluten free, JEEERKS is a satisfying, guilt free snack.
FFW: Do you use local ingredients?
JEEERKS BEEF JERKY: Yes, we use 100% Australian product. Aussie beef is the best in the world and there's plenty of it. We love being able to offer it in a format that people can enjoy wherever they are, at any time of day.
FFW: Does dried beef have the same nutrient content as fresh beef?
JEEERKS BEEF JERKY: Yes, it certainly does. The only difference is it's had the water removed.
FFW: What kind of customer buys JEEERKS Beef Jerky?
JEEERKS BEEF JERKY: JEEERKS appeals to a wide range of demographics – beer drinkers, sporting clubs, children, tradies, gym members, office workers, truck drivers. The flavours are mild enough for kids to enjoy but tasty enough to be satisfying for everyone. The chilli one is obviously more suited to adults.
FFW: Is beef jerky only recommended for active, sporty people?
JEEERKS BEEF JERKY: No, jerky is a fantastic snack for all ages, from school students to hard labouring tradies, sedentary office workers to hard core gym fanatics and mums on-the-run to the elderly out taking a stroll. And JEEERKS is available in soft or hard everyone can enjoy it and people often become very attached to their favourite JEEERKS product and wouldn't be without it!
FFW: What kinds of retailers are selling your products?
JEEERKS BEEF JERKY: We have our products in bottle shops, sports clubs, surf clubs, pubs, convenience stores, butchers, fruit shops, IGAs, service stations, theme parks and fast food snack bars. It's so handy because it looks gorgeous at point of sale where impulse purchases come very easily, and it can sit on top of bottle shop displays or on the counter in chemists, newsagents and hardwares. It really does work in all kinds of retail environments. As long as there's hungry or munchie-loving people, JEEERKS will sell!
FFW: Why should retailers stock products from JEEERKS Beef Jerky?
JEEERKS BEEF JERKY: JEEERKS has quirky branding and packaging which attracts the consumer's eye. It's also a traditional jerky which is hard to find these days. Plus, it represents great value for money. For a few dollars, your customers can pick up something flavoursome that will fill the gap in their tummies while satisfying food cravings and the need to chew on something. JEEERKS is even loved by people who are trying to quit smoking because it occupies their mouths and keeps their mind off their cigarette cravings.
FFW: What's the beauty of a product like your beef jerky, for retailers?
JEEERKS BEEF JERKY: It's attractive, eye catching, a fabulous impulse purchase, offers a good margin and long shelf life. Also, JEEERKS is great value for money with each 50g packet retailing between $6-8. Some other jerky brands on the market are available in tiny 25g packs and retail at $5.50-$6.00. JEEERKS represents much better value for consumers which means more dollars in retailers' tills. Plus, because the packaging appeals to kids, it sells to a wider range of ages. This is 'pester power' of the healthiest kind!
FFW: Can JEEERKS be used in dishes?
JEEERKS BEEF JERKY: It sure can! People often add it to salads, pizzas and soups, even omelettes. It can be used as a garnish on top of a creamy soup or instead of croutons in a Caesar salad.
FFW: Have you received feedback from consumers?
JEEERKS BEEF JERKY: We've had lots! It's all been positive, never anything negative. It's great tasting, great value and good variety. Our fans love that they can carry around the pack and keep the jerky fresh because the pouches are resealable and they certainly appreciate the flavours because they can share their jerky with others with varying tastes. Here are some comments:
"I only order in 1kg bags as the 50 grams are just not enough for my addiction. JEEERKS is super tasty and cooked to perfection; it is great value for money. I always have JEEERKS in my tool box at work and it seems to have taken off in the workshop with most the other boys getting on the JEEERKS bandwagon." Janine Dodd Forster, NSW.
"I opened my JEEERKS last night before dinner and had to hide it from myself. I've demolished the packet!! Love the taste, texture and perfect level of saltiness." Reuben Smith, Gold Coast, Qld.
"JEEERKS is not only my 'go to snack' but also enhances casseroles, pastas and pizzas (best thinly sliced on pizzas) and is perfect to add to the kids' school lunch boxes." Raylene, Tugun, Qld.
"A friend of mine cracked a bag of JEEERKS once at a gathering. Once I tried it, I had to order myself some. My couple of bags order has now moved up to 1kg orders. If you're a jerky lover, this is the one you will fall in love with and get a healthy addiction to." Hannah, NSW.
FFW: What is JEEERKS' brand personality?
JEEERKS BEEF JERKY: Starting with the packaging, the vibrant green signifies freshness and nature as JEEERKS is an all-natural product. The cartoony brown cow represents our sense of fun and makes it appealing to all ages. We think it's really important that jerky be offered to all ages – kids through to the elderly – and this makes that obvious. We've put a lot of thought into the design of our packaging to reflect that it's a fresh, clean and premium quality product. JEEERKS is fun, delicious, quirky, different and unique. Even though nutrition is serious, the food itself should be fun.
FFW: If you could land an exciting major client, who or what kind would it be?
JEEERKS BEEF JERKY: We would be so excited to land an airline, particularly an international one so we could spread the JEEERKS word far and wide across the globe! Also, a large hotel chain would be great for the in-room mini bar opportunities. Corporate sponsorship for an NRL team would be heaps of fun and we'd love to be in BWS, Dan Murphy's, Liquorland, Cellarbrations, etc.
FFW: How do you assist retailers in promoting your products?
JEEERKS BEEF JERKY: We offer eye catching POS stands and samples so our clients can offer taste tests to their customers. Tasting JEEERKS is the best way to gain new fans. We highly recommend ensuring the JEEERKS display is positioned where the consumer will impulse buy.
FFW: Do you have any other products or flavours in development at the moment?
JEEERKS BEEF JERKY: We're looking at bringing in a beef jerky stick range however this is still in working stages at the moment.
FFW: If you could have anyone in the world as 'the face of JEEERKS', who would it be and why?
JEEERKS BEEF JERKY: I'm not sure; this is a tricky question, but probably Kelly Slater or Darren Lockyer. Athletes LOVE JEEERKS and we reckon if there was a locker room bag search, we'd see a lot of our green pouches nestled in there! It's just such a nutritious, satisfying snack food, particularly when you're working hard or playing hard.
Offer your customers an alternative to sugary, high salt, high fat snack foods and present them with high protein, low fat, utterly delicious beef jerky. JEEERKS is available in 50g snack packs and 1kg packs. Contact JEEERKS today to place your first order.
---
Contact details for JEEERKS Beef Jerky
---