Interview - Rebel Kitchen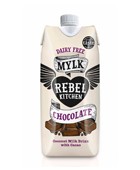 As the dairy-free trend picks up pace, it's interesting to see what kind of creative products are emerging. One clever company now offers a range of delicious coconut 'mylks' made to please the tastebuds of children and grownups alike. We spoke with the crew at Rebel Kitchen Australia and discussed how their products fit into a paleo, vegan and dairy-free diet.
FFW: Tell us about the people and reasons behind Rebel Kitchen.
REBEL KITCHEN: Rebel Kitchen was founded in London by Tamara and Ben Arbib in 2011. With the nation's approach to food, health and sustainability in mind, they created Rebel Kitchen in order to be the game-changers in the snack food industry. Rebel Kitchen proves that you can have a successful brand and a delicious product without sacrificing people's health. Best of all, you can have fun while doing it!
FFW: What led you to establish a business that offers coconut milk beverages?
REBEL KITCHEN: There has been a massive shift to non-dairy milks in recent years. More and more people are starting to follow a vegan or paleo lifestyle, or are simply lactose intolerant. But everyone loves flavoured milk, right? All of these people were missing out! So we saw a gap in the market for good quality dairy-free flavoured mylks. Coconut mylk was the way to go because it's delicious, healthy and there are far fewer people with allergies to coconut than there are to soy or nut-based milks.
FFW: How have recent food trends inspired you?
REBEL KITCHEN: Though there will always be food trends, we like to think Rebel Kitchen transcends fads. Vegan, paleo and dairy-free lifestyles, some of our key demographics, are lifelong commitments. Our aim is to revolutionise the way wholesome foods are produced and marketed. We would like our approach to food to become the norm, not the exception to the rule.
FFW: So what health/lifestyle virtues do your products address?
REBEL KITCHEN: We cover a lot of bases! Our mylks are dairy free, gluten free, nut free, grain free and they don't contain refined sugar, so they tick all the boxes for many lifestyle choices. Having said that, really our main aim is to get people to think about the food choices they make in a fun and engaging way.
FFW: Are your ingredients organic?
REBEL KITCHEN: No, the mylks are not organic, but we do pride ourselves on sourcing ethical and sustainable ingredients. The date nectar is organic, the bananas are Rainforest Alliance approved and we use Fairtrade cacao.
FFW: Who is consuming dairy free products these days?
REBEL KITCHEN: Go into any supermarket aisle or café and you will see just how much the dairy alternative market has grown in recent years. It's not just lactose intolerant people opting for dairy free alternatives. As more people adhere to vegan and paleo lifestyles, more people are opting for products like Rebel Kitchen that support their dietary choices. Although being dairy-free is a big part of our brand, we like to think the taste alone is enough to convert people.
FFW: What do you use as a sweetener if not refined sugar?
REBEL KITCHEN: Refined sugar is a highly processed product and therefore totally against our "keepin' it real" mantra. So we sweeten our mylks with highly nutritious, organic date nectar.
FFW: Is the coconut flavour dominant in your mylks?
REBEL KITCHEN: No. The coconut flavour subtly complements the other stronger flavour profiles.
FFW: Are the mylks shelf stable or do they require refrigeration?
REBEL KITCHEN: Our mylks are shelf stable, but we recommend you serve them icy cold.
FFW: When consumers first try Rebel Kitchen coconut mylks, do they like them immediately or is are they a bit of an acquired taste?
REBEL KITCHEN: The vast majority of first-time consumers absolutely LOVE our mylks. They can't get enough of it. Our social media pages are constantly being flooded by enraptured Rebel Kitchen fans telling the world how much they love our fabulous product and everything we stand for. It sure makes us feel all warm and fuzzy inside.
FFW: What's the difference between the adults' range and the children's range?
REBEL KITCHEN: The 200ml kids' range come in choc orange, banana and chocolate flavours. The 330ml adults' range goes for some more 'grown up' flavour profiles: coffee, matcha green tea, chai… and of course chocolate, because we're all big kids when it comes to chocolate!
FFW: Can the mylks be served warm?
REBEL KITCHEN: We see people making all sorts of creations with our mylks on social media. It's amazing how creative some people are! Why not try gently warming up a chocolate mylk on the stove for a decadent, dairy-free treat?
FFW: What sorts of retailers are you looking for?
REBEL KITCHEN: We look for fun-loving retailers who share our vision for healthy, real food and a sustainable future for our planet.
FFW: Aside from cafes and restaurants, what other kinds of businesses would benefit from stocking your range?
REBEL KITCHEN: Rebel Kitchen Is a diverse brand that supports many different lifestyles. From crossfit studios and gyms to children's birthday party venues and wholefoods grocers, there are heaps of businesses that would benefit from stocking our mylks.
FFW: What would you say is Rebel Kitchen's brand personality?
REBEL KITCHEN: As the name suggests, Rebel Kitchen is a rebellious brand. We have a cheeky tone of voice, we value transparency and our branding is edgy and eye-catching. It's a common misconception that healthy equals boring, but that isn't how it should be. Through authentic storytelling, our mischievous personality and a fantastic product to boot, we aim to change people's approach to maintaining a healthy lifestyle in a fun-loving, rebellious way.
Well don't we all love a brand that espouses a healthy lifestyle and doesn't make it seem like drudgery? We hope you'll embrace Rebel Kitchen's coconut mylks and start offering them to your customers. To find out more or to organise your first order, contact Rebel Kitchen today.
---
Contact details for Rebel Kitchen Coconut Mylk
---