Interview - Scott Mendelsohn - Natural Raw C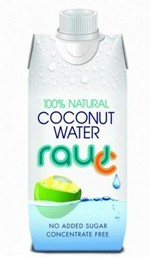 Australians have wholeheartedly embraced the coconut water movement here. We are realising the incredible health benefits that go along with the great, fresh taste.
We recently spoke with Scott Mendelsohn, Director of Natural Raw C about their brilliant product and what sets it apart from other beverages and why it's suitable for everyone to enjoy as they desire.
FFW: Who are the brains behind Natural Raw C Coconut Water?
NATURAL RAW C: Scott Mendelsohn, Dennis Ghetto, Chef Pete Evans.
FFW: How did the idea come about to source and produce a Coconut Water product?
NATURAL RAW C: We realised there was a gap in the market for a premium coconut as many brands are high in sugar and are sourced from different areas.
FFW: What are Natural Raw C's 'green credentials'?
NATURAL RAW C: All coconuts are ethically sourced and there is no waste of the coconut meat or husk.
FFW: Is Coconut Water "just another fad" food product?
NATURAL RAW C: No it's not. People have been drinking coconut water for hundreds of years and packaged coconut water is only a recent addition to the drinks market. Continued strong sales growth around the world shows that coconut water is here to stay.
FFW: What are its health benefits?
NATURAL RAW C: Coconut water doesn't have sugar added, is high in potassium, calcium and magnesium and hydrates you quicker than water. It also is fat free.
FFW: What kinds of businesses are buying from Natural Raw C?
NATURAL RAW C: Supermarkets like IGAs, Thomas Dux, Norton Street Grocer. We are the major brand at over 140 Go Vita Stores and 60 Healthy Life health food stores. We also sell into Bikram Yoga studios, gyms, pools, day spas, beauty salons, major juice bars, cafes, delis, schools, at the airport and hospitals.
FFW: Can anyone enjoy Coconut Water or is it specifically for athletes and those who work out strenuously?
NATURAL RAW C: Anybody can drink coconut water. It is great for kids as the low natural sugar means it is lightly sweet. It's a great way to stay hydrated for people who don't enjoy drinking a lot of water. A perfect pick me up after exercise.
FFW: Do you think many people enjoy Natural Raw C as a beverage, for how it tastes, or do people drink it more for the health benefits?
NATURAL RAW C: We have had a few major magazines who have done blind taste test and Natural Raw C is always first or second for taste. As we do not add anything it is not overly sweet and doesn't leave an aftertaste. Also unlike most other brands our 330ml and 1 litre waters are sourced from the same place, not from different countries.
FFW: Can it be used as a drink mixer, either alcoholic or non-alcoholic?
NATURAL RAW C: Sure can; we post every day on social media, a recipe using coconut water. It can be used in a smoothie, desserts, mocktails, cocktails, soups, and other cooking.
FFW: Your products are available in 330ml and 1L packs. Is there any advisable limit to how much a person can or should consume in a day?
NATURAL RAW C: Not at all; as it is 100% natural with nothing added it is safe to drink as little or as much as you like.
FFW: How does Coconut Water help athletes' performance?
NATURAL RAW C: Coconut water rehydrates quicker than water so it's a great way to aid recovery after exercise.
FFW: If you could stand in a busy mall and shout out the three most important virtues of your brand, what would they be?
NATURAL RAW C: Nothing added, single sourced coconut water, best tasting.
FFW: Does Natural Raw C provide promotional material, product samples or advisory on your product?
NATURAL RAW C: We sure do, we do lots of sampling in store as well as online giveaways and we'll be doing a summer advertising campaign.
To place your first order, contact Natural Raw C today.
---
Contact details for Natural Raw C Coconut Water
---