Interview - Scott Washbourne - Kitz Living Foods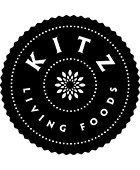 Sure, activated and raw foods have copped some smirks over the years but more and more now, consumers are seeking out this next-level-health-boosting category of foods. We spoke with Scott Washbourne of Kitz Living Foods and found out more about how they are satisfying the needs – and tastebuds – of a growing sector of the market.
FFW: What does Kitz Living Foods specialise in?
KITZ LIVING FOODS: We are an artisan food company that hand-crafts organic, raw, gluten-free, dairy-free, wheat-free vegan treats for the thoughtful eater.
FFW: Are all your products organic?
KITZ LIVING FOODS: All our products are made with 100% certified organic ingredients.
FFW: What other health and quality virtues do you uphold in your product range?
KITZ LIVING FOODS: We conduct our business in line with green principles. For example, all our packaging is compostable and 100% of our energy is from renewable sources.
FFW: Do you make the products in-house?
KITZ LIVING FOODS: Everything is made lovingly by hand in our factory in Northern New South Wales.
FFW: Are foods still considered 'raw' if they have been processed by low-heat dehydration?
KITZ LIVING FOODS: We slow-dehydrate at 47°C, at which temperature foods are considered to still be raw.
FFW: What are the benefits of dehydration?
KITZ LIVING FOODS: We make (and eat!) raw food because it is more nutritious – heating foods above 47°C breaks down the vitamin content. Raw foods are alkalizing and most of us have systems that are too acidic. Cooking food creates free radicals and other cancer causing agents so we want to minimise that by eating raw as much as possible.
FFW: Do you activate the nuts and seeds in-house too?
KITZ LIVING FOODS: Yes, we 'activate' our seed and nuts, by soaking them overnight in cool filtered water followed by a thorough rinse. Activating like this washes off enzyme inhibitors like phytic acid, and that makes seeds and nuts easier to digest. It also means your body is able to absorb more nutrition from our products.
FFW: What do 'activated' and 'raw' specifically mean?
KITZ LIVING FOODS: Activation means to soak seed and nuts overnight in cool filtered water followed by a thorough rinse. This makes it easier for your body to digest the goodness (improves nutritional uptake). Raw means food prepared under 47°C, in our case, we dehydrate below this temperature as when you heat food above 47, changes start to occur. When you heat food above 47, free radicals are created and some vitamins and minerals begin to break down and become less available. Potatoes you have to cook in order to eat, but why cook (pasteurise) seeds and nuts?
FFW: What sectors of the market do you specialise in serving?
KITZ LIVING FOODS: We have products to suit many special dietary needs – gluten-free; vegan; organic; low-carb; sugar-free; dairy-free; Paleo; Ayurvedic; diabetic; nut-free, grain-free, many other food allergy/intolerance sufferers and eaters generally trying to eat better.
FFW: Do you sell bulk quantities to foodservice businesses?
KITZ LIVING FOODS: Yes, we offer most of our products in bulk 1kg packs. Crackers can be purchased in bulk quantities of 5kg or more.
FFW: What kinds of retailers are stocking your products?
KITZ LIVING FOODS: A wide variety of retailers stock our products, such as: health food stores; organic & specialty stores; grocery stores; co-ops; cafes; juice bars; chemists; online stores; and, holistic health practitioners.
FFW: How do you make it easy for your retailers and foodservice operators to do business with you?
KITZ LIVING FOODS: We have no minimum order and no freight fees. We make fresh batches daily and keep minimum stock to maximise freshness. Products are sold per unit (not per carton), making it easy to stock only what you need when you need it. We offer samples to conduct in-store tastings, as well as offering marketing materials at no charge to help promote the brand. We are happy to supply small orders to stores just 'trying out' the brand on their customers.
FFW: Have your products won awards?
KITZ LIVING FOODS: My mother thinks our food is wonderful.
FFW: Do you ship Australia-wide?
KITZ LIVING FOODS: Yes. We ship Australia-wide daily via courier or Australia Post.
FFW: What makes Kitz Living Foods the ideal, go-to supplier for these kinds of foods?
KITZ LIVING FOODS: We have 11 years' experience in the creation and manufacture of wholesome, nutritious snack foods and are always introducing new products to the range. With 45 products to choose from, there is something for everyone!
FFW: Do you have any new products in development at the moment?
KITZ LIVING FOODS: Always!
Isn't it reassuring to know that there is a supplier who can keep you well stocked with foods at this level of health-consciousness? If you've been looking for such a supplier, today's the day to contact Kitz Living Foods.
---
Contact details for Kitz Living Foods
---