Interview - Sindy Coetzee - Clonakilty
Clonakilty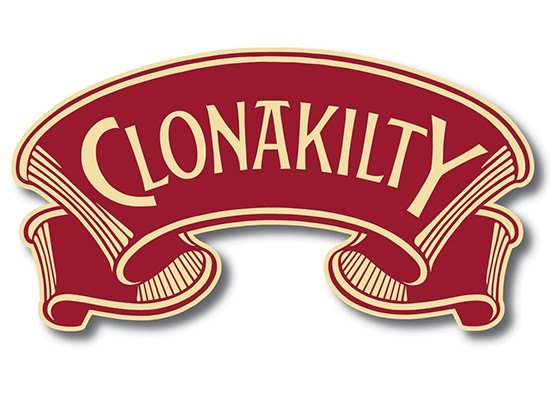 More Images
Black pudding and white pudding are fast becoming popular foods here in Australia and one of the reasons for that is the introduction of a famous Irish brand, Clonakilty. We talked with National BDM for Australia, Sindy Coetzee who told us what makes it so delicious.
FFW: Who is behind the Clonakilty brand?
CLONAKILTY: Clonakilty Food Company is owned and run by the company M.D, Colette Twomey. She and her late husband Edward started in a family butcher's shop in the West Cork town, Clonakilty, over forty years ago and have turned the business into a household name.
FFW: Is the Clonakilty brand still in the same family?
CLONAKILTY: Clonakilty Food company is still owned and run by the Twomey Family to this day. Colette Twomey is the only person who know and mixes the Blackpudding secret spice mix.
FFW: What is the company's history, in a nutshell?
CLONAKILTY: Clonakilty Food Company started in Harrington's Butcher shop in the 1880s where the pudding was made by a local woman, Johanna O'Brien. Philip Harrington took over the making of the pudding when Johanna retired and he handed the recipe down through the years until 1969 when it reached the hands of a man called Patrick McSweeny. In 1976 Edward Twomey took over the butcher shop from his Uncle Patrick and with it came the secret recipe for the Blackpudding. Edward thankfully decided to keep this bit of history alive. Edward noticed the demand with people coming from all over just for the Blackpudding and understood the importance of keeping the recipe a secret. From here Clonakilty Food Company was born and the product range in Ireland and the UK has expanded to include Clonakilty Whitepudding, Clonakilty Veggie Pudding. Clonakilty Sausages and Clonakilty Rashers.
FFW: How would you define your overall offering?
CLONAKILTY: Clonakilty Food Company offers high quality products made using 100% Australian meat and Irish ingredients where possible. In Australia we work with well known Melbourne butcher Peter Bouchier who makes our puddings for us using Australian pork and New Zealand beef.
FFW: How is your product different from what else is available in Australia?
CLONAKILTY: Clonakilty's unique point of difference is our Black Pudding is made with beef and not pork. Clonakilty Blackpudding has a rich, deep umami flavour that goes hand in hand with its heritage. Using a secret blend of spices and steel-cut oats to give the produce its unique taste, crumby texture and distinctive flavour, the black pudding pairs beautifully with a range of dishes and a delicious mild flavour the whole family will love and enjoy.
FFW: Do you still use the original recipes for your black pudding and white pudding?
CLONAKILTY: Here at Clonakilty the Blackpudding recipe has not been changed since it was first made in the 1880s. It is made using traditional methods combining beef, oatmeal, onions, beef blood and a secret blend of spices. The secret recipe is still only known to owner, Colette Twomey. Clonakilty Whitepudding is an original Twomey recipe and has not changed since it was first introduced in 1986, made using pork, oatmeal, onions and a mix of Spices.
FFW: How has the business changed over the years since Clonakilty was established?
CLONAKILTY: Clonakilty Food Co. started out as just a small butcher shop in the seaside town of Clonakilty, west Cork, Ireland. Over the years the company has grown and expanded to become one of Ireland's most recognised food brands, now spanning across the ocean to the UK, Europe, Hong Kong, UAE and Australia, in Australia the product range now includes much more than just Blackpudding; we also have Clonakilty Whitepudding, Clonakilty Traditional Irish Pork Sausages, and soon to launch Clonakilty Veggie Pudding. From small beginnings in a butcher shop, we are now working out of a newly built facility in Clonakilty town with a recently opened Visitor Centre. However, we continue to build on the same values held by the company from the beginning. We will always have consistent focus on quality, not forgetting our traditions or roots and remaining loyal to local suppliers.
FFW: Do your products contain preservatives? What other virtues does it offer?
CLONAKILTY: Clonakilty Blackpudding and Clonakilty Whitepudding have no artificial additives or preservatives with minimal ingredients. There are no hidden extras in our puddings with just six ingredients in the white and seven in the black. We also have a gluten free product available in our Clonakilty Traditional Irish Pork Sausages.
FFW: Are your ingredients sourced locally?
CLONAKILTY: Our ingredients are sourced local wherever possible. We only import our beef from New Zealand. We will always try to source our products and ingredients from local farmers whether Irish or Australian and our Australian product is manufactured within Australia. We believe it is important to support the businesses in our local regions.
FFW: How receptive are Aussies to black pudding and white pudding?
CLONAKILTY: Already boasting fans amongst top Irish chefs in Australia, the brand is now available in Woolworths, meaning not only can the large Irish expat community get their hands on a delectable taste of home, but so can the rest of us. Particularly on-trend amongst Australian chefs for its nose-to-tail and economical ethos, black pudding is becoming a must-have ingredient and branching out beyond breakfast. It is well loved and received by Australian meat lovers and becoming increasingly popular thanks to Australian cooking shows presenting new versatile ways of using the product.
FFW: Are foodservice businesses using your black pudding and white pudding in interesting ways?
CLONAKILTY: We often see restaurants and cafes using Clonakilty Pudding in a lot of different ways, from pizza, to salads, with scallops as a starter, mixed in with a beef burger, stuffed in pork steak, the possibilities are endless and it's great to see business using our products in different and creative ways.
FFW: Do you have a niche clientele in Paleo and Keto consumers?
CLONAKILTY: Our puddings are minimally processed with no added artificial ingredients or flavours. Made fresh and with only a small number of ingredients, Clonakilty Blackpudding is high in iron and both puddings are also a source of protein so they may perfectly suit the diets of these individuals. Clonakilty Veggie Pudding is vegan, vegetarian and gluten free, made using oats, onions, black beans, carrots and a distinctive blend of spices so it is quite a healthy product with low salt content.
FFW: What do your gluten free black pudding and white puddings contain if not oats?
CLONAKILTY: Our black pudding is made using oats. We unfortunately cannot advertise our product as gluten free as the oats are sourced from a company that produces other gluten products and there may be traces of gluten found in our products.
FFW: What was the reasoning behind creating a Veggie Pudding?
CLONAKILTY: The reason behind launching a vegan pudding was choice for the consumer. We understand that diets and the way in which people are consuming meat is changing. We want to ensure our customers have a choice if they wanted to do a meat free Monday or eat less meat during the week. It also allows families with different eating habits to enjoy Clonakilty products together.
FFW: What types of retailers are ideal to stock your products?
CLONAKILTY: Speciality food stores, butchers, European food stores, convenience stores such as IGA, fresh food markets and supermarkets.
FFW: What sort of feedback do you get from consumers who have never tasted blackpudding before?
CLONAKILTY: New customers can be hesitant to try the black pudding but are often surprised when they do. The combination of flavours and the distinctive oaty bite of the product usually leave them wanting more! Clonakilty Blackpudding has a distinctive taste that customers come to know and love. The versatility of Clonakilty Blackpudding is also a bonus to customers who can use it across many different meal occasions and not just breakfast.
FFW: What's your favourite product and how do you typically enjoy it?
CLONAKILTY: My personal favourite is the blackpudding because you can use it in so many dishes. If there is any left over from breakfast you can crumble it in a salad or add it to pasta. It's just absolutely delicious.
FFW: What is the shelf life of your products?
CLONAKILTY: Unopened Clonakilty pudding has a shelf life of 80 days, but can also be sliced and frozen for longer term use if required. Clonakilty sausages have a much shorter shelf life of about 10 days unopened from day of production so it's best to eat these up straight away!
FFW: Do you ship Australia-wide?
CLONAKILTY: Yes we are able to ship nationwide. We are currently working on having our products available in more retailers throughout Australia for the convenience of our customers.
FFW: If you could get Clonakilty products in the hands of the most exciting client ever, who would that be?
CLONAKILTY: I would love to have Andrew Zimmern try out our products. He loves to try exotic flavours and meats and gives great perspective on food people usually tend to fear.
FFW: Why not discover for yourself why blackpudding and white pudding are becoming so popular. Speak to Clonakilty today about placing an order and have a taste!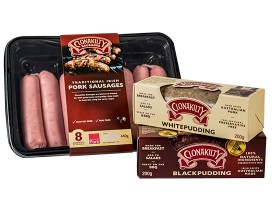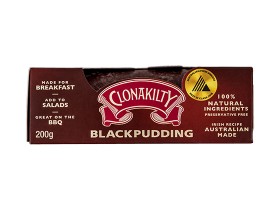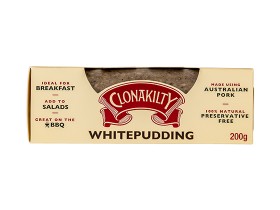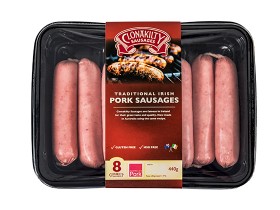 ---
Contact details for Clonakilty
Service Area Australia Wide
---