Interview - The Bircher Bar - Darcy Ogdon-Nolan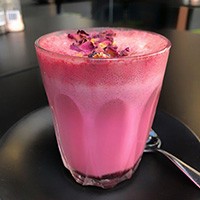 Consumers demand more than just coffee these days so you want to be ready with an abundance of other options. The Bircher Bar offers exciting latte blends that will bring your beverages menu to life! We spoke with Darcy Ogdon-Nolan, founder and owner, and discovered the mouth-watering flavours and how they're being served.
FFW: Who is behind The Bircher Bar?
THE BIRCHER BAR: We are a small but passionate team, typically consisting of just myself and Scotty B. on a regular day but occasionally expanding to include a few great close friends when the orders are flowing fast!
FFW: What flavours of latte mix do you offer?
THE BIRCHER BAR: We currently have a number of great blends, all designed to deliver entirely unique and balanced flavours as well as huge health benefits. Our current range includes:
Spiced Golden Latte (Turmeric Latte)
Spiced Beetroot Latte
Spiced Matcha Latte
Cayenne-5-Spice Cacao
To add to this, launching this month are our:
Medicinal Mushroom Cacao
Liquorice Bullet Cacao
FFW: How did you come up with your recipes for the latte mixes?
THE BIRCHER BAR: Many hours of product research into sourcing quality ingredients and the best combinations for optimal flavour and health benefits. We had many 'trial and error' tastings to get them exactly where we want; also tasting a lot of other blends to compare and see where we wanted to improve.
FFW: Are there any secret ingredients?
THE BIRCHER BAR: No secret ingredients at all – we keep it simple and humble! I believe complete transparency with food products nowadays is paramount; everyone deserves to know exactly what goes in their food!
FFW: How are the lattes made, whether at home or in commercial cafes?
THE BIRCHER BAR: Our latte blends are extremely simple to prepare, both at home and in a café/restaurant setting. The basic premise is combining a teaspoon of our powder with heated milk of your choice and sweetener if desired! All of the steps are outlined on each product label with a 'how to' video also coming out soon! To add to this, we also provide a detailed preparation infographic to all of our wholesale customers who use a coffee machine.
FFW: Can the lattes be served iced as well as cold?
THE BIRCHER BAR: Most definitely. They work just as well over ice as they do served hot – this allows them to be a menu feature all year round. They are also a great addition for colour, flavour and nutrition to smoothies, smoothie bowls, baking and cooking.
FFW: Do the lattes contain any preservatives or other flavourings? What other virtues do they offer?
THE BIRCHER BAR: No additives, preservatives or sweeteners at all. Every latte blend is 100% all-natural, gluten-free, Paleo and raw, with all blends except for our Spiced Matcha also caffeine-free. Each blend offers a host of unique health benefits too, all of which we have written extensive blogs about!
FFW: Are your ingredients sourced locally?
THE BIRCHER BAR: For all of our products, we always search for our ingredients locally first. Anything that we need that isn't grown locally, we source through local suppliers within our local region.
The ingredients we use are amazing and specifically selected for their unique flavours and health benefits, however, a number of these are not grown locally. In this instance, we are proud to support our local stockists and suppliers, all of which employ fair-trade practices to source these from their native regions.
FFW: Are the lattes suitable for children as well as adults?
THE BIRCHER BAR: Absolutely – many customers remark how much their children love the colour and flavour of our blends (maybe avoid the Matcha blend for the caffeine hit though!)
FFW: Do you think the lattes can revive a lagging beverages menu?
THE BIRCHER BAR: For sure – many of our current wholesale clients have noticed a great following develop around our specialty blends. As I'm sure any café-goer now knows, specialty lattes are very much 'on-trend' at the moment and gaining popularity daily – particularly within health-conscious circles where people are looking for gluten-free and Paleo options or reducing their caffeine intake. They are a great addition to any drinks menu, providing a delicious and healthy option for consumers.
FFW: What is a rough cost per cup to make a latte with a mix from The Bircher Bar?
THE BIRCHER BAR: There are great margins available on all blends. For example, the raw cost of latte powder for an 8oz cup is between 18c to 38c (depending on the blend), with the typical market price for an 8oz serve being $5.50! Shelf life for all blends is 12 months too so stock wastage is never an issue.
FFW: Are you finding that cafes are experiencing increased beverage sales at times when customers wouldn't ordinarily want coffee because of the caffeine, later in the day?
THE BIRCHER BAR: Absolutely. Specialty lattes are often marketed as a 'coffee alternative' to people trying to reduce their caffeine intake. A large number of customers often tell us that they have them as an evening beverage at home as well to help wind down at the end of the day!
FFW: How do you make it easy for clients to do business with you?
THE BIRCHER BAR: Being a small business ourselves we know how hard it can be access new products due to large order minimums and account requirements. As a result:
We have no order minimums at all.
Freight is courier calculated with a free freight threshold for larger orders.
We offer a 'Specialty Latte Starter Kit' for interested establishments, allowing for product taste and menu testing with the ability to turn over $400 for free too!
Invoiced when ordered – 14-day accounts.
FFW: Have you encountered – or even come up with – any really unusual ways to serve the lattes?
THE BIRCHER BAR: We are exceptionally lucky to have some amazingly creative customers and brand ambassadors that make incredible food and drink with our latte mixes. Everything, including hot and iced lattes, smoothies and smoothie bowls, croissants, brownies, cake, curries, superfood juices and much more. Our Instagram is a great place to see what is being done with the blends.
FFW: Are you planning to introduce new flavours of latte mix in the future?
THE BIRCHER BAR: We are always experimenting and working on new products but only where we see a need for them and where they can be done to a high standard. Creativity and innovation are essential for a small business; watch this space over the next few months for the additions!
Why not revamp your beverages menu with some exciting new lattes, smoothies and iced drinks? Inject some extra nutrition plus new colours and flavours with The Bircher Bar's blends. While you're at it, you might like to take a look at their other products which include infused honey, health tonics and more. Contact The Bircher Bar today for more information.
---
Contact details for The Bircher Bar
---