Interview - Virginia Enzerink - Tall Poppy Gourmet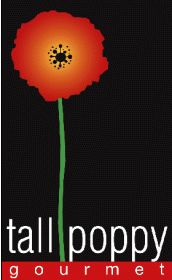 Tall Poppy Gourmet is well-loved by keen flavour seekers who appreciate convenience and ease when preparing meals. Their award-winning range of gourmet dressings, sauces and condiments is all gluten free, dairy free and preservative free. Owner and Manager Virginia Enzerink let us in on the secrets behind the range.
FFW: What products does Tall Poppy Gourmet offer?
TALL POPPY GOURMET: Tall poppy gourmet produces a range of 12 totally delicious and award-winning gourmet dressings, sauces and condiments. Everything is made with all-natural ingredients (no colours, flavours or preservatives), and is also gluten and dairy free.
Distinctive features of Tall Poppy Gourmet products are:
Unique in flavour, quality and taste.
Packaged beautifully, they appeal to the gourmet entertainer and chef, and are ideal for the gourmet gift market.
100% Australian owned and made and proudly supporting regional businesses. Based in Cowra, NSW.
Cooked with the finest and freshest local ingredients.
Gluten free, dairy free.
Made with all-natural ingredients, no artificial colours, flavours or preservatives.
Cooked in small batches to retain that home cooked quality and flavour.
Part of the range uses Australian native produce such as the 'wild lime' ('Australian bush lime' or 'Australian desert lime'), which we source from outback Queensland, and the 'macadamia', a tree native to the east coast and we source these from a grower at Medowie.
Renowned for unique recipes and fresh flavours.
FFW: Is everything made by your company?
TALL POPPY GOURMET: Yes, all products are cooked by us to our strict specifications in our contract manufacturer's kitchen. The business began in our home kitchen but soon outgrew this and in order to adhere to strict food safety regulations, and to obtain the quantities we require it was necessary to enlist specialist help. We have been cooking our products in the same HACCP approved facility for 17 years now.
FFW: Do you use local ingredients?
TALL POPPY GOURMET: Yes we use local ingredients as much as possible. All key ingredients in our products are Australian; it is only the odd spice and a couple of vinegars that cannot be sourced in Australia. We try and source as many of our products from regional locations as we can. For example, we use Cowra Honey, our wild limes come from Central Queensland, our raw apple cider vinegar comes from an orchard in Central Victoria and our macadamias come from a grower at Medowie in NSW.
FFW: What is the common thread running through the products you offer?
TALL POPPY GOURMET: The common thread running through our range of products is that they are all made to unique recipes and in small batches with fresh local ingredients - which ensures fabulous flavoursome products. Plus, they are all made from natural ingredients and are all gluten and dairy free.
FFW: What makes your products different to others?
TALL POPPY GOURMET: One differentiating feature is that they not only look good but taste fantastic. How many times have you bought a product that sounds and looks great then you get it home and taste it and you are very disappointed? That is where we differ; you will not be disappointed; you will be delighted.
FFW: Are they only for home cooks or do you supply to foodservice businesses them as well?
TALL POPPY GOURMET: We do supply foodservice businesses. We produce most of our products in 4L and 1L containers for foodservice businesses and we can do custom sizes on request. We have many cafes and coffee shops that use our dressings and relishes in their menu and then also stock our smaller retail bottle and jars for customers who want to buy what they have just had on their meal and this works very well.
FFW: What can you tell us about your amazing Wild Lime Butter?
TALL POPPY GOURMET: Our Wild Lime Butter is a twist on traditional lemon butter. Instead of using lemons we use the Australian 'wild lime' or 'desert lime' which grows on a bush in outback Qld, NSW and WA and has been used by indigenous Australians for hundreds of years. The fruit is small (cumquat size) and round and has a very strong citrus flavour. They are high in acid and low in sugar which makes the flavour too strong to eat them uncooked but perfect to add flavour to drinks and cooking, and the skin is very thin so you simply puree or chop the whole fruit.
The Wild Lime Butter is delicious dolloped on scones, buttercake or ice cream. It can be used in sweet recipes; smear a layer over pastry base when making an apple flan or put a spoonful into the middle of patty cakes before baking. Some spread it thickly on toast or crumpets while others prefer to sneak it directly from the jar!
FFW: How are consumers using your beautiful Raspberry & Rhubarb Dessert Sauce?
TALL POPPY GOURMET: This sauce is delicious drizzled over a decadent chocolate cake or on waffles, pancakes or ice cream. Containing almost 70% pure fruit and vanilla beans, the sauce has a very natural flavour, not too sweet, with the tartness of the rhubarb still coming through.
FFW: Are gift businesses including Tall Poppy Gourmet in their hampers?
TALL POPPY GOURMET: Yes, many gift businesses use our products in their hampers, especially around Christmas time. Our products and labels are colourful and look great in a hamper.
FFW: Do you offer any point of sale marketing materials, sample product for taste tests or other assistance to retailers and foodservice businesses?
TALL POPPY GOURMET: Absolutely, we are happy to help our customers out with samples for taste testing and point of sale marketing material.
FFW: What role do your products play in home kitchens?
TALL POPPY GOURMET: With our products in your pantry the possibilities are endless. A lot of flavour can be added without a lot of effort. You can get that home cooked flavour and taste from our bottles and jars of dressings and condiments without slaving over a stove for hours to create them yourself.
One of our catch phrases is 'We turn everyday into gourmet', meaning that our dressings, sauces and condiments can elevate a humble everyday dish into something gourmet and extra delicious. Our products are extremely versatile and easy to use. They can be used with many different dishes and in many different ways. Some can be used as marinades, a dipping sauce or can be added into recipes for extra flavour (e.g. the Wild Lime and Macadamia Satay can be used to coat and marinate chicken before cooking, or used on the side as a dipping sauce with prawns, kebabs or added to a stir fry or noodle dish) and others such as the Classic Spicy Tomato Relish, the Caramelised Capsicum , the Chilli Onion Jam and the Caramelised Onion can all be used on a cheese platter, or on an array of meats, in a simple cheese toastie or in a recipe such as spaghetti bolognaise, a slow cooker meal or quiche.
FFW: What's your favourite product and how do you mostly like to enjoy it?
TALL POPPY GOURMET: My new favourite product is the Raw Apple Cider Vinaigrette … I can't get enough of this on my salads. It is very zesty, light and refreshing and very healthy! We use an unfiltered, unpasteurised and naturally fermented apple cider vinegar with the Mother still active in the vinegar ensuring it continues to develop in flavour. It contains raw enzymes and gut friendly bacteria. We have blended this with high quality Australian extra virgin olive oil (also renowned for its health promoting properties), unfiltered pure apple and lemon juice, honey, mustard and shallots. Not only healthy but delicious and fabulous on any salad!
FFW: What would you say is the most heartwarming feedback you've received from customers?
TALL POPPY GOURMET: Over the past 18 years we have attended many food fairs, field days and shows with our products where we have received amazing sales and feedback. Customers all have their own favourite product but one comment that we consistently receive is how flavoursome our dressings, relishes and sauces are. Comments about our Classic Spicy Tomato Relish are a great example. When people taste it they declare, "OMG, this is just like the relish Grandma used to make!" and then they go for a second taste! I love this comment because it shows that our products have a home-made strength and blend of flavours that many commercial products lose. And yes, it may well be very similar to your Grandma's as it is made from a family recipe from that generation. This relish is so full of flavour and just so delicious and versatile, it's fabulous with a simple cheese toastie, with sausages, steak or burgers or a cheese platter.
Our products have a very loyal following where many of our individual customers have been ordering direct from us for 16 – 17 years and many of our wholesale customers have been with us for almost as long. I love this and think it's a testament to our products but also hopefully to our great customer service. It's nice that we have been able to build up such wonderful business relationships and in many cases friendships with our customers.
If you're looking for full-flavoured and easy-to-use condiments made to traditional recipes, get in touch with Tall Poppy Gourmet today.
---
Contact details for Tall Poppy Gourmet
---