Interview - Matt Senyard - Milla Cordial - Wholesale Beverage Supplier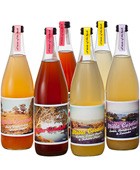 Cordial has grown up and is now a sophisticated beverage base thanks to Milla Cordial. This family business has re-invented cordial, infusing it with true Aussie flavours that adults and children adore. We spoke with co-owner Matt who, along with his wife Kate, make these delicious beverages in the booming food and wine region of Orange, NSW.
FFW: Who are the people behind the Milla Cordial brand?
MILLA CORDIAL: The Milla Cordial journey has involved a lot of hard work from a lot of people to get the flavours and the business to where it is today. My wife, Kate, and I own and operate the company. We both grew up in regional NSW and it is great to be able to put a bit of that relaxed, country feel into our products and into the way we do business as a whole. My background is in chemical engineering so I tend to get a bit caught up in the production and product development sometimes. It is great to be able to work alongside Kate as she makes sure everything stays on an even keel.
FFW: What inspired Milla bush cordials?
MILLA CORDIAL: Cordials have been a part of the Australian way of life since colonial days. There was actually a reliable supply of locally made cordial in Australia before there was a reliable supply of locally made beer! The aim of our business is to provide a modern twist on this uniquely Australian beverage and highlight some of the unique fruits and flowers that make this country special.
FFW: Are your cordials made using local ingredients?
MILLA CORDIAL: We source our products as close to home as possible. Being in one of Australia's premier apple growing regions makes sourcing our apple ingredients very easy. The citrus we get from just down the road in Griffith and the bush ingredients come from a little further afield. The winters in Orange get a bit cold for Kakadu plums. We use the actual fruit pulp of the Kakadu plum and rainforest lime where some businesses may use flavours or freeze-dried powders. We find that consumers are more responsive to this as you can actually see the pulp in the beverages so you know it's natural.
FFW: Can your products be used as mixers with different types of alcohol?
MILLA CORDIAL: Absolutely! We have had a number of top bars and restaurants use them for this purpose. With so many exotic ingredients, they can be used as a premium mixer, reducing the soft costs of making a traditional cocktail. Some creative garnish goes a long way.
FFW: What would you say is Milla's brand personality?
MILLA CORDIAL: Milla Cordial is not just a stylish and sophisticated modern Australian beverage; we want our products to represent a lifestyle that is all about enjoying time with friends and family. This is reflected in our packaging and styling and in the photography we use to convey the feel we're after.
FFW: Who is your main target audience?
MILLA CORDIAL: We find our products appeal to both adults and kids alike. With the range of flavours there is something for everyone and every occasion. Families with school aged children are our main customers for take-home bottles however we find that it appeals to everyone when served on a café or restaurant menu.
FFW: Do you provide any supporting materials, point of sale matter or other information to retailers?
MILLA CORDIAL: We have a range of point of sale material available but every venue has their own style so we like to work with our customers to provide tailored material to suit their needs and appeal most to their customers. We can also assist with in-store tastings or tasting stock.
FFW: What sort of feedback have you received from retailers and consumers?
MILLA CORDIAL: We are fortunate enough to work with a wide range of wholesale customers from the local café to large, iconic Australian businesses and the feedback is always extremely positive. It is quite humbling when some of the country's leading sommeliers and hospitality professionals taste, love and stock and serve our products.
From a consumer perspective, we have a very dedicated supporter base. There are a couple of venues where we have received emails from consumers letting us know it is out of stock before we hear from the venue! We love hearing the feedback from consumers but most of all we enjoy the look on people's faces when they take their first sip.
FFW: What kinds of foodservice businesses are stocking and serving Milla Cordial?
MILLA CORDIAL: The versatility of our products appeals to a broad range of businesses types, with the common trait being that they are trend setting, leading businesses in their fields. Our foodservice customers include some of the most well known cafés, bars, restaurants, event venues, caterers and corporate hospitality providers in the country.
FFW: What are some interesting virtues of your drinks that you want your customers and consumers to be aware of?
MILLA CORDIAL: Our products are made locally by the owners using natural ingredients and no artificial colours, flavours or preservatives. They are premium products for the discerning consumer who is looking for a gourmet, on-trend non-alcoholic beverage.
FFW: Are there any other flavours coming through?
MILLA CORDIAL: We have a few things in the works that we are hoping to launch next year. Watch this space!
FFW: Do you have any massive goals for Milla Cordial?
MILLA CORDIAL: There is a common theme with beverage producers that anything short of world domination is a failure. We're a bit the opposite. With a young family, our goal is to keep the business manageable, continue supporting Australian growers, and make a small batch product that is a point of difference for customers and consumers. We are lucky that we have the flexibility to meet the changes in demand by making it ourselves rather than having to do bulk contract manufacturing.
FFW: Can your cordials be used in recipes?
MILLA CORDIAL: We have developed a few of our own recipes and also received a few recipes from consumers. Some examples include cocktails, sorbet, granita and even scones! We prefer to drink it with either still or sparkling water though. Very refreshing.
FFW: Have you won any awards?
MILLA CORDIAL: The flavours have picked up a number of medals at the Sydney Royal Fine Food Awards over the years which has been a great boost. To be nominated and then reach the finals of the Delicious produce awards was also a great result.
FFW: Being a natural product with no artificial preservatives, does it have a short shelf life?
MILLA CORDIAL: No, we pasteurise our cordials which gives them a 12-month shelf life.
FFW: Where does the name Milla come from?
MILLA CORDIAL: Milla is short for Millamolong, a small locality near Mandurama in NSW. The area is steeped in modern Australian history having experienced gold rushes, wool booms and busts and is home to Millamolong Station and The Millamolong Polo Club. The region also has a rich indigenous heritage. The Belubula River as it is now called, was known for its healing powers and people would travel long distances to drink the water which is rich in minerals. This is where the idea for the cordials was born and with a very Australian history it seemed appropriate to use it in the name. Milla is a bit easier to pronounce and to fit on a label than Millamolong!
If it's time you sought out a new, on-trend beverage offering for your business, then today's the day you need to contact Milla Cordial. They'll tell you everything you need to know to make the cordials a winner in your store, bar, bottle shop or restaurant and we've no doubt, once you try them, you'll be sold!
---
Contact details for Milla Cordial
---