Molives Hand Stuffed Olives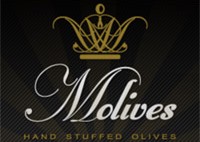 Australian family run business Molives produces gourmet wholesale hand stuffed olives for retail and foodservice. Using award-winning, fresh Australian ingredients, the olives are hand-stuffed and marinated. Fifteen incredible flavours are available with more on the way. Read more about Molives' amazing olives and why they are the olives of choice among discerning restaurants, bars and delis.
Only the finest Greek olives are used, traditionally brined to be perfectly tender, yet crisp.
Greek olives are used for their much larger size which comes from the age of the tree, the climate, and the harvesting techniques used in Greece.
Table olives are Australian grown, and all stuffing ingredients are Australian. Local olive oil is also used.
Even Molives' production materials are made in Australia, including plastic pails, labels, infrastructure and of course, the labour.
Molives offers full support including in-store tastings and promotional assistance to ensure that their olives are a successful addition to your product range.
Molives are positioned as a premium boutique product.
Molives are the only hand-stuffed olives available on the market. They are the high quality, gourmet alternative to mass-produced, machine-stuffed olives.
Hand stuffed olives currently available in fifteen exciting varieties.
Molives will assist you in creating your own signature hand-stuffed olive for your business.
Hand-stuffed olives are ideal for adding to recipes as they contain no pits. Slice or use whole, or use a food processor to create chunky or fine results for pesto, tapenades, dips and spreads.
Molives are highly prized to serve with fine wines, cocktails and beers. They are as prestigious as the wines in your cellar.
Add Molives to pasta dishes, pizzas, bread doughs, antipasto platters, cheese platters, tagines, casseroles and so much more.
Available in 145g, 500g and 800g retail packages as well as 3kg pails for use in foodservice businesses.
Stuffed olives
Plump, juicy Greek olives are hand stuffed with local, award winning ingredients. Available in 145g, 500g and 800g retail containers and bulk pails for sale by weight to customers.
Lemon; Anchovy; Garlic; Smoked Almond; Parmesan; Semidried Tomato; Feta Cheese; Blue Cheese; Goat Cheese; Grilled Cypriot; Chili; Wasabi; Pesto; The Mamah.
Unstuffed olives
Australian table olives; available in 145g, 500g and 800g retail containers and bulk pails for sale by weight to customers.
Moriginal Kalamata; Plain Pitted Olives; Party Mix; Australian Wild; Sicilian Green.
Retailers
Be proud to show off the Molives name in your displays. Offer your customers taste tests so they can experience the difference that's evident with premium, hand-stuffed olives.
Foodservice
Use Molives as the inspiration for new dishes. Revel in the simplicity of hand-stuffed olives served with bread as an appetiser, or Molives' fabulous table olives to serve with cocktails.
Speak with Molives today about stocking their hand-stuffed or table olives in your shop or restaurant.
---
Contact details for Molives – Australian Table Olives
---