Interview - Ben Bishop - Offaly Good Food - Wholesale Pate Suppliers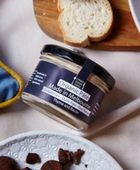 No longer the domain of the posh gourmet, pâté made from liver is recommended as a staple for those looking to increase their intake of nutrient-dense foods. We spoke with Ben Bishop, the owner of Offaly Good Food and found, among other things, that pâté doesn't have to be made of liver to be called pâté.
FFW: What's your background, Ben?
OFFALY GOOD FOOD: I was a wellness coach and made the pâté for my clients to increase their intake of organic chicken liver.
FFW: How did you come up with the idea to make organic pâté?
OFFALY GOOD FOOD: Out of necessity really. I wanted to have more organic liver in my life so I made organic pâté.
FFW: Why did you create the vegan-friendly pâté?
OFFALY GOOD FOOD: I wanted to work with shiitake mushrooms because of their high nutrient content. They have such a great taste that they needed no meat.
FFW: Is it technically pâté if it doesn't contain liver?
OFFALY GOOD FOOD: Yes, it is. Before we had refrigeration we needed to preserve things. Pâté is simply a seasoned paste that is made to keep a blended ingredient stable for a longer period of time.
FFW: What are the most compelling virtues of your products?
OFFALY GOOD FOOD: Customers love that it's made with all natural ingredients from ethical farms using organic ingredients.
FFW: How much of your pâté would you recommend as kind of a 'dose' for people to eat daily to derive the optimal nutrients from it?
OFFALY GOOD FOOD: Quarter of a jar.
FFW: How do you suggest people eat your pâté, particularly if they're following a low carb or Paleo diet and don't eat bread or crackers?
OFFALY GOOD FOOD: A lot of my customers smear it on steak, fish, chicken and vegetables at the dinner table. My personal favourite is on toast with a fried egg on top.
FFW: How does Offaly Good Food look after customers?
OFFALY GOOD FOOD: We produce fresh pâté every week and offer express chilled postage all around Australia.
FFW: What kinds of retailers are stocking your range and which products do they carry?
OFFALY GOOD FOOD: Mostly wholefood stores, butchers, pubs, delis and IGAs.
FFW: Do you have any advice or information for foodservice businesses about your products or new ways of serving them?
OFFALY GOOD FOOD: I supply to pubs and cafes. They either buy in a tub and spread on toast for the customer or put a small jar on a plate with crackers/bread/condiments. It's also perfect in pubs with pub snack menus for when the kitchen is closed.
FFW: What would be a dream client for you?
OFFALY GOOD FOOD: A first class airline would be wonderful.
FFW: What are the advantages in purchasing ready-made pâté from Offaly Good Food as opposed to preparing them in house?
OFFALY GOOD FOOD: When you work with organ meat you have to be really careful. Offaly Good Food receives fresh liver from an organic farm, produces it and gets it in your hands within a week. That's the freshest pâté on the market.
FFW: How can your customers minimise wastage from your products?
OFFALY GOOD FOOD: Use the jars to store spices.
FFW: What lies ahead for Offaly Good Food; any new products or flavours coming up?
OFFALY GOOD FOOD: We are hoping for a kangaroo pâté and maybe even a black pudding spread.
If you would like to start serving up top quality, locally-made pâté in your business, why not contact Offaly Good Food today and discuss how it could work for you and your customers.
---
Contact details for Offaly Good Food
---