Interview - Fraser McNaul - Outback Kitchen - Teff Flour Supplier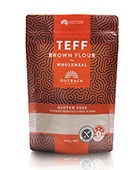 What if you could find a grain that could be used in baking and salads and as a thickener and which is low FODMAP, gluten free and high in protein? That grain is Teff and Outback Harvest grows it right here in Australia. Co-Founder Fraser McNaul explains why the Australian variety is far superior to the imported product.
FFW: Who is the family behind Outback Harvest?
OUTBACK HARVEST: I started Outback Harvest two years ago with my parents, Shane and Lyn McNaul whom I chat to on a daily basis, and my two sisters, Teigan and Paige are also eager to be involved and are always helping out with ideas and feedback.
FFW: For how long have you been farming in Australia?
OUTBACK HARVEST: For over 30 years.
FFW: How did you come to be growing superfood grains?
OUTBACK HARVEST: We are always looking to challenge ourselves and wanted to diversify away from our traditional crops of wheat, barley and rice.
FFW: Are you really Australia's first producer of teff?
OUTBACK HARVEST: Yes, three years ago when we first came across Teff we didn't know of anyone else growing it and had to develop our growing techniques from scratch.
FFW: What are the quality benchmarks of the products you offer?
OUTBACK HARVEST: We provide a paddock to plate offering with full traceability. Our Teff is 100% grit free which is a huge problem with the imported Teff found throughout Australia. Being locally grown, our Teff has a natural and full flavour profile compared to the imported Teff that has to be heat treated at Customs on the way into the country which affects the integrity of the grain/flour.
FFW: So what are the products you offer?
OUTBACK HARVEST: We offer two varieties of Teff; brown and ivory, in both grain and wholemeal flour.
FFW: Is there a vast difference in nutritional value between the Brown and the Ivory?
OUTBACK HARVEST: No, the nutritional profile is very similar between both grains.
FFW: When would each type of product – flour versus grain – be used?
OUTBACK HARVEST: The flour can be used in any application including breads, pastries, cakes and muffins, as binding agents and thickeners. The grain can be used in grain salads, sprinkled on top of bread loaves, in sushi as a low GI rice replacement, and in vegie and vegan patties.
FFW: Is teff high in carbohydrates?
OUTBACK HARVEST: It is relatively high although it also contains resistant starch and a high protein level.
FFW: Is it gluten free?
OUTBACK HARVEST: Yes, 100% naturally gluten free and also has no known allergens.
FFW: What are Teff's other nutritional claims to fame?
OUTBACK HARVEST: Compared to quinoa it has three times the amount of calcium, two times the iron, and only one third the fat. It also has a wide range of vitamins and minerals accompanied by a great amino acid balance; it's really an all-rounder.
FFW: How do you recommend retailers promote your products in store?
OUTBACK HARVEST: We recommend educating your customers by providing the recipe cards we supply, along with information about the health/nutritional benefits associated with Teff. Taste tests of simple recipes such as our protein balls are always great ways to introduce customers to Teff.
FFW: Do you provide marketing materials such as shelf wobblers, information cards, recipe cards or samples?
OUTBACK HARVEST: Yes, we provide recipe cards and have a good range of recipe ideas on our website.
FFW: How are foodservice businesses using Teff on their menus?
OUTBACK HARVEST: Teff's best trait is that it is so versatile. Both the grain and flour can be used in just about anything and it is currently being used in cereals, granolas, muesli, salads, burgers, gnocchi, pancakes, muffins and cakes, just to name a few.
FFW: What kinds of foodservice businesses are serving your products to their customers?
OUTBACK HARVEST: Many restaurants, cafes, bakeries and food manufacturers use our Teff.
FFW: Do you supply bulk quantities to food manufacturers, restaurants and other foodie businesses?
OUTBACK HARVEST: Yes, we supply from individual 10-12.5kg bags of grain and flour right through to full pallets.
FFW: Are your products suitable for diabetics?
OUTBACK HARVEST: Yes, Teff is low GI and low FODMAP.
FFW: Are there any other Aussie food/beverage brands that you think are particularly special because their values align with yours?
OUTBACK HARVEST: That's tough because there are so many fantastic food brands out there, but one in particular would be Barham Avocados. They are another local business just down the road from us and the passion and pride they have in supplying the highest quality avocados reminds me of exactly how we feel about our Teff!
FFW: What is the one thing you would love to shout from the rooftops about Teff or about your products specifically, that maybe people don't know?
OUTBACK HARVEST: That Teff actually tastes great!! And for anybody that would like to discover Teff's fantastic qualities for themselves to try our locally-grown, full-flavoured natural Teff!
If it seems that Australian-grown Teff from Outback Harvest is too good to be true, then it's time you tried it for yourself. Contact the company today and discover the flavour, versatility and quality of this outstanding grain.
---
Contact details for Outback Harvest
---