Article - Protein Balls in Your Business - Wholesale Health Snacks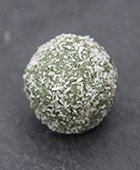 What is it about protein balls (or 'bliss balls') that has captured the hearts and tastebuds of a rapidly growing number of consumers? They are a serious contender for 'Snack Food of the Decade'! Loaded with protein (obviously) and available in a kaleidoscope of flavours, they are the new 'rum ball', only without the rum and completely virtuous. At Fine Food Wholesalers, you can have your pick of protein balls from a range of very clever suppliers.
Aside from the health factor, what's in it for YOU?
Fabulous impulse purchases – more dollars for you!
Convenient to store and serve.
No fridge space required.
May be supplied frozen.
Good margins.
A healthy alternative for customers that otherwise wouldn't purchase something sweet.
Suitable for all ages.
Accommodate a range of dietary requirements.
Carob and Hare
For protein balls that tick loads of boxes, Carob and Hare's Hare Balls are gluten free, vegan, dairy free, raw and have no refined sugars or preservatives in them. They're also caffeine free. Available in eight yummy flavours including Fig, Mint, Cherry, Orange, Peanut, Banana, Original and Cranberry, they even have a 12-month shelf life, no refrigeration required.
Purabon
Purabon's protein balls are 4-star health rated. They use an organic, hypo-allergenic brown rice protein so they are also vegan-friendly and don't have the stick mouth-feel and dairy side effects associated with whey protein. Choose from the Protein Range featuring flavours such as Salted Caramel and Rocky Road or the Paleo Range which offers four flavours including Lemon Crunch and Jaffa Orange.
GoodMa Nourishing Foods
Take your pick from 7 delicious flavours including Cacao Fusion, Chocolate Sesame Snap and Lemon Twist. Sydney-based GoodMa Nourishing Foods' protein balls are 100% vegan, non-GMO, Paleo-friendly and gluten free and contain no artificial colours or flavours, no refined sugars and no preservatives, just scrumptious flavours and real ingredients.
Costa's Biskotery
Gourmet biscuit makers, Costa's Biskotery also offer Superfood Energy and Protein Bites that are raw, vegan, Paleo, dairy-free, wheat-free, sucrose-free and made with only natural ingredients. They even have some gluten free varieties. The 50g balls are full of nuts, berries and loads of personality!
RAWBS Orbs of Power
100% organic, free of gluten, sugar and dairy, RAWBS are vegan, Paleo (except those with rice malt syrup) and raw. Flavours: Cashew & Pepita; Chocolate; Coconut Lime Ice; Date & Coconut; Goji & Sunflower; Matcha & Black Sesame; Macadamia Camu; Peppermint Choc Chip; Tahini Chia.
Byron Bay Bliss Balls
Pop a ball of bliss and taste the nutrition! Sweetened with organic honey and flavoured with coconut, Byron Bay Bliss Balls are available in two scrumptious varieties. Flavours: Vanilla & Date; Chocolate & Orange.
RedZed Gourmet Protein Bites
Not so much a ball but a bite, yet every bit as tasty and tantalising. RedZed's Protein Bites lean a little more towards the indulgent side of things but they are absolutely chockers with healthy, premium ingredients. Flavours: Strawberry & Dark Chocolate; Pistachio & Cranberry; Apricot, Cashew & White Chocolate.
Funch Protein Power Ball Mixtures
If you're inclined to whip up your own protein balls, try the Funch brand. Each Superfood Snack Mix makes 12-18 balls which will keep for up to two weeks in the fridge or three months in the freezer. The range includes a special Paleo variety: Turmeric, Ginger + Lemon. Flavours: Cacao + Chia; Vanilla + Coconut; Almond + Cacao; Turmeric, Ginger + Lemon; Salted Caramel.
Melinda's Gluten Free Goodies Premixes
Melinda's Gluten Free Goodies create a range of protein balls with only clean, natural ingredients, refined sugar free, nothing artificial and even vegan. Flavours: Vegan Apricot & Macadamia; Peanut Butter Choc; Summer Roll.
Retailers
Keep a selection of protein balls at point of sale as they make brilliant impulse purchases for hungry customers. Come up with ways to entice customers to buy more than one at a time for future enjoyment. Suggest the following:
Pack in school lunch boxes.
Keep a couple in a gym or sports bag.
Fantastic for easy snacking between work and sports interests, school and after-school activities, travelling from meeting to meeting.
Fishing, camping and other outdoor activities snacks.
After school treats.
Stash in a drawer at work.
Great commuter food – in the car, or waiting for the taxi, bus or train.
Foodservice
Corporate catering for events.
Corporate boardroom between-meal snacks.
Serve with coffee, tea and other hot beverages.
Offer with freshly made juices.
Gym and sports club canteens/cafes.
Mini bar snacks for hotel rooms.
Backpacker hostel offerings.
Time to get on the bandwagon! Which wholesale protein ball supplier will you call today?
---