Interview - The Bear and the Ladle - Trish Davison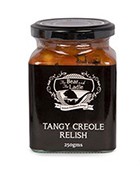 Boutique condiments brand, The Bear and the Ladle create masterful relishes, marinades, spice blends, sauces, mustards and rubs. We spoke with Director, Trish Davidson about the brand's beginnings, its evolution and how the products are turning ho-hum dishes into big-flavoured winners.
FFW: Tell us a little about the history of The Bear and the Ladle.
THE BEAR AND THE LADLE: The Bear and the Ladle was formed in May 2015 but we did not sell a product until November 2016. Throughout this time we were testing our products and utilising new and exciting food fusions and flavour profiles. We also tested for shelf life and pourability and worked on recipe ideas, making sure the product was just right. Now we are available in over 10 stores and online with a view to the ASEAN and overseas market.
FFW: What products do you offer?
THE BEAR AND THE LADLE: We offer a range of mustards, relishes, sauces, marinades, spice blends and rubs and soon we will be branching out into infused finishing salts and fishing oils.
FFW: Do you use locally sourced ingredients?
THE BEAR AND THE LADLE: Our ingredients are sourced as locally as possible. We obtain all our fruits and vegetables as locally as we can except our apricots for our relish as they are from the beautiful stone fruits regions in Victoria, and of course, our mustard seeds and powders come from Canada.
FFW: Did you use family recipes?
THE BEAR AND THE LADLE: Our recipes have completely been created by the director and creative artisan maker who started the business Trish, who although has used the basis of some traditional recipes, she has carefully crafted them into new and exciting flavour options. They have been tweaked, transformed and imaginatively created as her own.
FFW: Is there a stand-out favourite among the range that people seem to buy most?
THE BEAR AND THE LADLE: When the Today Show filmed on the Sunshine Coast in August of 2017 on the Sunshine Coast and Karl and Lisa went absolutely crazy over our products selecting our product to focus on, quoted on air Live TV as saying:
"The Bear and the Ladle, little guys doing great big things, their Beetroot Rosemary mustard is life changing" and "We love this stuff, it's our favourite" ... So in saying that it catapulted us into fame, our little TV star Beetroot and Rosemary Mustard, followed closely by our Spiced Apricot Relish. They would have to be our STAR sellers followed closely by our Aztec Red Hot Sauce.
FFW: What are the quality virtues of your products?
THE BEAR AND THE LADLE: The BLACK LABEL RANGE is all gluten free, MSG free, sulphate free, dairy free and vegetarian and we also sweetened with cold fusion honey from Peachester on the Sunshine Coast instead of refined cane sugar. Seriously, what's not to love about all that?
FFW: What do you feel is your product range's most important function for your foodservice industry customers?
THE BEAR AND THE LADLE: There's nothing like this available on the market currently as we have created this stable of condiments from the ground up. If it's not the HERO CONCEPTS of our unique combinations of flavours, it's the fact they are sweetened with honey or they are all vegetarian and nasty free that separates them from what is available.
FFW: What kinds of foodservice operators are purchasing from you? Why aren't they making these kinds of products in-house?
THE BEAR AND THE LADLE: To me a condiment is not just a side, it can transport a simple protein cooked well to a whole other level. Or used in conjunction with other spices or herbs can lift a boring dish to flavourful. It should be just as good quality as the ingredients used for the main. I can't appreciate cloyingly sweet condiments where there is just an essence of flavour and lots of sugar or for that matter, condiments in which I can't discern the ingredients used. I like to enjoy all the flavours.
FFW: How versatile are the condiments? What kinds of dishes can they be used in?
THE BEAR AND THE LADLE: Our list is long, as our condiments are not just standalone; they can be used for so much from a base for a French Style Cassoulet, American Style Pork Ribs, added to soups and stews to lift the flavour profile and give it some good oomph, a revamped Apricot Chicken or Apricot Turkey baste, our Coriander Honey Mustard makes a perfect French Style Chicken and Mushroom in a creamy mustard sauce… mmm-mmm! The sky's the limit!
FFW: What kinds of foodservice businesses are buying their sauces from you?
THE BEAR AND THE LADLE: We are looking for foodservice outlets currently.
FFW: Do you have any exciting new flavours or products on the horizon?
THE BEAR AND THE LADLE: I can't tell you too much but there are some infused macadamia infused finishing oils on the horizon, and some full flavoured herbed finishing salts too. Watch this space!
FFW: Which is your favourite product and how do you enjoy eating it?
THE BEAR AND THE LADLE: Oh, now that's tricky. It truly depends on the types of meats, fish or chesses I am pairing with and what kind of recipe style I am going for. As mentioned earlier our products are not just standalone condiments. Used in conjunction with a few items like a quality beef stock they can be used as a convenient meal prep base. For instance, our Tangy Creole Relish with a mix of stock, a handful of lentils and a diced leek makes THE perfect base for lamb shanks or a perfect winter beef casserole. Or our sauces make a perfect baste mixed with our marinades for the best American Style Pork Ribs. I could go on for hours with the many recipes and uses with these beauties!
FFW: What makes The Bear and the Ladle suited to gift-giving?
THE BEAR AND THE LADLE: Our packaging is smart and elegant with a style of sophistication. It's well designed and very pleasing to the eye. However it's an accessible and loved product by so many in the marketplace from gourmet flare aficionado to BBQ connoisseur. Its real and accessible to all lovers of food and luxe.
FFW: Do you ship Australia-wide?
THE BEAR AND THE LADLE: Yes, we do.
FFW: And finally, if you could invite any person to dinner so that they could sample your products, who would it be and why?
THE BEAR AND THE LADLE: Rick Stein, Anthony Bordain and Gordon Ramsay, because I believe in the quality of my products and feel confident enough to show them off to the best in the business. I also think they would help me create recipe ideas around them that would be amazing.
Well if their Today Show experience was anything to go by, The Bear and the Ladle won't have too much trouble finding celebrity chefs to enjoy them! Why not explore the range for your customers and make contact today to discuss trialling some of the products in your business?
---
Contact details for The Bear and the Ladle
Address
6 Industrial Avenue
Caloundra QLD 4551
Phone
Phone:
07 5491 6155
Service Area
Available Australia Wide Contact Us View Website facebook instagram
Request More information
---
Complete the form below to contact The Bear and the Ladle
---