Interview - Fred Cunzolo, Owner of Tolga Estate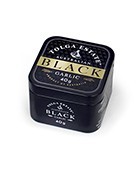 We spoke with Fred Cunzolo, Owner of Tolga Estate to learn all about their Black Garlic.
FFW: What is 'black garlic'?
TOLGA ESTATE: Black Garlic is fresh garlic that has been fermented for a period of time which is closely monitored at high temperature under high humidity. This process turns the garlic black and gives a soft texture and delicious sweet flavour. The product originates from Japan and was soon adopted into Korea from there. Given the health benefits of Black Garlic, many Asian countries actually consume the black garlic cloves raw. Given the product is odourless, so doesn't leave you with a strong smell of garlic on your breath – it's a great way to get a health kick and also tastes great eaten raw!
FFW: What is your family history of producing garlic and black garlic?
TOLGA ESTATE: We have been growing garlic for a number of years and found ourselves unable to compete with imported garlic, so our only option was to value add. After a lot of trials and errors and a huge investment we are now successfully producing black garlic.
FFW: Is the way you process black garlic different to the way others do it?
TOLGA ESTATE: There are many different methods of producing black Garlic but you require sophisticated machinery to be able to produce a consistent product. Because garlic is a root crop the quality of the soil is of paramount importance. Soil that is loaded with pesticides or other pollutants or degraded in quality, produces a lower quality garlic. Some black garlic is rushed through fermentation and oxidation without proper care and the resulting black garlic is bland, or even unpleasant. That's why it's important to read the label on your black garlic package carefully. Check where the black garlic comes from, where it was processed and packaged, and how long the use-by-date is. And before you choose a cheaper product ask yourself, "Will this add all the qualities I want to my gourmet cooking?"
FFW: Where does the garlic come from?
TOLGA ESTATE: Our black garlic is from our own raw garlic in season and we source rural garlic out of the southern states during the off season. All our garlic is Australian grown.
FFW: How would you describe the flavour of black garlic?
TOLGA ESTATE: It's hard to describe the multi-layered sensory pleasure that premium black garlic brings to your cooking. It is rich and creamy, sweet and pungent , all at the same time. Whether you serve it crushed on a cheese platter or use it to enhance sauces, meats, or desserts it adds a new dimension of flavour to every dish. It's a distinctive flavour that is dark, creamy smooth, sweet as molasses, with a delicate umami taste that enhances every dish. Every bulb is also packed full of antioxidants and other beneficial compounds.
FFW: Is it true it can be used in sweet dishes as well as savoury?
TOLGA ESTATE: You bet! It goes great with ice cream. We have a customer in VIC that buys stacks of it to produce a black garlic gelato that sells really well. Goes well with figs, and chocolate. You can try it really with anything, you'll be surprised how many dishes it can add an extra something too!
FFW: Why do you think black garlic has become so well-known and popular in recent times?
TOLGA ESTATE: I think that Australians are becoming more adventurous with their cooking now. Shows like MKR and MasterChef really inspire people to get creative with their cooking and get outside of their comfort zones. But I think more so than ever people just want high quality, premium produce. Black garlic is great for so many reasons and is just so different to anything else out there in the market.
FFW: Is black garlic a 'health food'?
TOLGA ESTATE: Absolutely! The fermentation and oxidisation processes that magically transform ordinary garlic into extraordinarily versatile black garlic bring added health benefits by causing the sugars and amino acids in the garlic to react, causing the bulbs to blacken and altering the chemical balance so that its positive impact is dramatically increased. Black garlic has twice as many antioxidants and seven times as many disease-fighting polyphenols as regular garlic. It's also fragrance-free! The process of fermentation concentrates the amino acids naturally found in garlic which help fortify your immune system and reduce inflammation throughout your body.
Black Garlic Contains: -
Sulfuric compounds that support heart health and fight cancer, arthritis, and other chronic diseases
Probiotics that help balance intestinal flora and reduce gas and bloating
Vitamins and minerals including magnesium, selenium, calcium, B6 and more
Studies suggest that black garlic may…
Reduce fatigue from exercise and improve physical strength and regenerate skin cells… according to recent tests by Japanese scientists documented in The Journal of Life Sciences
Reduce the duration of a cold by up to 61%… according to a study carried out at the University of Florida
Help your body to process glucose and reduce urges for carbs and sugar… from The Journal of Nutrition
Ward off allergies, viruses, and bacterial infections more effectively than antibiotics… a 2012 study from the Washington State University
Anti-tumour and anti-carcinogenic… according to a 2010 study on mice in the US National Library of Medicine
FFW: What kinds of retailers are selling your products?
TOLGA ESTATE: We specialise in the high end fine food stores and specialty grocers. So we've got some great customers in the local markets who are very passionate about premium produce. We're also in some premium butchers, cheese specialists, and lots of fine food delicatessens.
FFW: Instead of just adding your garlic to dishes, how else can they be used?
TOLGA ESTATE: What I love so much about black garlic is its versatility. Our slogan is "its uses are only limited by your imagination". We've made black garlic bread before, black garlic butter, black garlic salt, purees, you name it! We even have customers who buy it for their gelato they produce. We have a beautiful caramelised fig, white chocolate puree, mixed berries, meringues and black garlic gel recipe we've produced also. So it's not just in savoury dishes it works!
FFW: What kinds of foodservice businesses are using Tolga Estate black garlic?
TOLGA ESTATE: Honestly, a little bit of everything. We've got some of the best restaurants around the country using it in their dishes. Hotels and cafes also. Our black garlic was even featured at the Australian Open this year.
FFW: How do you make it easy for your clients to do business with you?
TOLGA ESTATE: We're a family run business who are passionate about what we do. For that reason, we try and make life as simple as possible for the clients that we work with. We've got a great team around us who have produced some fantastic marketing material to support the products. Recipe booklets, receipt cards, storyboards, in store tastings, events - you name it, we do everything we can to help with sales and educating the market. Minimum order quantities are very competitive also, so you're not stuck with a bunch of stock you can't shift. We want long term relationships so we do our best to help our clients succeed.
FFW: What's your favourite way to use Tolga Estate black garlic?
TOLGA ESTATE: I'm a bit of a sucker for it with my eggs in the morning. Spread over some toast or mixed into my scrambled eggs. Simple, easy but delicious!
FFW: Because it's artisanal and fermented, do you find your black garlic has been embraced by followers of Paleo and 'clean food' devotees?
TOLGA ESTATE: Absolutely. The health benefits of black garlic are quite amazing, so add that to the appeal it has on those who are passionate about eating clean and natural produce and the response has been overwhelming. We're just happy to continue to educate people about how great it is for you.
FFW: Do you happen to admire any other food or beverage brands?
TOLGA ESTATE: No brand in particular. However, we admire all premium produce, recognising the amount of care and attention to detail that goes into producing a high quality product. As proud Australian farmers we don't compromise on quality at any stage of the process, so admire those that follow the same practices as we do.
Support local grown Australian produce. Stock Tolga Estate products on your shelves or use and name them on your menu. Click through to the Tolga Estate listing for more information.
---
Contact details for Tolga Estate Black Garlic
---