Interview - Nick Tratsellas - Waddle Business Financing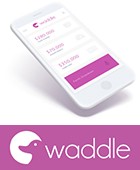 Do you wish you had a magic lamp with a genie in it who could grant your financial wishes? Well, Waddle comes close. Nick Tratsellas, the company's Marketing Manager tells us how Waddle unlocks business funding through their very simple digital platform.
FFW: In a nutshell, what is Waddle?
WADDLE: Waddle is an online platform that gives businesses easy access to funds that are tied up in their invoices. Waddle helps businesses to grow.
FFW: Who is behind the company?
WADDLE: Waddle was founded by Simon Creighton, Nathan Andrews and Leigh Dunsford.
FFW: Is it an Australian innovation?
WADDLE: Yes.
FFW: What sizes of businesses do you cater for?
WADDLE: We cater for businesses all of sizes that are incorporated.
FFW: What are the minimum requirements for a business to become a Waddle user?
WADDLE: Waddle integrates with cloud-based accounting platforms such as Xero, MYOB and Quickbooks, therefore you'll need to be using any of the three accounting platforms to use Waddle.
FFW: What is the most compelling reason for a business to sign up for and use Waddle?
WADDLE: Waddle is very easy to set up and to use. In fact, it only takes a few mouse clicks to connect to Waddle. We also offer some of the friendliest terms in the market.
FFW: What security elements are in place to protect users?
WADDLE: Integrations with leading accounting software providers places your data security at the top of our priorities. Waddle uses industry best practice security protocols.
FFW: What are the main benefits of choosing Waddle instead of a traditional lender?
WADDLE: As the leading invoice finance platform, Waddle has innovated to make business finance easy, simple to manage and cost-effective. There are several advantages in using Waddle's modern invoice finance over traditional lenders. Firstly, we can provide businesses with quick access to funds, as they can connect online with Waddle in just a few moments. Unlike 'traditional' finance products, Waddle offers much more flexibility as the available funds through invoice financing naturally grow as their business grows. Another benefit is that Waddle saves businesses many hours every month as we've removed much of the paperwork and manual handling associated with traditional lending. The time-saving feature of Waddle is driving many businesses to Waddle.
FFW: Is Waddle specifically for the foodservice, food manufacturing and food retail sector?
WADDLE: If a business issues invoices for goods or services and they're using a cloud-based accounting platform, then Waddle is for them, irrespective of the industry. We have many customers involved in the foodservice and manufacturing sectors, using Waddle for everyday operational expenses as well as funding their growth.
FFW: What are some of the stand-out features of Waddle's service?
WADDLE: Flexibility and ease of use.
FFW: What kinds of foodservice and retail clients are using Waddle in their operations?
WADDLE: We have many food wholesalers, distributors and suppliers.
FFW: Does Waddle work with digital accounting software?
WADDLE: Yes. Waddle integrates seamlessly with popular cloud-based accounting platforms Xero, Myob and Quickbooks.
FFW: What do you think is the most exciting aspect of Waddle and how will it revolutionise invoice financing?
WADDLE: Waddle has revolutionised debtor financing through its innovative modern invoice platform. Our customers get excited from the moment they realise just how fast and easy it is to use our service. They're excited about being able to access working capital as they need it to fund their business's operations and to grow their business.
For more information on how Waddle can assist you in building a more efficient, more successful business, contact the company today.
---
Contact details for Waddle
---