Wholesale Breakfast Food Suppliers
An Australian directory of breakfast food suppliers, breakfast packs distributors and wholesalers. If you are offering foodservice breakfast options or retailing breakfast products in your store, then we have loads of ideas that can contribute wonderfully to your bottom line. Browse the Fine Food Wholesalers listings and select from wholesale muesli, including Macadamia, Bircher and Gluten Free Muesli through to Breakfast Bars, Waffles and full Breakfast Packs.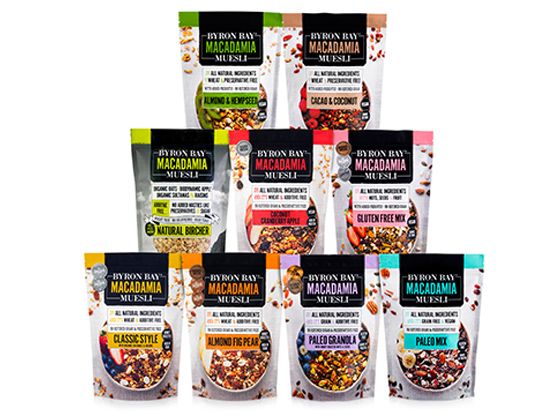 Byron Bay Macadamia Muesli sources only Australian organic oats, cereals and biodynamic fruit and mixes it with fresh local macadamia nuts, oil and honey. Nothing artificial goes into this delicious, natural muesli range and that means no preservatives and no other added nasties. A bowl of Byron Bay Muesli is an ideal start to any day and your customers will thank you for caring. Gluten free and vegan options.