Boneafide Broth Co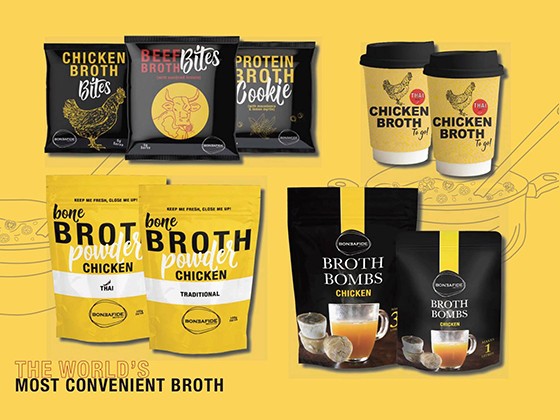 More Images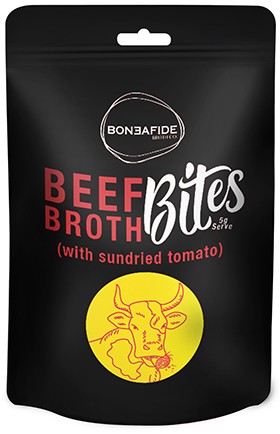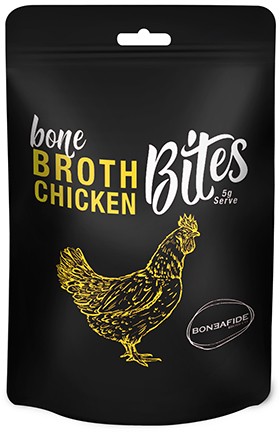 Boneafide Broth Co
A Noosa, Sunshine Coast based food company that has created unique and convenient solutions for redicoulsly healthy food ranging from Snacks, Beverages, Stocks and Grocery.
Gluten Free
Dairy Free
Soy Free
Sugar Free
FOD Map Friendly
No additives
No Preservatives
All using either Certified Organic Chicken or Grass Fed Beef and many local coast ingredients from the Macadamia Nuts to the Lemon Myrtle powder.
The first company in the world to dry Bone Broth (not dehydrated or spray dried) at low temperatures to maintain all nutrients with a 12 month shelf life and not one nasty added, ever.
Products are:
Beef and Sun Dried Tomato Bites OR Chicken Bites
Kids lunches, snack time for adults, pre and post workout just became instant. Gut healing, high electrolyte, high protein, zero sugar or salt snacks.
5 Gram serving (eat like a chip)
Made with Grass Fed beef or Certified Organic Chicken
The perfect lunch snack for children and anytime for adults
High Protein, zero salt, low calories
Crush and add to water to make instant broth or flavouring to other proteins
Bone Broth Bombs
Enjoy all the healing and gut health benefits of bone broth in a tasty bomb. Dissolve in a mug of hot water for an instant organic chicken bone broth without the mess, hassle or time-consuming preparation. The first of its kind, Naked Bone Broth Bombs are made using a special drying method that preserves all the healing properties and turns the broth into a shelf-stable product.
Available in two varieties: Chicken (100% certified organic free-range chicken) and Beef (Australian grass-fed beef)
12 OR 4 bombs per pack
One bomb makes 200 – 250mls of broth
One packet of 12 bombs makes 3 litres of broth, 4 pack makes 1 litre
Simply add boiling water
Makes an instant stock for all soups and pasts dishes
Protein Broth Cookies
This could possibly be the worlds healthiest cookie ! This 10 gram cookie has Organic Chicken Broth, Raw Macadamin Nuts and Lemon Myrtle
4.7 grams of Protein per 10 gram cookie
0.4 grams of sugar (nothing added all naturally occurring)
0.5 grams of carbohydrate
KETO suitable and pre and post workout amazing
Chicken Broth to Go
Presented in a convenient disposable cup with sipper lid, Broth to Go is the easiest way to get your fix of nutritious, gut-healing chicken broth while on the move. Simply add 1 cup of hot water for a calming cup of bone broth. Made with 100% organic, free-range chickens, it contains no additives or preservatives. No refrigeration is needed. Available in two varieties:
Mild Thai – Ingredients: Organic Chicken, Turmeric Dried, Ginger Dried, Coconut, Lemon Myrtle Dried, Himalayan Pink Salt.
Thai Hot – Ingredients: Organic Chicken, Turmeric Dried, Ginger Dried, Coconut, Lemon Myrtle Dried, Himalayan Pink Salt, Chilli.
Retailers
Boneafide Broth Co will do very well in your health food store, Paleo retail outlet, gluten free food store, delicatessen or supermarket. Consider offering taste tests and make sure you are ready with answers to questions from customers. There's not much to know; the products are simple, convenient and nutritious.
Foodservice
Serve up bone broth in your café, restaurant, kiosk, hotel, B&B or tourism business. Add crushed crisps to recipes, throw a broth bomb in to boost the flavour of soups, casseroles, sauces and stews or simply serve piping hot mugs of broth. The products will appeal to those following a Paleo, low carb, ketogenic or gluten free diet.
For more information or to place an order, contact Boneafide Broth Co today.
---
More information about Boneafide Broth Co
Interview - Richard Boyd - Boneafide Broth Co
What if, instead of making messy, time-consuming bone broth, you could buy it in a format that is weightless, versatile, easy to carry, doesn't need refrigeration or reheating and is made from 100% clean ingredients? Read what Boneafide Broth Co co-founder Richard Boyd has to say! Click here