EveryMite and BabyMite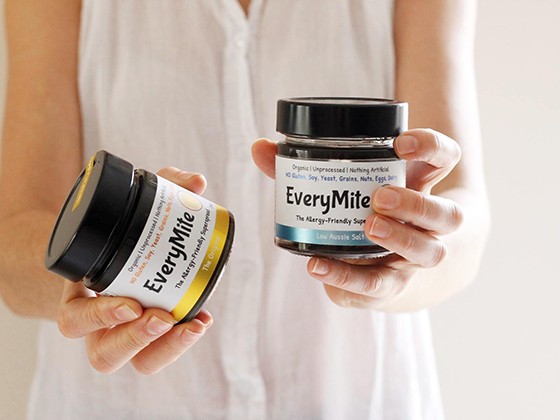 More Images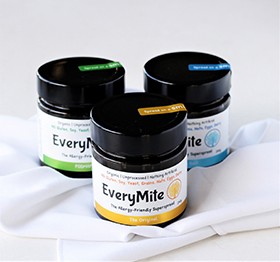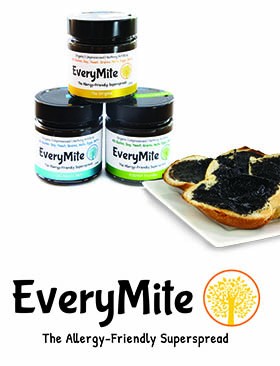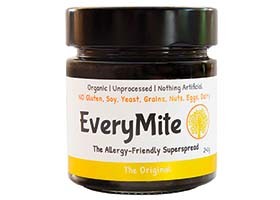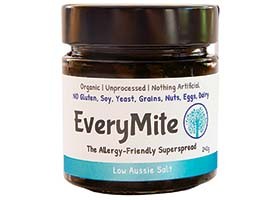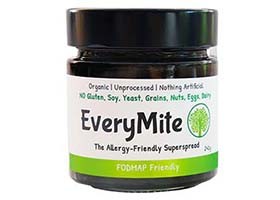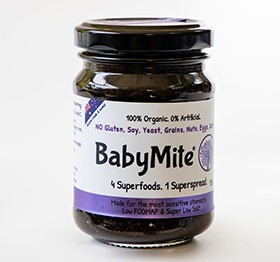 EveryMite and BabyMite
Wholesale Allergy-Friendly Superspread
EveryMite is an allergy-friendly superspread made with superfood ingredients. It was created by a family whose son used to love Vegemite but had to stop eating it. William has Down Syndrome and has lots of food intolerances including yeast, soy, gluten, eggs, dairy, nuts, melons and potato. Even though he loved eating good old traditional Vegemite, the ingredients would make him sick and none of the commercial alternatives were any more suitable. The process of creating EveryMite took three years and now it is loved and appreciated by people across Australia who didn't want to give up their Vegemite but had to for allergy reasons. Not only is EveryMite allergen-friendly and additive-free but it's also very nutrient dense.
What goes into EveryMite is certified organic black sesame seeds, certified organic coconut amino sauce, Himalayan rock salt and certified organic apple cider vinegar with the 'Mother'. All ingredients are kept in their original raw state in order to maintain their nutritional value.
It contains:
No yeast
No gluten
No soy
No grains
No nuts
No dairy
No eggs
No thickeners
No added sugar
No fillers
No added preservatives
What it does contain is an abundance of naturally occurring vitamins, minerals, amino acids, protein and fibre. EveryMite is loaded with copper, manganese, calcium, magnesium, iron, zinc, potassium, selenium; and vitamins B1, B2, B6 and C; 17 different amino acids.
What makes EveryMite even more impressive is that it also contains beneficial enzymes that promote friendly gut bacteria, which improves the absorption of vitamins and minerals.
The EveryMite range
The Original – Enjoy in the same ways you might enjoy another 'Mite' product but with the peace of mind that it doesn't contain ingredients you are avoiding.
Low Aussie Salt – This one contains half the amount of salt as The Original and uses pure Australian sea salt.
FODMAP Friendly – For those following a FODMAP diet, this is the jar for you!
BabyMite - 100% organic. O% Artificial
YES Real food ingredients;
NO Nasty numbers or colours;
NO Yeast
NO Gluten
NO Soy
NO Grains
NO Nuts
NO Eggs
NO Dairy, AND
No Worries.
BabyMite has 4 Superfoods in this superspread, nourishing your baby with
Naturally occurring vitamins such as B1, B2, B6 and C;
Essential minerals such as Calcium, Magnesium, Iron, and Zinc;
17 naturally occurring amino acids;
Protein;
Fibre; AND
Beneficial enzymes to improve absorption.
Low Fodmap with Super Low Pure Australian Sea Salt.
Retailers
Every health food store across Australia should stock EveryMite because it's the only allergen-friendly alternative to Vegemite and who doesn't love their Vegemite? Because it's so versatile and can be used in the same ways as Vegemite, EveryMite is ideal for delicatessens, bakeries, greengrocers, butchers, supermarkets and even cheese shops.
Foodservice
Imagine being able to offer customers a delicious alternative to their favourite sandwich spread! EveryMite gives you that opportunity so your littlest and oldest customers and everyone in between can have their sandwich and eat it too. Ideal for sandwich outlets, burger joints, cafes, hotels and motels.
For more information or to place an initial order, contact EveryMite today.