KOJA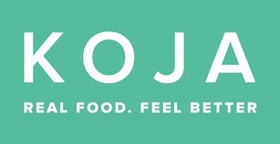 More Images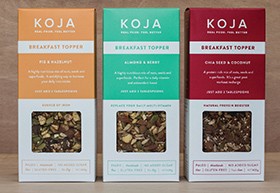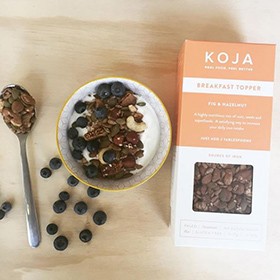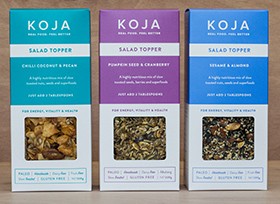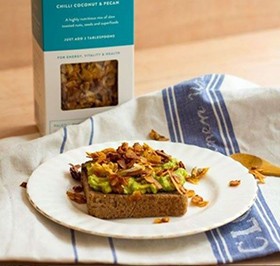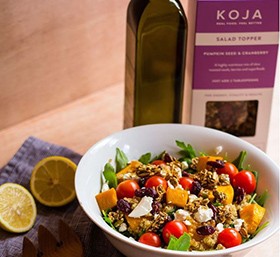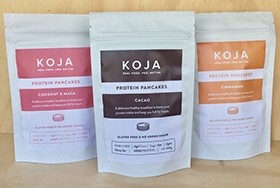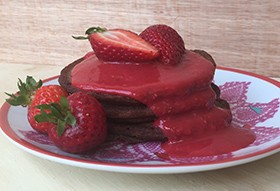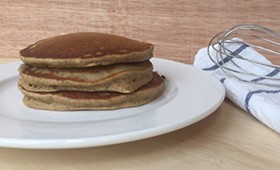 KOJA
Skip the pills and enjoy the power of real food supplements
In a perfect world we would always eat a balanced diet but in reality, we're busy and sometimes we don't make the healthiest choices. KOJA is a simple, all-natural way to increase your vitamin and mineral intake, improve digestion and bowel health and to help reduce inflammation in the body. Its slow releasing energy will keep you sustained for hours and is also ideal for weight loss as the full range provides a good source of protein and healthy fats to keep you full for longer.
Founder Kate Johansson founded KOJA because she wanted to make a positive impact on the health of all Australians. She had been working in the supplement industry and saw the way many synthetic supplements are made, causing her to question why so many Australians were turning to supplements to try to be healthier. She had also realised that so many food products were completely devoid of the nutrition we need, and worse still, they're packed with sugar, empty carbohydrates, additives and preservatives. Not so with KOJA!
The range
Breakfast Toppers
Just two tablespoons of KOJA's supremely nutritious Breakfast Toppers contains loads of antioxidants and good fats, iron for energy, vitamin C, magnesium, calcium and high fibre.
They are gluten free, Paleo, vegan and high protein. What more could you want in a healthy breakfast bowl?
Almond & Berry – KOJA's Multi-Vitamin Blend breakfast is a mildly sweet mix of nuts, seeds, superfoods and berries. High in antioxidants to nourish your body and wonderful for anyone looking to increase their daily nutrition intake. Ingredients: Organic almonds, cashews, organic pumpkin seeds, organic sunflower seeds, organic inca berries, organic cacao nibs, organic cacao powder, organic mesquite powder, freeze dried strawberry powder, organic cinnamon.
Fig & Hazelnut – KOJA's Iron blend, it is a nutritiously rich mix of superfoods, nuts, seeds and fruit. It's a satisfying way to increase your daily iron intake. Add to yoghurt, smoothies or anything else! Ingredients: Raw cashews, figs, raw organic pumpkin seeds, raw organic hazelnuts, raw sunflower seeds, raw sesame seeds, raw organic cacao powder, raw organic mesquite powder.
Chia Seed & Coconut – KOJA's Protein blend is a protein rich mix of superfoods, nuts and seeds. It's great for breakfast or as a post workout recharge. Add to yoghurt, smoothies or anything else! It's also 100% fruit free so very very low in sugars. (0.8g per serve from naturally occurring sugar in almonds). Ingredients: Raw organic almonds, raw organic pumpkin seeds, linseeds, raw sunflower seeds, raw sesame seeds, white chia seeds, organic coconut flakes, organic shredded coconut, raw organic cacao powder.
Salad Toppers
KOJA presents the easiest possible way to add extra protein – and crunch and flavour – to your salads to boost their nutritional value. But don't just stop at salads! Simply sprinkle two tablespoons of either KOJA Salad Topper over your curries, stir fries or even a frittata.
Chilli, Coconut & Pecan - A highly nutritious mix of slow toasted nuts, seeds and superfoods. Enjoy as a crunchy addition to any dish and revel in the anti-inflammatory benefits of the turmeric. Wonderful warmth comes from the chilli powder and the raw pecan nuts are a great low carb inclusion in the mix. Ingredients: Organic coconut flakes (52%), rice malt syrup, sunflower seeds, raw pecan nuts (5%), tamari, chili powder, turmeric, rock salt.
Pumpkin Seed & Cranberry – A highly nutritious mix of slow toasted seeds, superfoods and berries. A touch of sweetness courtesy of the dried cranberries makes the perfect complement to the savoury seeds. Adds a wonderful dose of potassium, magnesium and sodium, all essential electrolytes for post-workout recovery or carb detoxing. Ingredients: Organic pumpkin seeds (44%) sunflower seeds, sesame seeds, cranberries (13%) organic rice malt syrup, tamari, rock salt.
Sesame & Almond – A highly nutritious mix of slow toasted nuts, seeds and superfoods. Loaded with good, healthy fats and abundant with essential minerals including calcium, magnesium and potassium, this is the choice for a healthy burst of energy that won't cause the dreaded crash and burn. Ingredients: Organic almonds (45%) black sesame seeds (22%) white sesame seeds (22%) organic rice malt syrup, rock salt.
Protein Pancakes
KOJA's Protein Pancakes are made with an almond meal and buckwheat base, with organic brown rice protein and organic black bean powder. They're 100% gluten free, with no added sugars or sweeteners, and as with all KOJA products, they've got no nasties, no additives, no preservatives.
Easy to make! Simply add 1 egg and 100ml almond milk.
Cinnamon – The comforting flavour of cinnamon is a great way to start your day, particularly when you have to get up really early. Utterly delicious and will keep you full for hours.
Cacao – Forget those sugar-laden chocolate rice bubble nasties! KOJA's Cacao Protein Pancakes have nothing in them to do you any harm, but tons of quality ingredients that will set you up for a happy, energy-filled day, the right way.
Coconut & Maca – Energising and totally tasty, Coconut & Maca are the best companions you could wake up to. Boost your protein intake and you won't fantasise about mid-morning snacks at all!
When you can purchase high quality, nutrition-boosting real food supplements from KOJA, why would anyone choose to pop pills and tablets? Go for wholesome, honest foods and your body will thank you for it every day.
Retailers
KOJA's range of healthy, flavoursome Breakfast Toppers, Salad Toppers and Protein Pancakes will delight your customers who are looking for something a little different for their diet. They are the easiest way to boost protein, fibre, healthy fats and other essential vitamins and minerals, and taste spectacular at the same time. Ideal for health food stores, delicatessens, greengrocers, butchers, vegan retailers and chemists.
Foodservice
Treat your customers to a protein boost that will add extra irresistibility to their meal choice. Breakfast Toppers can be added to smoothies, breakfast bowls or mixed in to natural yoghurt or even ice cream. Sprinkle Salad Toppers over your salads, hearty soups and curries or serve them alongside good quality cheeses and charcuterie or on an antipasto board. Protein Pancakes will be a favourite once you add them to your menu and can be served as indulgently or virtuously as desired.
To discuss your requirements or to place your first order, contact KOJA today.