Lincoln Bakery Finger Food Range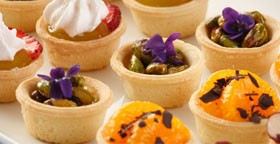 More Images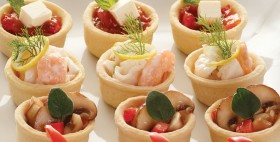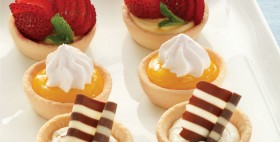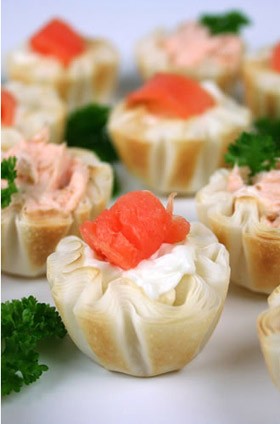 Service Area Australia Wide
Lincoln Bakery Finger Food Range
Finger Food Bases and Shells
Finger food can be fiddly, time consuming, complex and unpredictable. What you need is a range of wholesale finger food delights that make entertaining or catering easy and practical.
Elegant, tasty and easy to use, they are ready to be topped with your choice of flavours and fillings. Whether you want to serve beautifully simple or divinely intricate canapés, Lincoln Bakery's wholesale canapé bases provide you with the scope you need.
Put your creative flair to excellent use
Lincoln Bakery offers a range of tempting canapé bases that let you start not from scratch but from the point at which your creative genius can truly flow. Available in various shapes and types, they provide instant inspiration for your signature fillings.
Cocktail Cups
Dainty and easy to hold in one hand while sipping from wine with the other, Cocktail Cups are the ideal vessel for your savoury fillings. 45mm diameter; 10mm height; Catering Pack – 10 packets of 64; Retail Pack – 16 packets of 20.
Filloettes
Delightfully crisp and flaky, Filloettes are deeper and will hold more of your more-ish fillings. 40mm diameter; 20mm height; Catering Pack – 250 per carton; Retail Pack – 15 per tray, 20 trays per carton.
Pastry Shells – Sweet and Savoury
Lincoln Bakery makes everything deliciously easy for you. Instead of fussing with pastry shells yourself, spend time on what you really enjoy … making the exciting fillings! Available in sweet and savoury, they are perfect for appetisers and canapés before a meal or for sweet treats, desserts and high teas.
Sweet available in 45mm, 60mm, & 75mm. Savoury available in 45 & 60mm. A 85mm savoury Puff is also available. Please enquire as to pack sizes for each size.
Gluten Free Sweet and Gluten Free Neutral Pastry Shells
Your coeliac and gluten intolerant customers will appreciate the option of a gluten free pastry shell and will remember the event all the more. Available in sweet and neutral, they cover all bases. Cleverly, the neutral pastry shells can be used to tone down the sweetness of particularly sugary fillings for ideal balance.
Available in 45mm and 60mm sizes, packaged for the retail and food service market.
Lincoln Bakery for retailers
Spare your customers the arduous task of making canapé bases from scratch. All the fun is in the fillings and with Lincoln Bakery's range of 6 different wholesale finger food bases, you'll be the hero in your customers' eyes.
Lincoln Bakery for food service
Skip the prep and move straight to the part that really shows off your talents. Using Lincoln Bakery's wholesale finger food bases means you can employ less kitchen prep staff and focus your budget on more gourmet ingredients.
Lincoln Bakery sticks with their strengths; and by doing so, they allow yours to shine.
---
More information about Lincoln Bakery Finger Food Range
Lincoln Bakery Finger Food Range
Lincoln Bakery makes you and your culinary creativity the stars for catering and entertaining! The company offers a range of expertly made bases for finger foods, desserts and meals. Here, at a glance, are some interesting facts that will help you to see the benefits the Lincoln Bakery range can deliver to your business. Click here
Interview - John Fraser - Lincoln Bakery
Lincoln Bakery produces a fine range of convenient catering products, designed to make entertaining and catering easier. Their high quality and extensive range of finger food bases and shells enhance presentation, save time in the kitchen and complement a limitless array of delicious fillings. We chatted with John Fraser, Managing Director about what it feels like to produce the shells and cases that make their clients the star of the show. Click here