How To Serve Finger Foods - Lincoln Bakery - Wholesale Catering Foods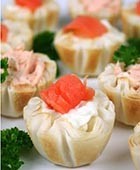 Lincoln Bakery makes you and your culinary creativity the stars for catering and entertaining! The company offers a range of expertly made bases for finger foods, desserts and meals. Here, at a glance, are some interesting facts that will help you to see the benefits the Lincoln Bakery range can deliver to your business.
Retailers can make life infinitely easier for home cooks and entertainers who wish to add a professional touch to their creations.
Foodservice operators, spend far less time and money preparing the bases for your canapés, finger foods and desserts. No pastry chef required!
The range of sizes of Lincoln Bakery's bases means there is a solution for every catering and entertaining requirement.
Only top quality ingredients are used so you can be proud to sell and serve Lincoln Bakery's products to your customers.
Product range includes gluten free sweet and neutral pastry shells.
Gluten free products can be used as a substitute for non-gluten free for easy menu options.
Having gluten free bases means you win business that may not otherwise have come your way.
Filo pastry shells are ideal for sweet or savoury fillings
Filled Pie Pots and Filo Parcels are fully prepared heat and eat options. Great flavours
As products are already baked, it is only necessary to heat fillings in the bases for 10 minutes in a moderate oven.
All product should be stored in a cool, dry environment and once opened, should be stored in airtight containers.
The range
Sweet and savoury pastry shells
Gluten free sweet and neutral pastry shells
Brandy snaps
Brandy baskets
Pie pots
Filloettes
Cocktail cups
Vol-au-vents
Profiteroles
Filled Pie Pots
Filled Filo Parcels
Lincoln Bakery offers 'your recipe for success'. Spare your business the complex process of creating pastry chef specialities and embrace this professional shortcut. Your clients will be none the wiser and they will only remember 'the big picture' about how your food impressed and delighted.
---
Contact details for Lincoln Bakery Finger Food Range
Service Area Australia Wide
---