Mrs Toddy's Tonic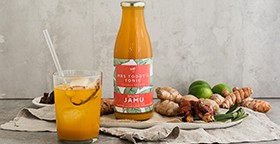 More Images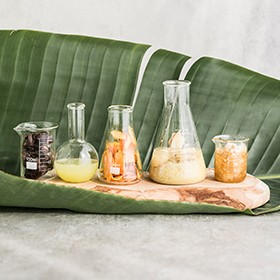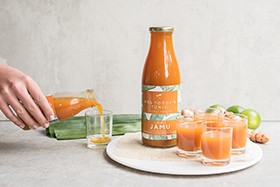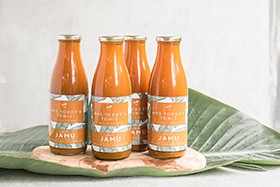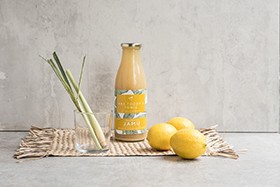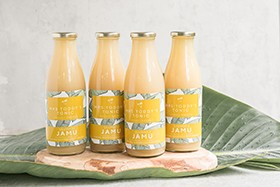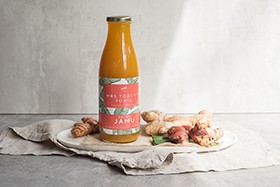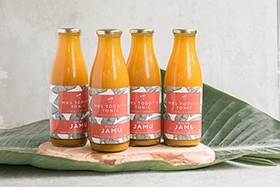 Service Area Australia Wide
Mrs Toddy's Tonic
When a health beverage tastes this good and natural, you'll want to drink it every day! Mrs Toddy's Tonics (Jamu) are made from nothing but fresh, natural ingredients like ginger, turmeric, lime, galangal, tamarind, lemongrass, cloves, cinnamon stick, honey and black pepper. The blends are very potent and medicinal. Think of them as 'liquid sunshine'!
Because Mrs Toddy's Tonic is brewed and not a cold-pressed juice, you can keep it for up to 14 days in the fridge once opened, or for over 4 months unopened.
What is Jamu?
Jamu is a popular health tonic right across Indonesia but most prevalent in Java and for millennia, it has been prescribed by royalty and nobility. The Indonesians have understood for thousands of years that curcumin is rich in bioactive compounds and has powerful medicinal properties. Mrs Toddy's Tonic contains the entire turmeric rhizome which is best when heated at 60-80 degrees in the brewing process to activate its medicinal benefits to get the best results.
Mrs Toddy's Tonic contains:
Only 100% natural ingredients
No nasties
No preservatives
No added sugar
Recommended consumption is 50-80ml per day. Simply swig it straight from the bottle or gently heat it on the stove for a winter tea that will do you no end of good!
The company supports farmers, sources local ingredients, encourages recycling and gives back to the community.
The range
Available in three varieties and comes in 3 sizes 250ml, 500ml & 750ml so there's always going to be sunshine in your fridge!
Ubud Jamu
Recovery and Anti-Inflammatory
Made with filtered water and subtly flavoured with turmeric, ginger, pepper, honey and lime, Ubud Jamu is not just a another turmeric drink but a true tonic. The anti-inflammatory ingredients assist with the pain related to arthritis, menstrual disorders, auto-immune disorders, reduce cholesterol levels, a great liver detoxifier and blood cleanser to help you get through the day.
Uluwatu Jamu
Immune Booster and re-hydrator
This mouth-watering combination of lemongrass, ginger and cinnamon which has proven benefits to aid in, regulating the nervous system, boost the immune system and it helps with anxiety. A great kick starter for the day ahead.
Balian Turmeric Jamu
Mood Booster and Anti-Inflammatory
A true citrus flavoured turmeric & ginger tonic with hints of galangal, tamarind, lime, honey, black pepper and a slew of medicinal ingredients and benefits from the traditional Ubud Jamu. A great pick me up to get you through the day.
Retailers
Mrs Toddy's Tonic is ideal for health food stores, wholefood stores, organics outlets, supermarkets, delicatessens, cafes and food halls. Keep a quantity chilled and ready in the fridge so your customers can grab and go.
Foodservice
Serve Mrs Toddy's Tonic to your health-conscious customers in your café, restaurant or juice bar. It's fabulous as a pick-me-up for anyone feeling 'poorly', or just as a shot you can add to drinks on your menu. Serve over ice in fancy glasses and everyone will look over and wonder what it is!
For more information or to place an order, contact Mrs Toddy's Tonic today.
---
More information about Mrs Toddy's Tonic
Interview - Sophie Todd - Mrs Toddy's Tonic
When an Aussie woman was cared for and nurtured with an ancient remedy during her time in Bali, she knew she had to bring it home for Australians to enjoy. Mrs Toddy's Tonic is the result and we spoke with husband and wife team Paul and Sophie Todd about the drink's medicinal benefits. Click here