Outback Harvest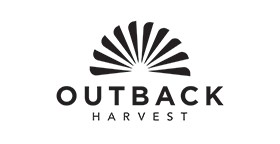 Outback Harvest
Outback Harvest
Let your imagination run wild with this nutritious superfood that offers amazing versatility, subtle, nutty flavour and can be enjoyed at all times of the day. As a dry ingredient, it works beautifully as a gluten free agent to create the moistest muffins and cakes, breads, pizza bases and even creamy porridge and fluffy salads.
About Teff
Of all the gluten free grains, teff offers supreme nutritional benefits. Higher in protein than wheat, high in iron and calcium and with all eight essential amino acids, it also has more fibre, zinc and thiamine than quinoa. Although its carbohydrate content is higher, it's mainly due to resistant starch which helps maintain good blood sugar balance and gut health. It feeds your friendly gut bacteria and improves the function of your digestive system.
Outback Harvest's range of wholesale gluten free Teff products are all Australian, grown in the southern Riverina of New South Wales. The company specialises in growing, processing and supplying high quality, sustainably grown, nutritious grains.
The range
Teff Brown Flour Wholemeal
This nutritious, nutty-flavoured wholemeal flour is endorsed by Ceoliac Australia. It is high in iron and fibre, low GI and resistant starch. This versatile superfood is a superb ingredient for all gluten free baking applications and makes it easy to bake moist muffins and cakes as well as fantastic gluten free breads and even crispy pizza bases! Brown Teff Flour is also perfect for creating rich and flavoursome gluten free chocolate cakes.
Teff Brown Grain Wholefood
This nutritious wholegrain is endorsed by Ceoliac Australia. It is high in iron, low GI and high in fibre and it boasts calcium content three times higher than quinoa. It's an incredibly versatile superfood that can be used across all meals from breakfast through to dinner, in porridge and salads. Teff Grain has a mild and nutty flavour.
Teff Ivory Flour Wholemeal
A nutritious wholemeal flour endorsed by Coeliac Australia. It's low GI, high in iron and fibre and contains resistant starch. Versatile enough to work across all your gluten free baking applications, it turns out lovely moist cakes and muffins, scrumptious gluten free breads and crispy pizza bases. Ivory Teff Flour is subtle and nutty and is excellent for creating light, fluffy pancakes.
Teff Ivory Grain Wholefood
Endorsed by Coeliac Australia, Teff Ivory Grain is low GI, high in fibre and iron and contains up to three times more calcium than quinoa. Use this incredible superfood in recipes throughout the day's meals including breakfast, lunch and dinner. Incorporate it in salads, porridge and crumb mixes. It pairs well with coconut and has a subtle, nutty flavour.
Retailers
Ideal for health food stores, gluten free outlets, supermarkets, convenience stores, pharmacies and delicatessens, Outback Harvest's wholesale health foods range is attractively packaged with important nutrition information front and centre. Available in 400g resealable retail pouches, they are easy to purchase, store and use.
Foodservice
Talk to Outback Harvest about bulk packaging for their wholesale dry ingredients products. Teff has become a staple in many commercial kitchens for all things sweet and savoury. Make it the new go-to grain in your business and you'll be able to satisfy the gluten free market while providing interesting, on-trend and nutritious dishes across all meals of the day.
To discuss your requirements or to place an order, contact Outback Harvest today using the form below.
---
More information about Outback Harvest
Interview - Fraser McNaul - Outback Kitchen
What if you could find a grain that could be used in baking and salads and as a thickener and which is low FODMAP, gluten free and high in protein? That grain is Teff and Outback Harvest grows it right here in Australia. Co-Founder Fraser McNaul explains why the Australian variety is far superior to the imported product. Click here