PERKii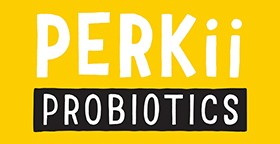 Service Area Australia Wide
PERKii
Low Sugar, Low Calorie, Probiotic drink
Developed at the University of Queensland, PERKii provides an unbeatable combination of taste and gut health goodness. Powered by world first technology, PERKii has a uniquely noncarbonated and fermentation free (non-bitter) taste profile, and has a proven incremental sales benefit to the functional beverage, kombucha and fermented milk market. It combines its appealing fruit flavours with a low sugar, low calorie (26) serve of 1 billion probiotics in every bottle.

Why PERKii?
The functional beverage market is the fastest growing category in Australia, with consumers increasingly looking for an active ingredient to complement their preferred taste experience. With such a wide variety of offerings, it's important that your beverage range provides both an ethical benefit but also complements each other, driving incremental sales, not cannibalisation. PERKii is back up by world-class science to provide a point of difference and help grow your sales.
The gastrointestinal tract (your gut) contains 70% of your immune system, and science tells us probiotics, the good bacteria, are like nature's own little superheroes fighting the good fight on our insides. Unfortunately, most probiotic drinks are heavy on the sugar, or they're bitter in flavour due to the fermentation with little to no living goodness remaining in them by the time they're consumed.
Utilising the University of Queensland's patented encapsulating technology ProGel™, PERKii are able to create a drink that delivers a:
noncarbonated and fermentation free drink, creating a bitter-free taste and fruit flavours, for a wider appeal;
guaranteed 1 billion active CFU (lactobacillus casei [Lc431]) in every bottle and protect them through the stomach acids;
low calorie (26)/low sugar combination that appeals to the wider health-conscious drinker;
lactose and gluten free option to cater for the growing market.
The Perkii flavours
There's a flavour to suit all tastes;
Passionfruit & Mango
PERKii Mango and Passionfruit brings together tropical favourites to deliver a refreshing taste for any time of the year.
Strawberry & Watermelon
PERKii's Strawberry and Watermelon is a refreshing mouth-bursting combination that's loved by adults and kids alike.
Raspberry & Pomegranate
Utilising the both strong and sweet flavours, PERKii's Raspberry and Pomegranate give that full-flavour summer time treat experience.
Elderflower & Green Tea
Using two popular traditional eastern flavours, PERKii's Elderflower and Green Tea delivers a subtly flavoured health store favourite.
Lime & Coconut
PERKii's Lime & Coconut bring together two traditional tropical friends to create that holiday taste and feel.
Retailers
Perfect for your consumer on the search for a healthy option. Proven results from taste tests, allowing your customers to experience the unique and refreshing flavours for themselves and instigate regular use. Ideal for supermarkets, convenience stores, corporate and educational vending machines, health food stores and delicatessens.
Foodservice
Serve PERKii in your bar, café, food-on-the go and sports club. It is also well suited to day spas, wellness centres, gyms and personal trainer studios where providing a superior tasting, health beverage is an added value service.
To find out more or to place an order, contact PERKii today using the contact form.
---
More information about PERKii
Interview - Matt Kowall - PERKii Probiotics
Probiotics are gaining momentum in consumer awareness and they are offered in many different formats. The best, we believe, is a delicious drink that can be enjoyed at any time of day. Matt Kowall, CEO of PERKii Probiotics told us all about this innovative drink and what makes it so different from kombucha and other probiotic beverages. Click here